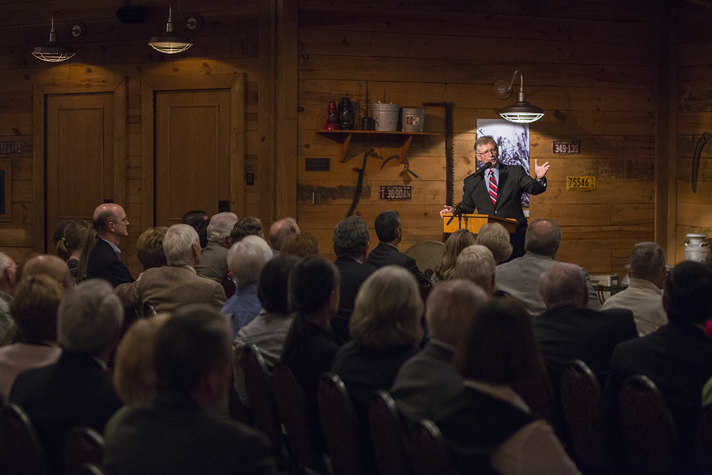 But far be it from me to boast except in the cross of our Lord Jesus Christ, by which the world has been crucified to me, and I to the world. –Galatians 6:14 (ESV)
At least once a week for the past 20 years, Don Wilton has made the 85-mile drive from Spartanburg, S.C., to Billy Graham's Montreat, N.C., home.
Originally from South Africa, the Rev. Dr. Wilton has spent the last two decades serving as senior pastor of First Baptist Church of Spartanburg. Five years ago, Mr. Graham asked Wilton if he could join his church. The Graham and Wilton families had already developed a close friendship by then.
Mr. Graham doesn't make the drive to Spartanburg on Sundays, but he watches the church services on TV and talks the sermons over with Wilton during their weekly visits.
Sometimes they sit together in the living room. Other times, they enjoy the beautiful mountain views from the grassy lawn. Wilton says Mr. Graham loves to spend time in his rocking chair outside. And if there's a hot dog lunch involved, that's even better.
In an intimate setting Tuesday night at the Billy Graham Library in Charlotte, N.C., Wilton gave a select group of guests a glimpse into his life as a friend and pastor to Billy Graham. "An Evening of Hope" was a chance for the Friends of the Library to learn about My Hope America with Billy Graham, a movement that will culminate Nov. 7-10 with a nationwide broadcast aimed at people of all ages who don't know Jesus.
As Wilton talked about My Hope, he shared stories about his time with Mr. Graham.
"He's such an incredibly precious man," Wilton said. "The closer God has allowed me to sit at Mr. Graham's feet, the more I've realized this man has an intimate relationship with the Lord."
New Visitors
It's evident that Wilton treasures the time he spends with Mr. Graham. On many occasions over the years, it was just the two of them, talking and praying together for hours. But recently, their routine changed dramatically.
The quiet mountain cabin was converted into a movie set of sorts. Wilton and Mr. Graham were joined by producers, videographers, along with lighting and audio technicians—all there in the middle of the living room.
For years, Mr. Graham has been telling his closest confidantes about a burden on his heart. He's sensed a call to deliver one more message to the people of his continent.
"He pours out his heart for our nation," Wilton said. "He grieves our nation. He cries out to God."
In response to Mr. Graham's unceasing desire to speak to the American people once again, the Billy Graham Evangelistic Association (BGEA) began to form a plan. For a decade, it had used a movement called My Hope to spread the Gospel in 57 countries, with 10 million decisions for Christ recorded worldwide.
The movement was based on relationship evangelism. Christians would invite their unchurched friends and neighbors into their homes to watch a program featuring a Gospel message from Billy Graham, and tell them about how following Jesus had changed their lives. It was successful overseas, but the BGEA had never attempted to roll out My Hope on U.S. soil.
About a year ago, BGEA video crews began traveling to Montreat to record Mr. Graham's My Hope message for the United States and Canada. Because Wilton already had a close relationship with the 94-year-old evangelist, he was chosen to interview him for the video.
It was no small task. Even though Mr. Graham still has a clear mind, age has made it more difficult for him to see and hear, and he gets tired quickly. Wilton's job was to help him prepare for each round of filming.
"Then we would take him out to where the camera crews were, in the living room," Wilton said. "And he is just so gracious. He has such a wonderful way of making everybody around feel at home and feel valued. His whole ministry has been that Christ values every person."
After the introductions, the two men would sit down together in front of the lights and cameras.
"And through that process, we just began to engage as he and I had come accustomed to, and that is a conversation between two friends."
Some days, it was difficult to get started.
But then …
"God would come out of the inner sanctuary of Mr. Graham's heart. All of a sudden it was like Madison Square Garden, or it was Wembley Stadium in London, I don't know. But it wasn't about the place. It was about the power. And he would just take over."
As the cameras rolled and the crew collectively held its breath, Wilton says God spoke through Billy Graham once again. The message was powerful, centered around the cross of Christ.
"Then all of a sudden, after whatever period of time it was, he would just stop," Wilton said. "It was like everybody was just frozen, in a good sense. And then I'd say something like, 'Mr. Graham, how about a cup of coffee?'"
They'd sip some coffee, talk about golf or something else for a bit and start the whole process over again.
The filming happened off and on for the better part of a year. Then the BGEA team took Mr. Graham's message and edited it together with true stories from people who overcame some of life's toughest obstacles when they discovered the love of Christ and accepted Jesus as their Savior. The end result is a powerful new 30-minute video that will be shown next month on Fox News, cable and network TV, online and on DVD.
The flagship program for My Hope America is simply called "The Cross," and Wilton says it captures Mr. Graham's message in a powerful way.
"They harnessed the words of God that came out of God's servant, coupled together with his very deep and abiding passion for people today and his understanding of people today," Wilton said.
"He sees with spiritual eyes, and when he speaks, he's speaking with such a fresh voice. The nerve endings crackle with God's grace when he does that."
Stories of Salvation
More than 25,000 churches are registered to participate in My Hope, which coincides with Mr. Graham's 95th birthday. Many churches have already shown one of the two earlier programs — "Defining Moments" and "Lose to Gain" — to spark interest in My Hope among their congregations.
On a recent Sunday night, 600 people from Wilton's church showed up to watch a My Hope program, which many would later use in their homes as host "Matthews." When it was over, Wilton spotted a man walking towards him, hardly able to speak. The message had touched him deeply.
Minutes later, he accepted Christ, as his wife and the rest of the group celebrated around him.
The same scene has played out in churches and living rooms all over the country, and the actual event hasn't even happened yet.
Wilton and others report the joyful salvation stories back to Mr. Graham, who invariably deflects all the glory to God.
"He takes no credit for himself," Wilton said. "He is a servant of the God most High. It's all about Jesus."
In an interview with BGEA before "An Evening of Hope," Wilton struggled to find the right words as he explained that Mr. Graham is "almost offended by any effort to try and make of Billy Graham anything outside of the Lord Jesus Christ. He deflects the attention away from himself to the point of his own irrelevancy."
Hope Rising
As Wilton shared one anecdote after another Tuesday night, the guests gathered before him sat in total silence, captivated by his tales of prayers, tears, and laughter shared with Billy Graham.
"I felt like I was there," said Friend of the Library and volunteer John Ash.
"It brought tears to my eyes," said John's wife, Marsha. "I felt like I was sitting beside Billy Graham. What a privilege."
When Cheryl Lipian arrived for the event, she was already planning to help host two My Hope events in Charlotte. She left with renewed encouragement, trying to think of ways to reach even more people with the Gospel.
"The thing I can't get out of my mind is how a 95-year-old man is going through so much to get the Gospel out," Lipian said. "He's doing it with every fiber of his being. How much more, as young people, could we be doing?"
As the culmination of My Hope draws near, thousands of believers across North America are praying for the message to take root. Wilton believes no one is praying more wholeheartedly than Billy Graham, as he cries out to God on behalf of his home country, and urges others to join him.
"My Hope is going to be an incredible blessing across the land," Wilton said. "God is going to reap a great harvest for His glory. He already has."
Click here to watch a 30-second trailer of My Hope America's "The Cross" and check nationwide TV listings from Nov. 7-10.
Want to become a Friend of the Library? Find out more here.