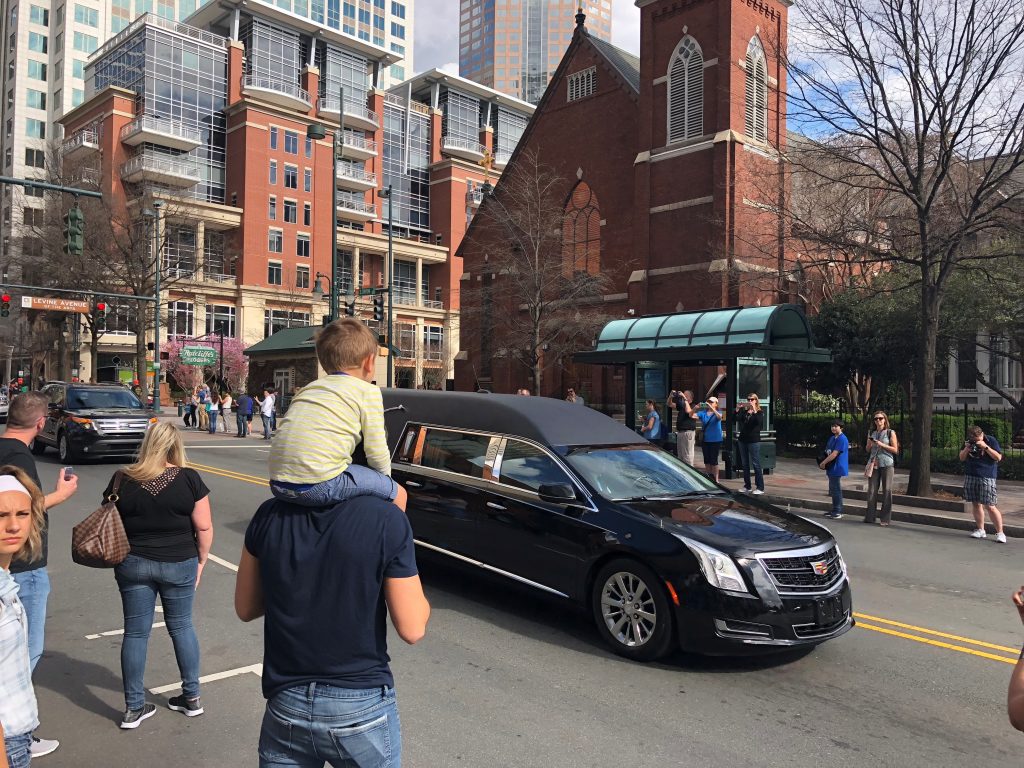 For a moment in time, the center of uptown Charlotte paused in silence. Tryon Street, the busiest road cutting through the heart of the city, came to a hush, except for the momentary whir of news helicopters overhead. Billy Graham was returning to his hometown.
On Saturday, thousands of people lined the streets at key locations between Asheville and Charlotte as a motorcade transported Billy Graham's body from his beloved North Carolina mountains to the now bustling city where he grew up milking cows on his family's dairy farm.
As the motorcade neared the end of its three-and-a-half hour drive, dark clouds threatened rain, but never let more than a few sprinkles fall before the sun came out again.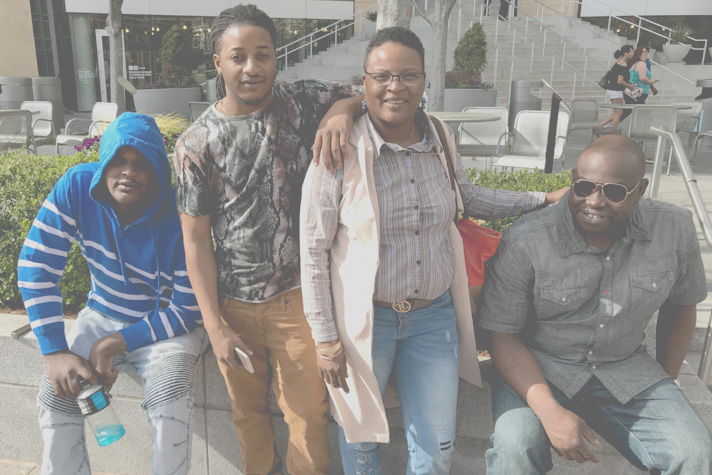 On either side of the street were people who had a Billy Graham story to tell. A woman whose mother decided to follow Christ through his preaching. A man whose son chose the evangelist as the subject of a school project.
"He's a name I've known ever since I was a boy," Dr. Adam Nofziger said. "I've always tried to follow his example."
Nofziger walked from his home in uptown to watch the motorcade. He remembers growing up watching movies put out by World Wide Pictures, a ministry of the Billy Graham Evangelistic Association.
"I'm honored to be in the same town he's going through," Nofziger said. "It's the end of an era—the world affected by Billy Graham."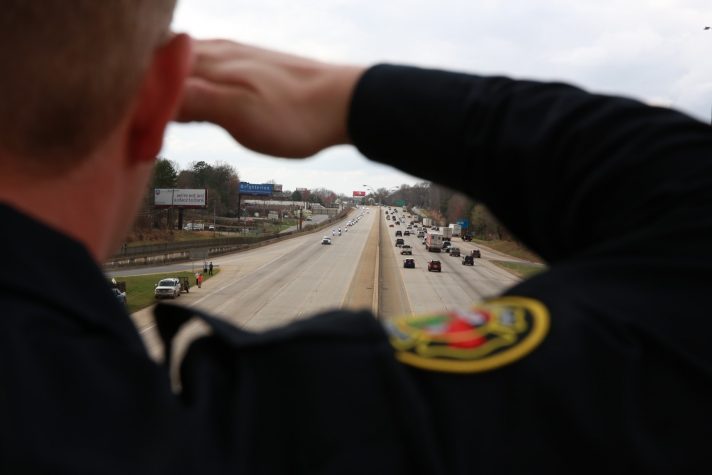 Even kids who were born long after the height of Mr. Graham's ministry stood on the sidewalk with phones in hand to record the procession.
Some officers saluted the motorcade as it passed by. A digital parking sign read, "Well done good & faithful servant."
Here are three stories of people who came out Saturday to say goodbye to Mr. Graham:
'Heaven Got a Little Sweeter'
Robin Marshburn sat in a lawn chair alongside her daughter-in-law, waiting for the motorcade to pass by.
"It's the one last thing we could do to show our respect to him because he was such a humble, great, great man," she said. "It gives you a humbling feeling to be here and to see all these people and to know in some way he touched their lives."
Looking out at the crowd gathered along the sidewalks, she recalled how Billy Graham changed her own life.
"I've been through times where I wanted to give up," Marshburn said. "But then hearing Billy Graham state that God can help you make it through anything, changes everything for you."
Marshburn grew up watching his Crusades on TV with her whole family—three generations' worth.
"You say Billy Graham and everyone knew what you were talking about," she said.
Marshburn was shocked to hear about his passing, but tried to be positive.
"Heaven got a little sweeter when he left Wednesday."
'The Kinds of Things That Stay with You'
Azu Jorgensen was 15 when she saw Billy Graham preach during a visit to Paraguay in 1962. She remembers people coming forward at his invitation to respond to Christ—so many that "there wasn't room for everyone." His message was a simple one, and one that never changed, she said.
Whenever friends and family come to town, she takes them to the Billy Graham Library nearby where they, too, can experience the Gospel through videos, audio and memorabilia from Mr. Graham's ministry.
Jorgensen and her niece, Claudia Harthan, sat on a cement wall on the outskirts of town as they waited for the motorcade to pass by. Harthan reminisced about attending Billy Graham's last Charlotte Crusade in 1996, when she was in her early 20's.
"Those are the kinds of things that stay with you for the rest of your life," she said.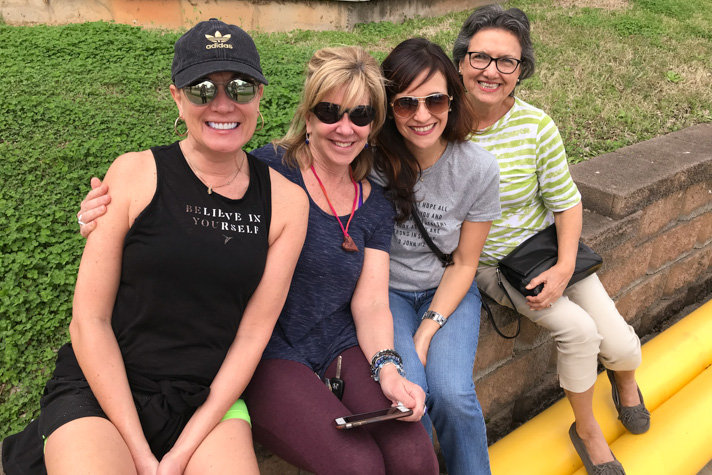 Next to Harthan sat Kat Wassung who wiped away tears as she thought of Billy Graham's influence on millions of people over the decades.
"The impact one person can make will always remind me that we have a job to do," she said. "Just look what he did. … I feel so privileged to be alive at such a time when one of the greatest men walked the earth."
The three women were joined by Genia Rogers who was also looking for a place to watch the motorcade.
"Even in death, he's bringing people together," Wassung said. "Here we are, talking about Jesus."
Rogers' mother, now 79, accepted Christ after seeing Billy Graham in Memphis. Today, her children and grandchildren all have a strong faith.
Rogers said it's the way Billy Graham humbly but boldly shared Christ that set the example for her own faith sharing.
"Who can I share Jesus with today in a true and authentic way?" she asked.
'I'll Never Forget That Man as Long as I Live'
At 5 years old, Sandra Clory and her 11 siblings began gathering around a tiny TV with their father to watch Billy Graham's Crusades. Her father, who's Ethiopian, was adamant that his children learn from the evangelist.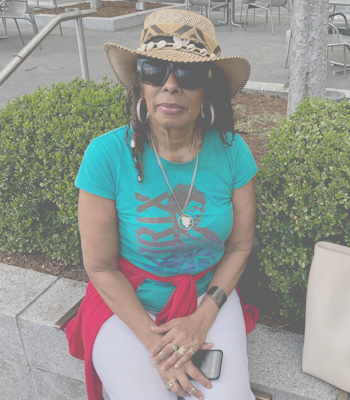 "I was raised on Billy Graham's teaching and preaching and the Gospel," said Sandra, who rarely missed watching a Crusade.
In 1978, Sandra had the opportunity to sing in the choir at Billy Graham's Crusade in Las Vegas. She ran late the first day and was told the choir already had the 100 people needed.
Billy Graham, who was standing nearby, overheard the conversation. He turned around and said, "No, she's in. It'll be 101."
That day, she told herself, "I'll never forget that man as long as I live."
Decades later, she's kept her word.
"I'll be 77 next month, and for 72 years I've lived on the Word of God through Billy Graham."
Billy Graham's message was always about Jesus. Do you know Him?