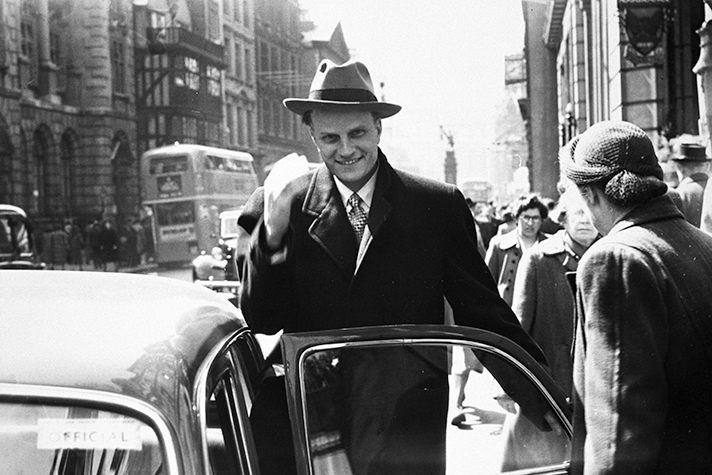 On November 7, 1918, a boy was born to a family of farmers in Charlotte, North Carolina. That boy—Billy Graham—would grow into a man who softened the hearts of millions around the world through his powerful testimony for Jesus Christ. While Mr. Graham went to be with the Lord at the age of 99 in February 2018, many lives are still being touched by his ministry.
In honor of what would've been his 101st birthday, here are 10 social media comments from people who have been affected by Mr. Graham's life and legacy:
"Happy Birthday in heaven, Billy Graham!! We miss you dearly!!" —Paula Jo
"Billy Graham so clearly pointed millions to Christ. Thank you so much." —Kathy
"Happy Birthday in heaven. I have always loved you so much and went to one of the Denver Crusades when I was a teen. I love all of your family. Thank you for making an amazing difference in my life." —Mary
"Loved this man, but loved his message more! He certainly knew how to bring the Word of God to his fellow man! What a legacy he left us with. Enjoying the fruits of his labor now with Jesus!" —Melody
"My sister recently went to see Jesus. In my grief, I have selfishly wished that she was still here with me. Then I saw this post earlier today. … I bet she's dancing on twinkle toes celebrating Rev. Graham's birthday and loving our Jesus and God … what a blessing." —Ora
"Rev. Graham was the most wonderful preacher I have ever heard. He was surely a man of God's own heart." —Norma
"My 5 year old and I have been telling Billy, 'Happy Birthday in heaven' all day. Hasn't the world been blessed by such a God-fearing and loving man?" —Sandra
"I miss you and love you! I was raised seeing you on TV and then I volunteered at your Crusades in Columbus, Ohio. Your words are still a blessing in my life." —Sue
"As a child, I would beg my parents to let me stay up and watch the Billy Graham Crusade when it would come on our old black and white TV. At the end of each meeting, I would position myself so no one could see my face as I wept during the invitational song, 'Just As I Am.' Nothing gave my heart a greater desire to share the Gospel as my life's calling than this! My husband and I have been ministering as pastor and wife for about 38 years. God has been so good and always faithful! Praise God for faithful servants like Billy Graham and his wonderful family!" —Shirley
"Thank you, Billy, forever & always for sharing the Gospel with the world & being the living example of agape love for your fellow man during your years on this earth & for leaving us your legacy of faith! It is indeed a gift beyond measure." —Darby
Want to share a memory of how Billy Graham influenced your life? Leave a comment on our Facebook page.