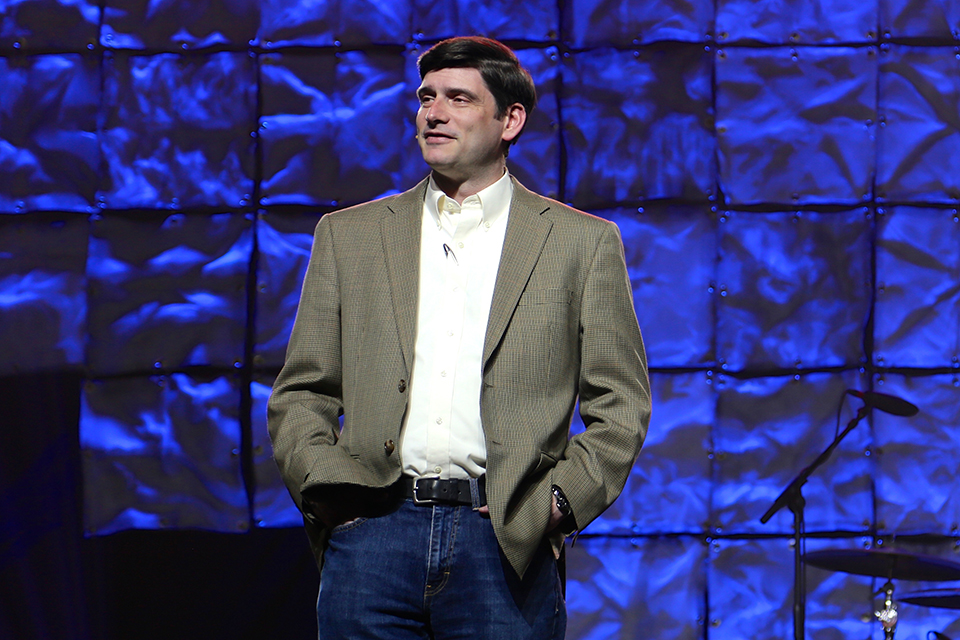 "Yes, Lord, bring 'em in!"
An usher waved people in the doors at the Owensboro Convention Center Sunday, happy to see a steady stream of all ages coming to day three of the Ohio Valley Celebration with Will Graham.
Owensboro, Kentucky, is a church-on-every-corner kind of city, but as Will Graham told the packed crowd Sunday, going to church or being "religious" isn't the same as having a living relationship with Jesus.
That resonated with the mixed crowd—the young and old, longtime churchgoers and those with a sketchy past. Nearly 3,000 people filled the venue, some standing in the back, but many of those seats were empty when Will Graham invited them to come forward to declare their desire for Christ.
"I didn't get saved 'til I was 32, so it's awesome to share with someone of a younger age," said Chuck Stinnett, an older counselor who was thrilled to lead a young teen to Christ. Another counselor bent down to the teen's younger friend, who also wanted to have Christ in his life.
"I hope it changes Owensboro," Stinnett said about the Celebration. "I hope it changes it tremendously and that we as a church in Owensboro want to get outside the box, really get out and visit our lost community."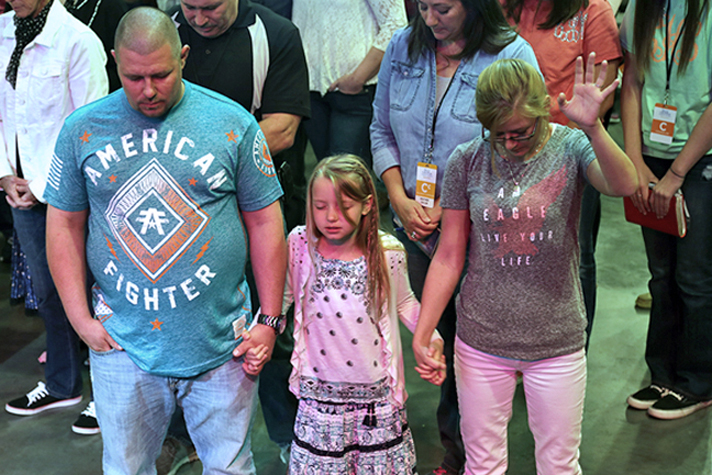 With many in the crowd donning cross necklaces and carrying their Bibles, Will Graham's message on what to do with Jesus really hit home; so many people flooded the front of the venue in response to the Gospel that a couple of tables off to the side had to be moved to accommodate the crowd.
"If I said raise your hand if you believe in Jesus, every one of you would raise your hand probably," Will Graham said. But it's not a question of whether you go to church or think Jesus exists. The question is, "Are you living your life for Christ?"
"There are some of you here today who are undecided about Jesus," he said, people who know about Him but have never accepted Christ as their Lord.
Drawing from Matthew 27, just before Pilate gave Jesus over to be crucified, Will Graham said Pilate uttered "the most important question ever asked in human history."
In Matthew 27:22, Pilate asked, "Then what shall I do with Jesus…?"
"That's the question you will have to answer here before you leave tonight," Will Graham said. "When it comes to Jesus, there's no neutral ground. … If you don't make a decision for Christ, you're making a decision against Christ."
Prior to his message, a group of worship leaders from around the Ohio Valley had nearly everyone in the auditorium on their feet, singing "In Christ Alone" with such power that it seemed the building itself was shouting out praise. It was only a foretaste of the power felt when people began streaming forward at Will Graham's invitation.
"Two of the people I wanted to come last night came tonight, and they both went forward!" one pastor said.
Dove Award winning artist Aaron Shust and his band closed out the Celebration, singing with a swarm of people who weren't ready for the Celebration to come to an end.
But the Celebration isn't just a three-day event, Will Graham reminded locals Sunday morning. What took months of preparation prior to the event will continue for months, and years, to come as local churches disciple new believers and continue telling others how to find purpose and fulfillment in Christ.
That's something Owensboro resident Allison Fruehwald looks forward to, especially as she follows up with two women she counseled over the weekend.
Fruehwald came to the Celebration two of the three nights. She helped a woman rededicate her life to Christ Sunday, and on Friday had the privilege of leading a college-age friend to a relationship with Jesus.
"She actually grabbed me and said, 'Hey, I want you to help me get to Christ,'" Fruehwald said.
The young woman was raised in a Christian home and goes to church, "but she said she didn't get it 'til she came here."
By the end of the Celebration, Fruehwald was beaming: "We could do this every night."
See other locations Will Graham and Franklin Graham are scheduled to hold events.