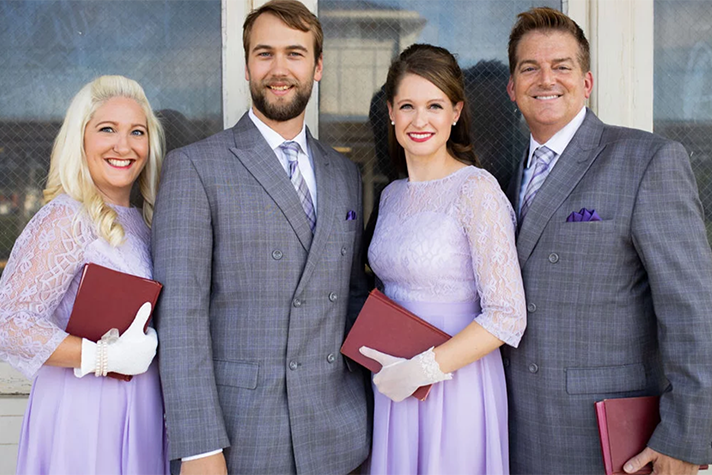 "How many of you have been impacted by the life and ministry of Billy Graham?"
That question opened a special musical program called "Then Sings My Soul" in Lancaster County, Pennsylvania, last month. The December event was the last tour stop of 2019 for four professional vocalists who offer free hymn sings across the region.
Dozens of hands popped in the air across a packed church sanctuary in response. It was a chilly, rainy evening—and yet people filled the creaky wooden pews to learn more about Billy Graham's connection to some of the world's most popular hymns.
"This program is not meant to be entertainment or a show. It's meant to be a worship experience," Kat Prickett explained as the presentation began. Joining her onstage were Sarah Poague, Bryson Buffington and Ric Zimmerman, whose voices seamlessly intertwined to lead hymns and explain their histories.
The idea for "Then Sings My Soul" first came to Prickett when she was researching the origins of some of her favorite hymns. The vocalist was surprised by how many songs were popularized through Billy Graham Crusades. But it wasn't until Mr. Graham's death in February 2018 that she decided to make her vision—of a new take on old-fashioned hymn sings—a reality.
"Watching all the funeral coverage, I saw just how big of an impact Billy Graham had," Prickett said. She knew about Mr. Graham's ministry since childhood and even attended a Crusade in Philadelphia. However, his death helped her better understand his far-reaching influence on people—and hymns.
"This story needs to be told," she remembered thinking.
In August 2018, Prickett pulled together a few fellow vocalists for what she thought would be a one-weekend program. But the first event sold out, and then the second. So the group scheduled more events, and they haven't stopped since.
At the end of 2019, nearly 6,000 people had attended "Then Sings My Soul." Each event is offered for free, with a portion of any proceeds donated to the Billy Graham Library.
"It is truly incredible to see how God has been using this program to touch lives and share about Billy Graham," Prickett said. "I could never have imagined it would have continued this long or been so wide reaching. We never know what God is going to do with an idea, do we?"