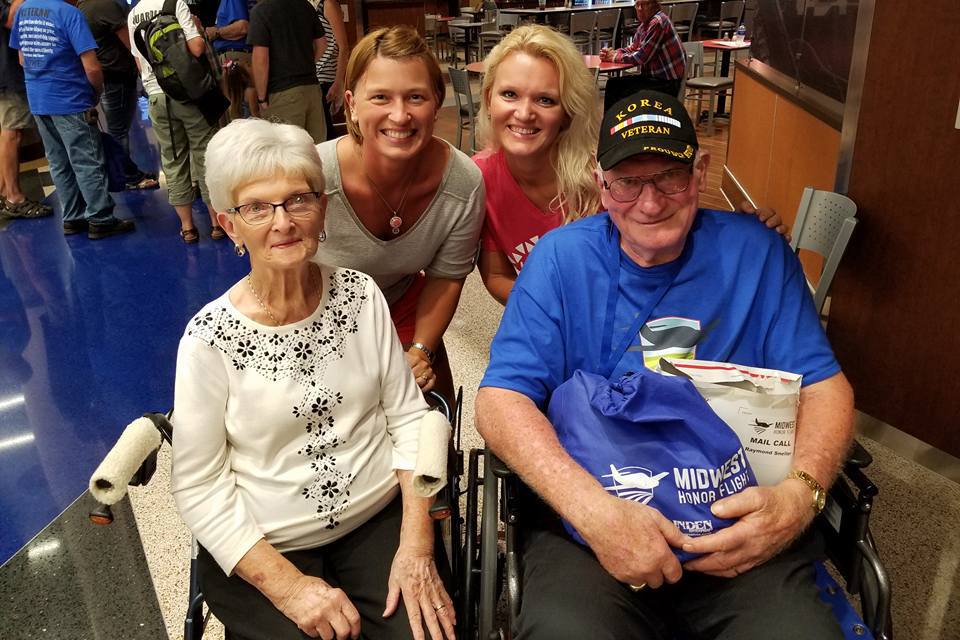 In 1952, Billy Graham received military cooperation to visit American soldiers serving in the Korean War after petitioning Washington, D.C. He preached the Good News of Jesus Christ 14 times to more than 7,000 soldiers during what was the third and at that point, bloodiest, year of the conflict. Ray Sneller was among the thousands who heard Mr. Graham. Now, 90 years old, Ray reflects on the visit, which has become a faith story the Snellers have passed down:
As a young boy, Wayne Sneller was captivated by his father's photo albums, particularly the ones that featured Ray Sneller's time of service in the Korean War.
The black-and-white photos depicted a life that a Midwestern farm boy like Ray never could have envisioned. Dragon and Buddha statues in Japan; Korean children enjoying homemade treats Ray's wife Carol had shipped; U.S. Marines bundled up on the front lines of the historically bloody Korean conflict.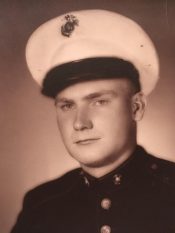 Young Wayne remembers flipping through these albums and coming across a few photos of a man standing on what appeared to be a stage. He didn't recognize the man, but he became familiar once Ray said it was Billy Graham.
Wait? The same Mr. Graham on the family's new black-and-white television set? The same one.
Over the years, Ray shared more details in between milking cows on the family farm and fishing with Wayne on vacation. The result was a great story the Snellers still share to this day about how Billy Graham has impacted the generations.
It was 1952 when Ray was drafted for the Korean War. He was one of about 1.5 million United States men conscripted once the government learned he and his new bride weren't expecting a baby. The government decided this Iowa farm boy was going to be a U.S. Marine. Up until that point, all Ray had known was farming. Corn and oats, he said with a laugh, decades later from his home in South Dakota.
As a Marine, he originally was assigned to work on tanks. But in Korea, he spent more time on guard duty. His fellow Marines called him Papa-son. In their teenage eyes, this 24-year-old married man was, well, old.
Ray just laughed it off. The support of his wife and family meant everything to him. His faith was initially instilled in him by his devout father who took his 14 children to church every week. Ray carried that faith with him into military service and read every letter his family sent, as well as every Sunday school report.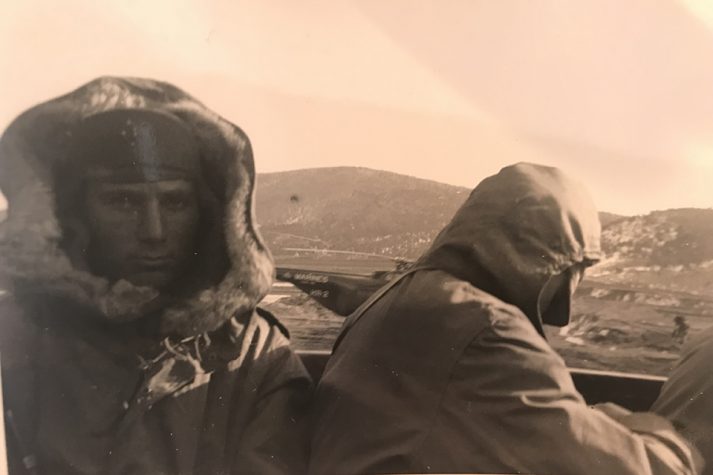 It was nearing Christmastime when Ray heard of an event happening with Billy Graham. This young preacher was making a name for himself in the States and the Marine wanted to see what it was about.
"It was cold, and I was surprised that there were that many men that really attended because a lot of times men didn't do that," Ray said. "We rode in an open 6-by-6 truck so it was nothing enclosed. I wouldn't dare say how far it was or how long it took. I don't remember that at all. But I went with a fellow that I called Deacon. He had served with Billy Graham's Crusade before he was called to service in the Marines."
On that bone-chilling December day, Ray and his fellow Marines packed the makeshift assembly and listened as Mr. Graham shared a message of God's love.
"He was a humble man," Ray said. "His messages, they weren't deep theology but they were just messages that Jesus spoke that the children [of all ages] could understand. … He always spoke the truth, and the truth will set you free."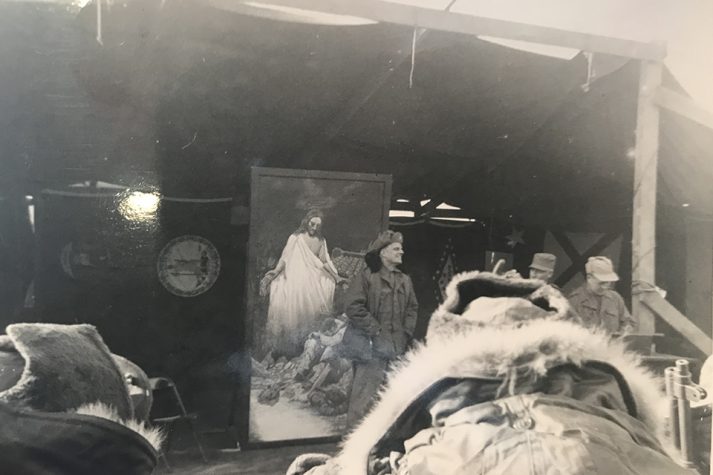 The message was likely the first one that Mr. Graham shared on the front lines of Korea. It boosted Ray's spirit. It also touched Mr. Graham as so many soldiers made personal decisions for Jesus Christ.
>>PHOTOS: Mr. Graham's front line visit to Korea
"My first sermon on the front lines saw me on a newly built platform graced by a painting done by a soldier 40 miles away," Graham remembered in his autobiography Just As I Am. "Troops had carried the painting (which depicted Christ watching over an exhausted soldier) to us overnight, and it stood next to me as I preached. I did not use humor or stories to break the ice that night. I dove right into the Gospel and hundreds responded. I felt the Spirit of God in that meeting. Men of every rank came forward, many in tears—and they were tough, rugged men!—to receive Christ!"
'Could I See Your Face?'
Korea was a brutal war. Thirty-thousand American soldiers gave their lives while many more were impacted for life. Mr. Graham talked and prayed with soldiers on the front lines and in hospitals during his 1952 visit. He recounted one meeting with a soldier that happened on Christmas Eve. Mr. Graham and others traveled bed to bed, offering the encouragement of Christ:
"One young man was so mangled that he lay face down on a canvas-and-steel contraption. A doctor whispered to me, 'I doubt he'll ever walk again.'
"'Mr. Graham, could I see your face?' asked the young man. 'We've all been praying for you and looking forward to your coming. I won't be able to be at the service.' So I lay on the floor beneath him and looked up into his hollow eyes, still stunned with his fate. I prayed with him.
"When we walked from the bleeding, broken, dying men of that hospital into the crisp, clean, thirty-below-zero air of Christmas eve, I felt sadder, older and more aware of the needs and suffering not only in Asia but also in the entire world."
Back stateside, Billy Graham became a household name for the Snellers, who watched his televised Crusades. Ray's oldest son Wayne, now a pastor in Iowa, laughed saying the family only watched Billy Graham or Lawrence Welk. The Snellers attended Crusades over the years, singing in the choir sometimes and serving as counselors at other times.
Wayne said the story of Mr. Graham's visit in Korea made a spiritual impact on him. He was a young pastor serving in Washington State when he made a point to take his three daughters to see Mr. Graham during the 1991 Seattle Crusade. As the years flew by, Wayne said his dad began to open up more and more about his life.
"After my dad retired, we started to fish together when I'd take a week of vacation," Wayne said. "That's when the stories would come out. Little by little, I'd hear more of his service life and the things that happened, where he was with his service and how that integrated with his faith."
Faith has always been the linchpin of Ray's life. He served as a chaplain with the Veterans of Foreign Wars until he turned 90 this past year. He also participated in Memorial Day services in his adopted hometown of Parker, South Dakota.
Ray never imagined he'd serve his country. He never really thought he'd see a whole bunch more than corn and oats, let alone capture photos and a faith story to share for generations to come.
"Now Ray says when you talk to him, he's very proud that he served his country after he thinks back and goes through his books," his wife Carol said. "He said he never thought he'd be in the service, but he says he's happy he did serve."
We are, too. Thank you, Ray Sneller, and every other individual who has served the United States of America. Please join us in praying for the families whose loved ones made the ultimate sacrifice. We especially remember you this Memorial Day.