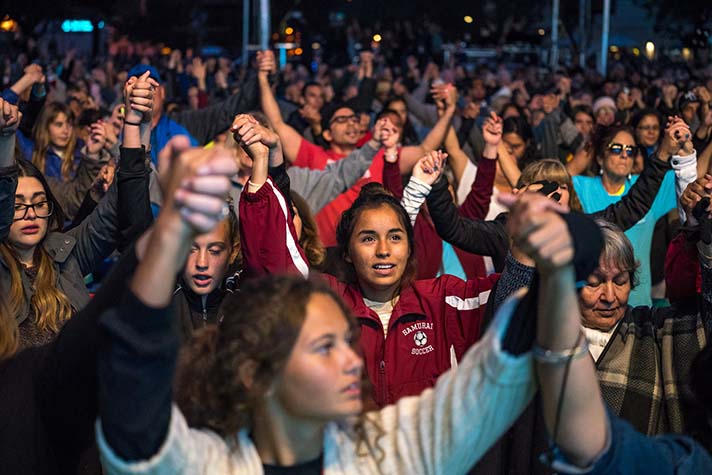 California may be the Golden State but the news media have dubbed it—and the entire western U.S. coast—the blue wall.
At his first stop on the 10-city Decision America California Tour, Franklin Graham made it clear just why he came to the influential state.
"I want to pierce that blue wall but not for politics. I want to pierce that blue wall for Christ," he explained Sunday night in Escondido.
The goal isn't to turn California red, but to get Christians involved in the everyday happenings of their communities so that others come to know Christ through them. That often means standing up for Christlike values.
>> See photos from the first stop of the Decision America California Tour
With an increasingly progressive liberal agenda played out on social media, on TV and in films, some Christians may have long written "Cali" off as a lost cause.
Not so, says Lisa Youngblood, who attended the evangelistic prayer event at Escondido's Grape Day Park.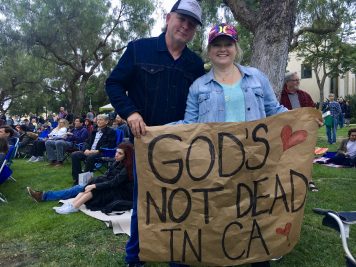 "It seems like what we see on the news is not representative of what we know to be true," she said.
"You always have to give the voice to the politically correct group that is the minority but that gets all of the attention.
"Voices that get the attention are always against our values," Lisa said.
The well-spoken mother of a 21-year-old son—who sat beside her in a lawn chair—Lisa spoke of a movement in her state. She was referring to the growing number of parents who home school or send their children to charter schools.
Why is this?
"[Progressives] are against our values in the schools," she explained. "Having opinions being forced on us that are anti-Christ, that are going out of their way."
Franklin Graham proposed a solution to this issue—and the audience applauded loudly.
"Let's get Christians to run for office," he said, specifically mentioning the school board.
Franklin didn't let congregations off the hook either. "The churches have got to get behind this," he said. "The church has to get involved politically."
But first and foremost is prayer. "You need to be praying for your state," he told the crowd.
Lisa's husband Robert, raised in California, acknowledged the wide mix of spirituality there. "A lot of Hinduism, Buddhism, self-realization with the surfer community."
He added that there are a whole lot of Christians, too. "We are the silent majority. There's more of us than they realize."
These one-day evangelistic events and Christian values do matter, Robert said, because California is the tip of the spear.
"It can affect the whole nation because as California goes, the rest of the nation goes. Everybody keeps wanting to forget California and say we're a lost cause. We're not a lost cause. There's a lot of good people in California who want to keep it the way it was."
Thirty-six-year-old Amy Fodrey agrees. She attended a Billy Graham Crusade in middle school in nearby San Diego and was excited to hear his son, Franklin, share the same message of the Gospel.
"It's neat to see how truth can be passed from generation to generation and that's what I want for my family and for my boys," she said.
"It's helped me through life."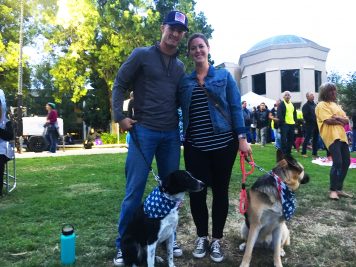 Dustin Fleming, a U.S. Marine, lives in Oceanside, California, and just returned from a six-month deployment to Japan. He attended Sunday's event with his bride Mattie and two dogs, Kimber and Shiner.
The Flemings were hesitant about moving to California from their conservative home state of Virginia. "Just the stereotypes that come along with living in California," Dustin said.
"We almost live in an anti-church, anti-God environment society at some points," Dustin said. "So coming to California, where that is like the spearhead of that movement almost, you have apprehension as a believer in Christ.
"Will we be able to find a church family? Will we be able to find like-minded individuals?"
Mattie said they'd met a lot of amazing people.
"There's a lot of Christians here. There's Christians everywhere. You've just got to get plugged in and find them."
"Everyone needs Jesus," Dustin said. "California, America, especially now. … God's present here in California just as anywhere."
Trying to find purpose in life? Start here.