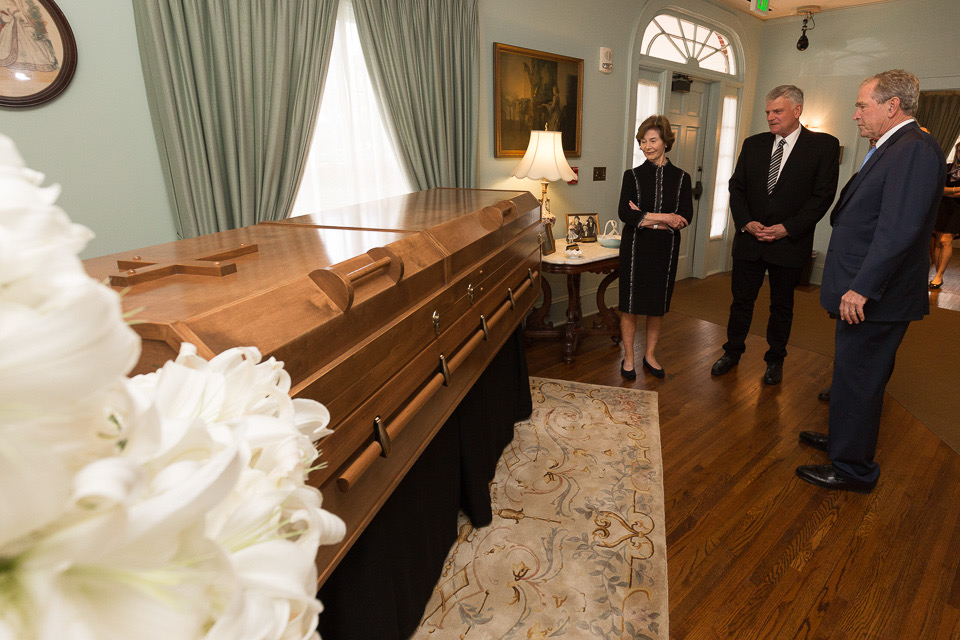 The 43rd president of the United States visited the grounds of the Billy Graham Library in Charlotte, North Carolina, on Monday to pay his respects to a dear friend, Billy Graham.
Former President George W. Bush and former first lady Laura Bush arrived at about 3:45 p.m. and warmly greeted Franklin and Jane Graham. The two couples then spent about 30 minutes inside the Graham Family Homeplace, where Mr. Graham is lying in repose until Tuesday night.
>> The public is invited to the lie in repose period. You can also watch portions of this time live online. Get details.
After their private visit, the Bushes and the Grahams came outside, and former President Bush gave these remarks before quietly getting back into their car:
"If there's such a thing as a humble shepherd of the Lord, Billy Graham is that person. I am unbelievably blessed to have met him. I also had the honor of bringing my Mother and Dad's greetings to Franklin and the family. Billy Graham and Dad were great buddies, and I know he wished he could come, too. He's not moving around too much these days, but his spirit and heart are here. God bless Billy Graham."
The Graham Family Homeplace—the home Mr. Graham grew up in—is now situated just in front of the Library, an "ongoing Crusade" that presents the message Mr. Graham preached for decades.
It's that message that former President George W. Bush said changed his life. Two days after Mr. Graham's passing, he wrote in a Wall Street Journal op-ed: "God's work within me began in earnest with Billy's outreach. His care and his teachings were the real beginning of my faith walk—and the start of the end of my drinking."
Franklin Graham told the media that he truly appreciated the Bushes coming to pay their respects to his father.
"We're very grateful that President Bush came today with Laura. That was a great honor," he said.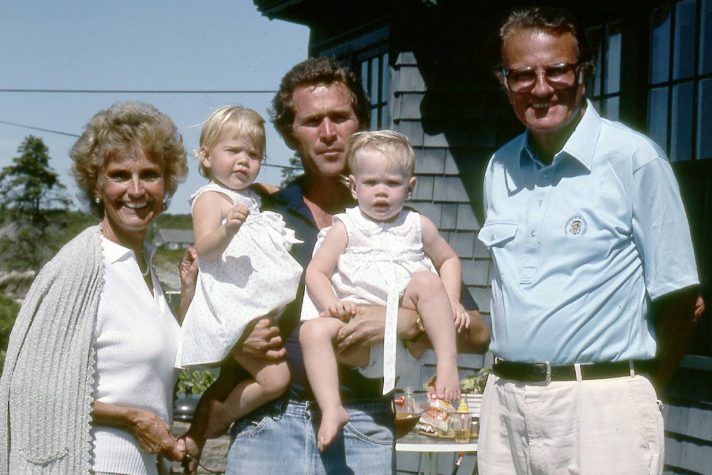 President Bush first met Mr. Graham on his grandmother's porch in Maine in 1985, 16 years before he took office. Mr. Graham met with every president since Harry Truman, including President Bush's father, George H.W. Bush. Each president faced challenges during his term, but it was only nine months into the younger Bush's presidency that the Twin Towers fell and America was changed.
President Bush asked Mr. Graham to lead a service at the Washington National Cathedral in Washington, D.C., on Sept. 14, 2001.
"As only Billy Graham could, he helped us feel God's arms wrapped around our mourning country," he wrote in the Wall Street Journal.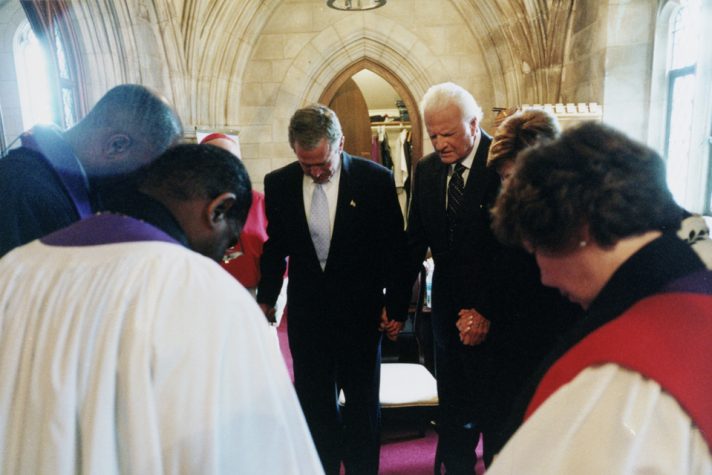 "When I was president, I was thankful that Billy came to the White House to visit. He has no political agenda. He has an agenda of the Lord," he once said.
Monday's visit wasn't the first time President Bush has visited the Billy Graham Library. He and first lady Laura Bush were there in 2010 to sign copies of their memoirs and meet again with their longtime friend.
"[Billy Graham] made it clear that the path to salvation is through the grace of God," President Bush wrote of Mr. Graham in the first chapter of his memoir, Decision Points. "And the way to find that grace is to embrace Christ as the risen Lord—the Son of a God so powerful and loving that He gave His only Son to conquer death and defeat sin."
When President Bush returned to the Library on Monday, this time it was to bid farewell not only to a man he called a friend, but more importantly, a man who showed him the importance of Jesus in his life.
The day Mr. Graham died, President Bush shared on Facebook: "A great man, a humble servant, and a shepherd to millions has passed on. Billy Graham was a consequential leader. He had a powerful, captivating presence and a keen mind. He was full of kindness and grace. His love for Christ and his gentle soul helped open hearts to the Word, including mine. Laura and I are thankful for the life of Billy Graham, and we send our heartfelt condolences to the Graham family."