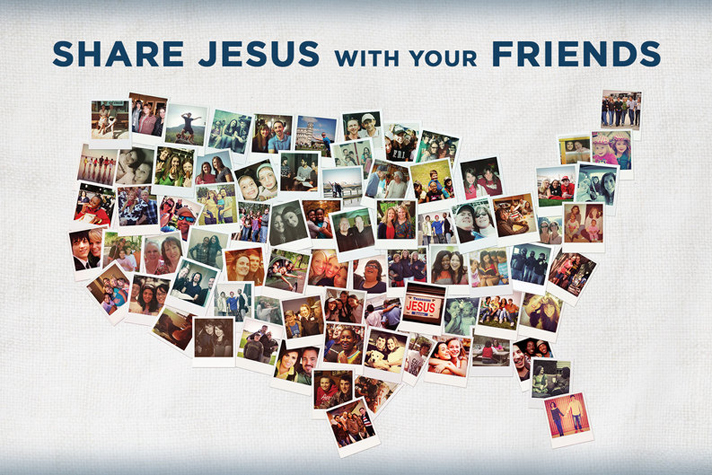 From coast to coast, in all 50 states, believers are gearing up for My Hope America with Billy Graham. The massive outreach that's culminating Nov. 7-10 is aimed at introducing people from all walks of life to Jesus Christ.
The crux of My Hope is relationship evangelism. Hundreds of thousands of Christians from more than 25,000 churches have signed up to host events in their homes, schools, workplaces and even tents.
There's still time to get involved in the movement, which is happening in conjunction with Billy Graham's 95th birthday. This year, Mr. Graham recorded a new message to the people of North America, which was combined with real-life stories from individuals who had life-changing encounters with Jesus. The result is a series of powerful, 30-minute videos that clearly share the Gospel message in a compelling way.
The videos will be available via television broadcast, DVD and streaming online. While many will show the programs in the comfort of their living rooms, others have come up with some unique venues for sharing the Gospel, including a fire house in North Carolina, a community center in Arizona and a drive-in theater in Florida.
Head to the My Hope website to learn more about hosting an event, including information on local broadcast times and how to order a DVD. Then, check out the ideas below for inspiration, and start praying about how you can reach your community with the Gospel.
My Hope on Halloween
On Halloween night, 1,000 students from four North Carolina colleges and universities plan to gather at a local church to watch the My Hope video, "Defining Moments." Michael Mehaffie, the director of Campus Crusade for Christ at North Carolina State University, said Christian students are being encouraged to bring friends who don't have a relationship with Christ. Many are also planning to hold smaller My Hope events in their homes and dorms. "I think it's one of the clearest Gospel presentations I've seen," said Mehaffie, who was saved while watching a Billy Graham Crusade on TV in 1968. "We're trying to let people know the quality of it so they can get behind it."
Night at the Drive-In
A group of believers in the Jacksonville, Fla., area will show one of the My Hope videos on the big screen at the local drive-in movie theater. Several churches in the coastal community of Nocatee teamed up with local leaders and business owners to spread the word about the Nov. 8 event. The drive-in theater can hold 200 cars, and believers are praying for a great response. As part of the event and follow-up, First Baptist Church Jacksonville is preparing for a Harvest Sunday, when new believers will be invited to church.
Blast From the Past
A North Carolina man is hosting an old fashioned tent meeting in Charlotte, where he'll show the My Hope video, "The Cross." The Nov. 9 event is a tribute to the tent revivals of the 1940s that first put Billy Graham in the spotlight. The video will be shown on a screen under the tent, which will hold 80-100 people.
On-Air in Oregon
KGRV Southwest Christian Radio plans to play the audio from some of the My Hope America programs. They are also inviting people to come into the station and watch "The Cross." while enjoying birthday cake in celebration of Billy Graham's 95th birthday.
Meat and a Movie
A Fort Mill, S.C., man has been going on hunting trips with friends who don't know Jesus. He plans to invite them all to a hunter/game dinner where he will show a My Hope America program.
Teaming Up in Arizona
Two churches are teaming up in Pearce, Ariz., to show a My Hope video at the Sunsites Community Center on Nov. 7 from 5 to 6 p.m. The event will be co-hosted by The Church at Sunsites and Wynne Chapel Churches of Christ.
On Fire for Christ
A church in Canton, N.C., is planning on hosting a My Hope showing at the local fire department later this month. North Canton Baptist Church will also show a My Hope video at a local high school and at the church, where members will provide Bibles to those who don't already own one.
'Welcome' to the Movies
A Church in Welcome, N.C., is showing the "Defining Moments" video during an outdoor movie night on Nov. 3. at 6 p.m. First Baptist Welcome is calling the event "Movie on the Field."
Black Mountain Birthday Party
Business owners and merchants in Black Mountain, N.C., Billy Graham's home town, are holding a 95th birthday celebration at the Performing Arts Center on November 4. They're inviting customers to the event, where they will have cake, music and show a My Hope America program.
Skatepark Evangelism
Ransom, the Billy Graham Evangelistic Association's ministry for teens and young adults, is hosting a My Hope event at Soul Ride Skatepark in Concord, N.C., just outside Charlotte. The event will feature a visit from Brian Sumner, the skateboarder who gave his testimony in My Hope's "Lose to Gain" video. There will be a best trick contest and giveaways, and "Lose to Gain" will be shown.
'Night at the Movies' in Illinois
Billy Graham's alma mater, Wheaton College in Illinois, is involving the whole campus to My Hope America. On November 5, they will show "Defining Moments" during a luncheon for vendors and business associates of the College. On November 7, faculty, staff and students are being asked to invite friends and neighbors to watch the nationwide broadcast on campus. The evening will have a "night at the movies" theme and will include local churches. On Nov. 12 and 19, Wheaton will hold a two-session series titled "Knowing Jesus" intended to help new believers take the next steps in their walk with God.