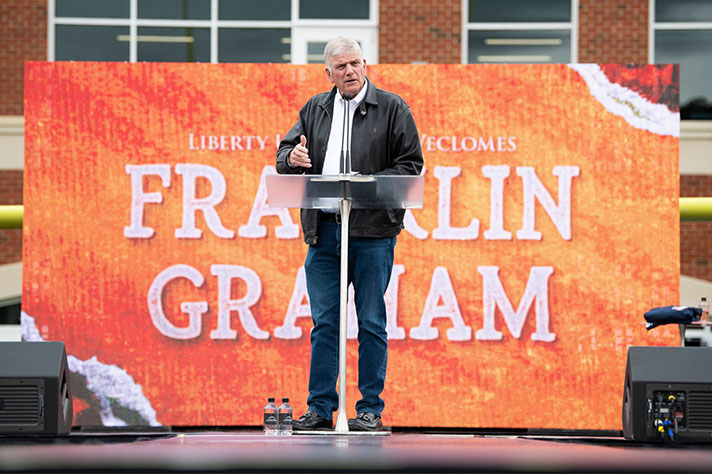 College always prompts questions about life and the future, but in 2020, students face more uncertainty than ever amid coronavirus concerns.
Franklin Graham, president of the Billy Graham Evangelistic Association and Samaritan's Purse, recently spoke with Liberty University students, providing Biblical encouragement for those seeking steadfastness in Christ.
"A lot of things you could do today, society says it's OK. But God doesn't say it's OK," Franklin Graham said. "We try so hard to look like culture, act like culture, smell like culture, to taste like culture, but God has called us to be holy.
"We're not to be like the rest of the world," Graham explained.
This calling can be challenging for college students embracing their independence and living far away from family for the first time.
Referencing the first three chapters in Daniel, Graham reflected on the heart of Daniel, a youth who chose to follow God even in the midst of demanding and challenging circumstances.
Daniel was likely around 16 years old when King Nebuchadnezzar laid siege and destroyed his city of Jerusalem. While the king sent much of Israel's population into captivity in Babylon, he handpicked several young men—including Daniel—to train and serve in his administration.
God's Favor
Despite being in a pagan country, Daniel and his friends—Shadrach, Meschach and Abednego—chose to live in a way that honored the Lord, though it made them different from everyone else.
Turning toward the students, Franklin Graham told them, "You're young … you've got your life in front of you. But like Daniel, my prayer is that you'll purpose in your heart [to] not defile yourself with the things of this world."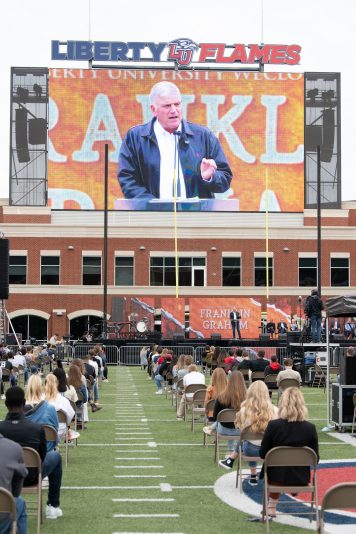 The Bible says God blessed the four young men with knowledge and good health. Daniel was also given the ability to interpret visions and dreams, a gift that helped him gain King Nebuchadnezzar's trust and saved his life. 
When the entire country was commanded to bow down and worship a golden image, Shadrach, Meschach and Abednego refused.
"They stood out alone," Graham said. "It would've been very easy to say, 'Listen, God understands. He doesn't want us to hurt, to suffer. He's put us in a position of authority, we're some of the leaders here in the country. We'll just go along, we'll just take one knee, half a bow and that'd be OK.'"
King Nebuchadnezzar was furious and had them thrown into a fiery furnace. They survived, and were seen walking in the inferno with a fourth man who appeared to be the Son of God.
"God delivered them, and it goes back to what they purposed in their heart," Franklin Graham said.
"All through your life, God can deliver you from all kinds of circumstances if you're willing to honor Him; and be willing to take a stand even though people may ridicule you, accuse you and say all kinds of things about you."
Being a Christ follower isn't the easiest path, but it offers a peace and joy that the world can't.
"I want to encourage you today as you start this new semester," Graham said. "I pray each one of you … won't compromise or defile yourself, and you'll take the Gospel and share [it] with everyone you can."
Because just as in Daniel's day, the times are evil.
"Our world is in trouble," Graham concluded. "I don't think we've ever been at a crossroads like we are today."
Will you take a stand like Daniel and his friends?
You can rely on God to overcome any circumstance. Trust Him today.