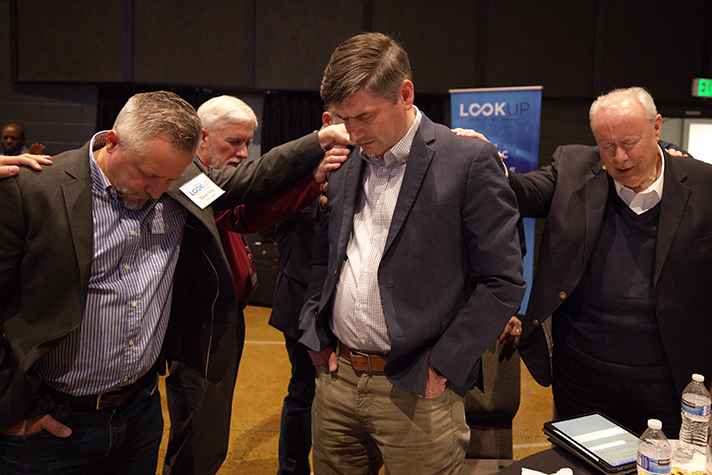 Many of you serve in ministry in one way or another, perhaps in your local church or through a nonprofit organization.
If that's you, you likely already know that there are ups and downs to serving. If you're on the proverbial "mountaintop," that's great! Praise the Lord! But, my guess is that some of you are at the end of your rope. You haven't seen the fruits of your labor that you'd hoped for or expected.
Maybe you're resentful of others around you who don't seem to be carrying their own weight in the ministry. Perhaps your team is great and you're seeing a harvest, but you've been going nonstop as far back as you can remember and you're just burned out.
If you're struggling today, you can probably sympathize a bit with the church in Ephesus, to whom God speaks in Revelation 2:1-7. You see, the early believers there worked hard in the ministry, and they were good at it. We're told that they were tireless, discerning and persevering. Even in the face of hardships and persecution, the church continued to serve those in need. What a church!
The problem, however, is that the Christians in Ephesus labored so hard in ministry that they lost their focus and the source of their motivation. The church had forsaken its first love.
Ephesus was like the New York City of its day, and I'm sure there was a lot to be done: They were busy feeding the hungry, attending to the sick, preaching in the streets—and they were so wrapped up in the process of doing God's work that they had no time for God Himself.
We're called to so much more, however, than just "staying busy for Jesus." If this struggle is all too familiar in your life and ministry, look again at the first half of verse 5: "Consider how far you have fallen! Repent and do the things you did at first." In these two little sentences, God gives us three key steps to take in order to return to the correct path.
First, "consider how far you have fallen." Simply put, we need to remember. The believers in the church at Ephesus were reminded of when they first encountered the Living God and were bursting with excitement. Just as marriages can become mundane if we forget that original passion and don't make an effort to keep it burning, so it can be with God. We can go through the motions and do the work but not remember the desire we once had for Him.
Second, "repent." It feels odd to say we need to repent for doing ministry, but according to the passage, the people of the church were ministering with the wrong spirit and motivation. Perhaps they were laboring because it was expected of them, or perhaps they were doing it because they liked the nice things that others were saying about them as they worked. Whatever it was, the issue was bad enough that God called them to repentance.
Finally, "do the things you did at first." Or, as I would put it, renew your relationship with Him. My grandfather once told me that the key to ministry was to "pray, pray, pray," and "study, study, study." I believe his advice would have been the answer for the church at Ephesus, and it's the answer for any of us who are struggling with the same issues that faced those early Christians.
Think about it: if you commit one hour each day to developing your relationship with your spouse, that relationship will grow and flourish. Similarly, if we give God the best of our time (not just the scraps that we manage to find where we can sneak Him into our schedule), and focus that time on building our relationship with Him through concerted prayer and study, I believe we will quickly remember and reconnect with our "first love."
Serving is important for a follower of Jesus, but never forget that our first calling in life is to be with Jesus.
Remember the story of sisters Mary and Martha in Luke 10. Mary sat in Jesus' presence, while Martha hurriedly worked on preparations—to the point of frustration and anger. Jesus commended Mary for choosing "the good portion" (Luke 10:42, ESV). Only when we're with Jesus can we fulfill the ministry to which He has called us.
If you're feeling burned out and burdened today, it doesn't have to be this way. Remember, repent and renew. Rekindle and deepen your relationship with Jesus, and allow Him to use you for His glory and perfect work.

Scripture Reference: Revelation 2:1-7
"To the angel of the church in Ephesus write:
These are the words of him who holds the seven stars in his right hand and walks among the seven golden lampstands.
2 I know your deeds, your hard work and your perseverance. I know that you cannot tolerate wicked people, that you have tested those who claim to be apostles but are not, and have found them false.
3 You have persevered and have endured hardships for my name, and have not grown weary.
4 Yet I hold this against you: You have forsaken the love you had at first.
5 Consider how far you have fallen! Repent and do the things you did at first. If you do not repent, I will come to you and remove your lampstand from its place.
6 But you have this in your favor: You hate the practices of the Nicolaitans, which I also hate.
7 Whoever has ears, let them hear what the Spirit says to the churches. To the one who is victorious, I will give the right to eat from the tree of life, which is in the paradise of God.