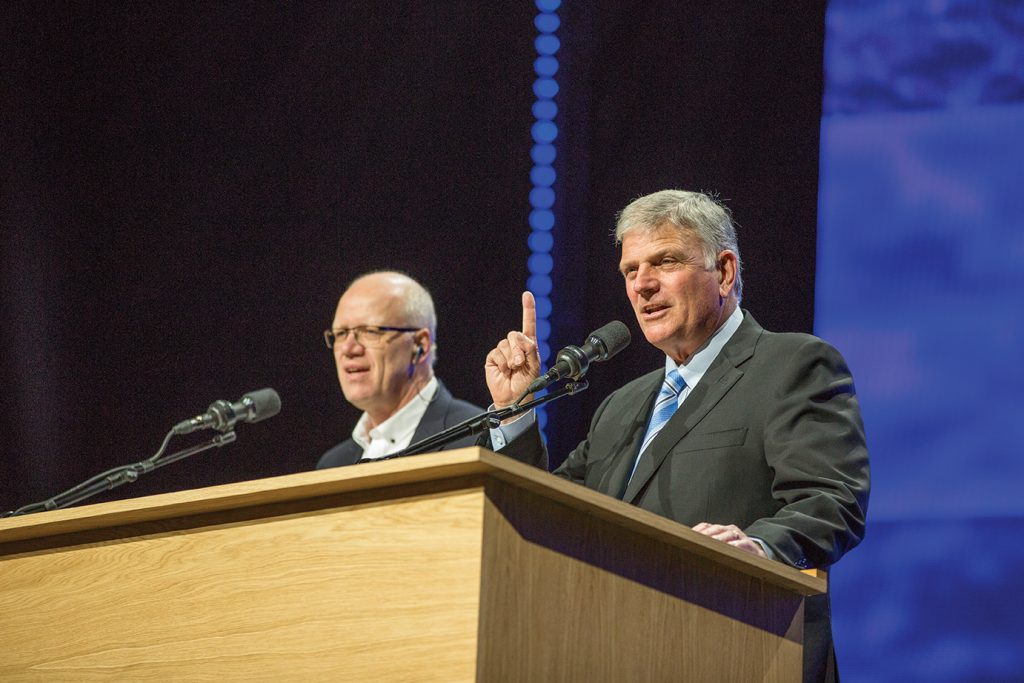 Dear Friend,
"Truth is flexible"—that's the brightly lit message above a popular pedestrian bridge in the heart of Oslo, the capital city of Norway. The bridge is just blocks from the Norwegian Parliament and a short stroll from the arena where I preached the Gospel at an evangelistic Crusade in mid-November.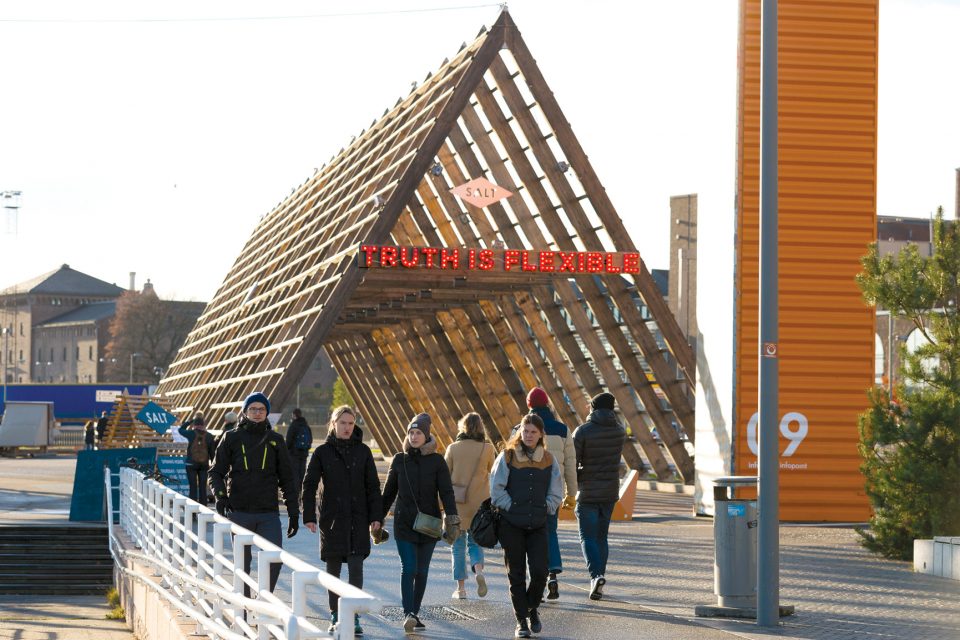 Norway is a beautiful, friendly, and prosperous country, but that sign is an illustration of how far Norwegian culture has drifted from its long and rich Christian heritage. Nearly 9 out of 10 Norwegians are members of a church, just as their parents and grandparents have been for generations. But today not even 1 in 10 actually goes to church. As secularism has taken root and spread, many in Norway—as in our own country—believe that truth is what you want it to be or what feels right to you. Yet when we take our last breath on earth, that thinking won't stand. Each of us steps into eternity in one of only two places—Heaven or Hell.
To show us the only true way to salvation and eternal life, the Bible points directly to "the message of truth, the gospel" (Ephesians 1:13, NASB) and tells us that the "truth is in Jesus" (Ephesians 4:21). Jesus Himself said, "I am the way, and the truth, and the life; no one comes to the Father but through Me" (John 14:6). That's the most important truth anyone can hear, and it is what I went to Oslo to preach.
"This has been very revealing to me," one woman in Oslo said after going forward Sunday night during the invitation. She explained that she remembered making a spiritual commitment years ago but had not been going to church or living for Christ. Instead she had settled comfortably into the culture of materialism and apathy all around her.
She told a prayer counselor that God spoke to her heart through what she called "Franklin's short, straightforward" message on sin and grace. She realized she needed to repent and turn away from sin, asking Jesus Christ to forgive her and change her from the inside. "I feel like a new person," she said afterward. "I really needed this tonight." Now she wants to realign her life to focus on the things that really matter.
The Bible says, "God has given us eternal life, and this life is in His Son. He who has the Son has life; he who does not have the Son of God does not have life" (1 John 5:11–12, NKJV). I thank God for doing a mighty work in the hearts of many of those who heard His truth in Oslo, and I thank Him for all those who responded by giving their hearts and lives in repentance and faith to the Savior Jesus Christ. To Him be the glory.
As we approach Christmas in just a few weeks, remember that the reason we celebrate is because God sent His Son to earth on a rescue mission. The great wonder of Christmas is that "Christ Jesus came into the world to save sinners" (1 Timothy 1:15).
God wants lost people found and rescued before it is too late. We are not meant to be merely spectators in this. It is an urgent mission, and we must take care not to neglect our part in the task. That is why I have just preached in Norway and why the Billy Graham Evangelistic Association (BGEA) proclaims the life-changing Gospel of Jesus Christ at every opportunity in every place possible.
Our hearts are broken over the unthinkable church massacre in Sutherland Springs, Texas. We immediately sent crisis-trained chaplains from our Billy Graham Rapid Response Team to offer spiritual support in any way they could. The chaplains' ministry is very personal—they comfort and care for individuals and families in the Name of Christ, one at a time, listening to people's stories, praying with them, and sharing God's love. During their time in Texas, chaplains prayed with more than 1,000 people affected by the mass murder.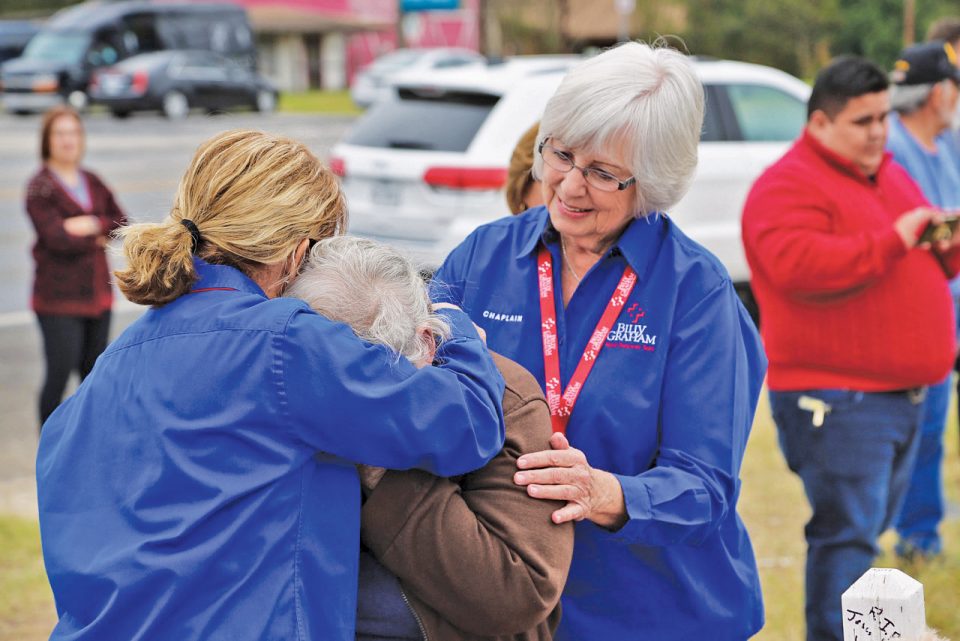 Although our chaplain teams can't end the pain or answer all the questions, we are thankful for the special opportunity to bring the love and hope of Jesus Christ into shattered lives and a grieving community. People need to know that God loves them and that He is present and working through both the suffering and the healing. And when God creates the right moment with someone who does not know Christ, the chaplains are always ready to share the Truth that brings lasting comfort and hope.
As our nation and the world seem to grow more troubled and chaotic by the day, the Baby born in Bethlehem is the only answer that will last. He is the One who died on the cross for us and rose again, conquering death and rescuing us for eternal life. It is through Him, and Him alone, that we receive God's gift of forgiveness and salvation.
For so many today who suffer under the threat of conflict or acts of terror, Jesus is the Prince of Peace. For people dealing with doubts and discouragement, Jesus is the Wonderful Counselor. For those staring death in the face, Jesus is the Resurrection and the Life. For those who lack strength to face difficult challenges, Jesus is Mighty God.
Next year we will be preaching in cities along our nation's West Coast to penetrate the "blue wall." Politicians refer to California and the Pacific Northwest as the "blue wall" because it is a stronghold of liberal politics, but I'm talking about the deep-rooted secularism that dominates the region. Fewer than 1 in 3 people there today believe that Biblical values—or any religious values, for that matter—should be the ultimate guide for our lives. We want to penetrate this region for Christ. We'll hold prayer rallies and share the Gospel in 17 cities. Pray with us as we plan this strategic tour to pierce the blue wall—not for politics, but for the Gospel and the glory of the Lord Jesus Christ.
We also plan BGEA evangelistic Crusades in over a dozen other cities in North America, Latin America, Australia, Asia, and Europe. To do all this, we gratefully rely on your prayers and your gifts.
May this Christmas be a time of joy and hope in your home and in your hearts, with Jesus as the center.
May God richly bless you,
Franklin Graham
President