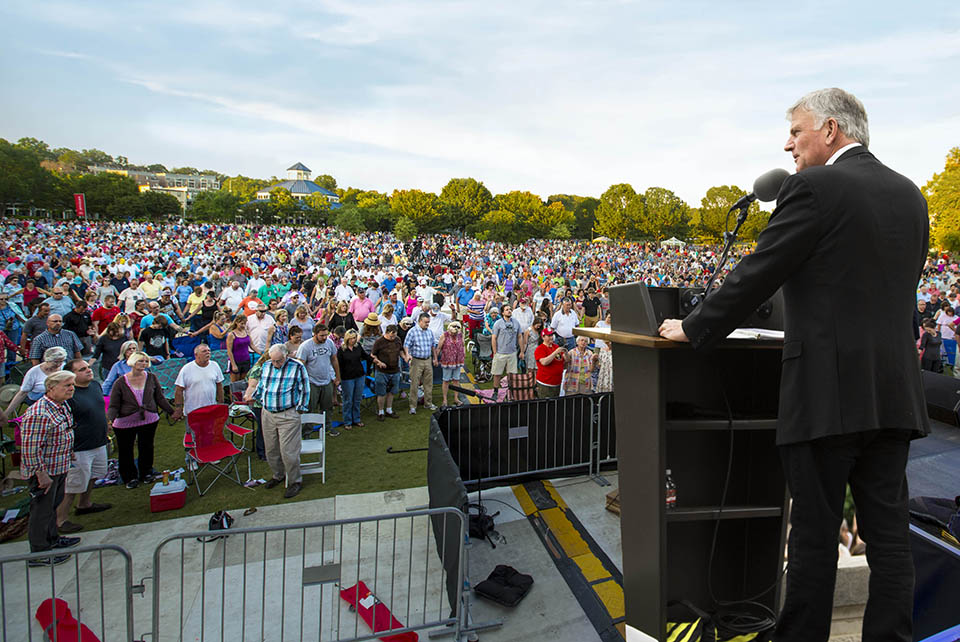 Dear Friend,
Lord, I stand in awe of Your deeds. Revive Your work in these years; make it known … remember mercy! (Habakkuk 3:2, HCSB)
If the prophet Habakkuk lived in America today, he would probably pray the same prayer. Habakkuk heard of many great things God did in his own nation in the past, but he lived in days when many people rejected God, forgot His Word, and ignored His ways. They thought going their own way was better than God's way. The prophet loved God and feared Him. He boldly asked God to renew His work in his own day. He didn't just want to hear what the Lord did in the past. He wanted to see God work in the present. We need to pray for a mighty work of God in our nation today.
It's why we proclaim the power of the Gospel in cities all over the country, and it's why our Billy Graham Rapid Response Team (RRT) chaplains bring the love and truth of Jesus Christ to places in America where people are enduring tragedy, hardship and loss. God uses your prayers and gifts to make this possible.
>> Chaplains are currently ministering in the Bahamas after Hurricane Dorian. See the latest updates.
We deployed crisis-trained RRT chaplains immediately after the recent massacre in El Paso, Texas, and the mass shooting in a crowded nightlife district of Dayton, Ohio, providing emotional and spiritual care in the devastated communities.
In Dayton, chaplains listened, comforted and prayed with a wide range of angry, grieving, hurting and questioning people. These included family members and friends of shooting victims, recovering alcoholics and addicts on the streets, police officers and other first responders, media professionals and homeless people. One young man, stunned by the evil of what happened in his city, opened up to the chaplains about his own struggle with guilt over the many wrongful things in his past. Using Scripture, a chaplain explained how to find forgiveness through repentance of sin and faith in Jesus Christ. God opened the young man's heart, and he responded to what he had heard. After he prayed, chaplains again assured him that Jesus forgives and forgets his sins. They arranged for him to receive follow-up by a local pastor. To God be the glory.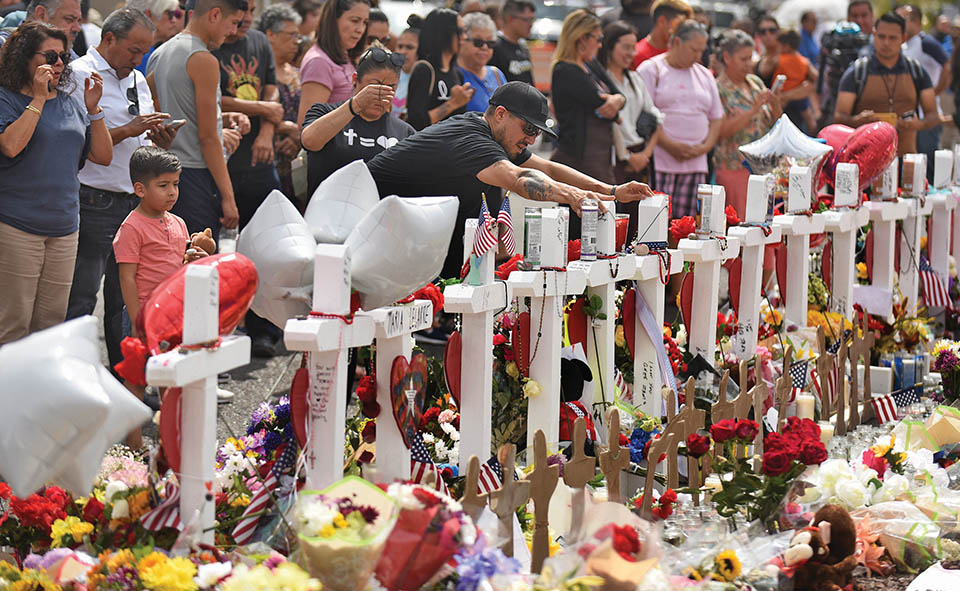 In El Paso, another team of chaplains ministered to streams of grieving people who came to the informal memorial site near the scene, marked by 22 white crosses. They also encountered political protesters who arrived in the days following the shootings. One young man, heading to join an angry crowd down the street, stopped to tell a chaplain about all the things in America that made him irate. The chaplain listened and then turned the conversation to faith and hope, asking questions that led the man to admit the world's system offers no lasting hope. The chaplain shared the source of real hope. Even though the angry protest crowd swirled around them, the man remained focused as the chaplain used our "Steps to Peace With God" booklet to explain what Jesus had done for him on the cross. No longer interested in the protest, he asked how to pray that Jesus would forgive his sins and become his Savior and Lord. Afterward, chaplains gave him a Bible and made arrangements for follow-up from a local church. We praise God for working in these and other lives.
Billy Graham RRT chaplains are also actively working with legal immigrants at the southern United States/Mexico border. In Del Rio and Laredo, Texas, chaplains are assisting local pastors and churches who have set up centers to help migrants coming across the southern border. Each one has gone through appropriate channels and has papers from the Border Patrol. Many of these people traveled extremely long distances—from places like the Democratic Republic of the Congo, Honduras and Nicaragua—in search of a better life in the United States.
After arriving on a bus, migrants receive food, water, clothing or other necessities. Upon participating in an orientation class, they have the opportunity to meet with our chaplains—who provide emotional and spiritual support, praying with many people who come through the centers. RRT chaplains also have Spanish-language Bibles available as well as copies of the gospel of John. When the people load the buses again to go to their next stops, they often have tears of joy and hugs for our volunteers. They arrive cautious, reserved and fearful—even distraught—but often leave with relief and joy after our volunteers care for them. One migrant from Cuba began sobbing when the chaplains started praying. After living in a nation that suppressed Christianity, he was overcome with the realization that he could pray out loud in this country.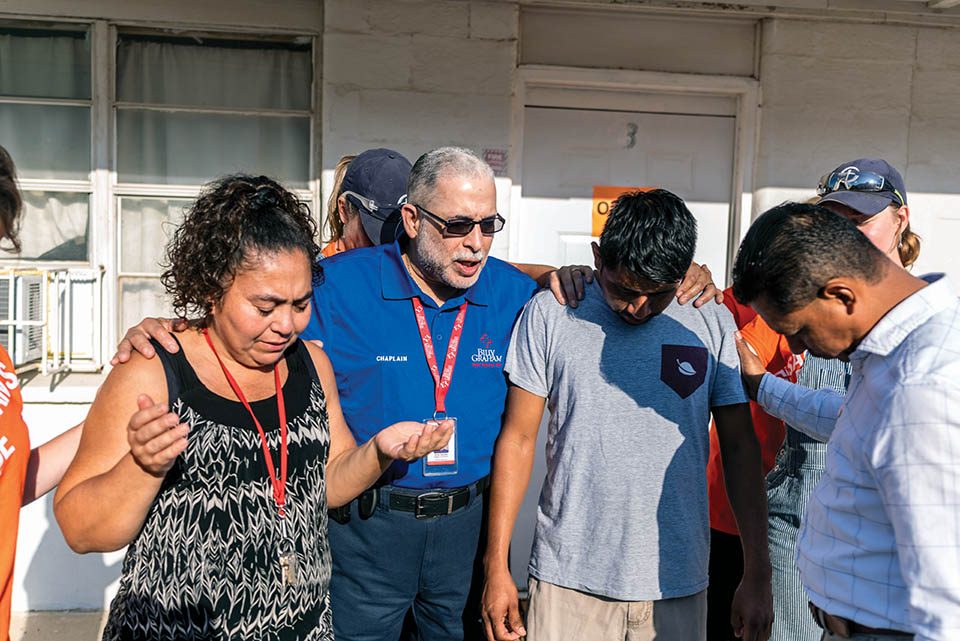 A chaplain in Del Rio met with a French-speaking migrant from the Congo. Only one day earlier, the chaplain received copies of the French translation of the gospel of John and "Steps to Peace With God." Line by line, they read through the booklet, discussing portions along the way. When they came to the end, the woman began weeping. She saw that Jesus Christ is the way, the truth and the life. Right there she repented of her sins and believed the Good News of Jesus Christ.
A mother and her 16-year-old son arrived after 22 days of traveling from Guatemala. He wore a face mask because he had pneumonia. Chaplains prayed for him, asking God to heal him supernaturally. The next day, the boy no longer wore a mask and said his lungs felt fine. One chaplain shared the weblink to the Spanish version of Search for Jesus—our internet evangelism outreach. The chaplain and the boy covered the entire presentation of the Gospel through the website, and the boy said he wanted to receive Jesus Christ into his life. After praying, with joy on his face, the boy hugged the chaplain and then found his mother to tell her about his decision. The mother thanked them for what they are doing in Del Rio. Would you pray right now for people coming through these respite centers?
I am currently preparing for the eight-city Decision America Tar Heel State Tour across my home state of North Carolina. Like much of the nation, there are many who do not know Jesus Christ as their Lord and Savior, and there are also those who want to remove God, the Bible and our Christian worldview from the public square. Pray with us that God will revive hearts and that we will see many people repent and come to faith in Him.
I will share the Gospel at each stop on the tour and call Christians to pray and take a stand for the Lord. I will preach in Fayetteville, Greenville, Wilmington, Raleigh, Greensboro, Hickory, Charlotte and Asheville Oct. 1–13.
>> Get involved in the Decision America Tar Heel State Tour with Franklin Graham.
Your support and your gifts will help people all over the Tar Heel State hear the Good News of Jesus Christ. We are also counting on your prayers. The intercession of God's people is vital if we are to see people in America return to God in repentance and faith.
If you know people in or near North Carolina, be sure to let them know about the Tar Heel State Tour. And if you live in or anywhere near the state, plan to join me in one of the cities on the tour. Bring your family and friends with you. Most of all, bring lost souls who need to know the Savior. Their eternity could be changed because of your faithfulness.
My son Will Graham recently returned from Tirana, the capital city of Albania. God opened the door for him to lead the first Billy Graham Evangelistic Association evangelistic event ever in that nation. He's also preaching the Gospel at evangelistic Celebrations in three Montana cities in September and will do the same in two Canadian cities in October. Ask God's Spirit to prepare the way, opening many hearts to Christ.
You continue to touch lives like these—in North Carolina, Texas, and around the world—through your prayers and gifts. Together we are standing on Biblical truth, reaching out with compassion, and proclaiming the hope of the Gospel both here and around the world. To God be the glory!
May God richly bless you,
Franklin Graham
President