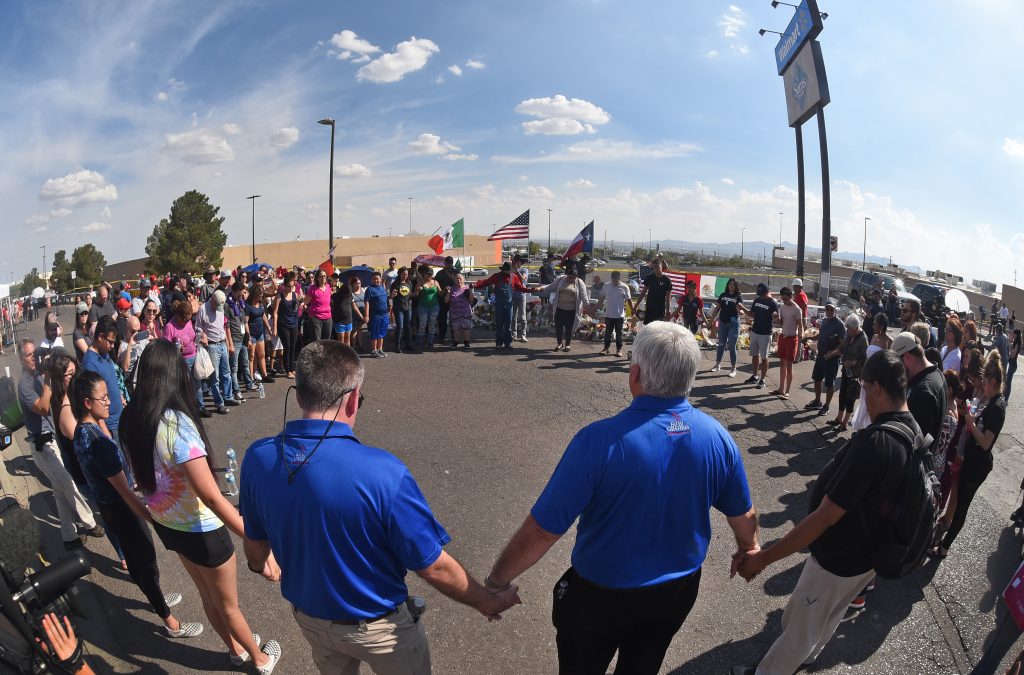 There's a shadow looming over a Walmart in El Paso, Texas, as hundreds of cars sit idly in the parking lot—seemingly frozen in time—following Saturday's mass shooting that killed 22 and injured dozens of others. 
On a nearby hill, hundreds of passersby remember the lives lost, several bringing a handful of roses or memorabilia to a memorial site. Sweat drips as the desert sun's heat intensifies, and some give out water bottles, trying to do anything to help. Many community members peer from the outskirts of the shopping center, watching the FBI look for evidence in an area that's usually innocently filled with bustling parents and energetic children. Others grab hands to pause and pray, looking for a glimmer of hope. 
"God is definitely our ever-present help in times of need, and we call on Him in times of trial," blue-shirted chaplain Rick Zemke said after praying with a group of Hispanic pastors. He's one of 12 Billy Graham Rapid Response Team chaplains who are offering emotional and spiritual care to the devastated community.
"We can't understand [tragedies like this] but God's the One who understands," Zemke continued. "God is a loving God, it's not that He wants this." 
>> How could God allow tragedies like this? Read more.
The truth of God's love is something that Joe Soto clearly understands, too. As he stood with his family at the memorial site, he reflected on a day that forever changed his life.
Pow! Pow! Pow!
Soto heard shots while waiting for his order at the McDonald's inside Walmart. He suddenly found himself in the middle of a mass shooting—while on the phone with his wife, Vanessa Alvarez.
"How many [shooters]? Where are you at? Run!" Vanessa cried, panicking.  
Shots fired again.
"I'll call you back," he said before quickly hanging up. Seeing the gunfire smoke, he ran and squatted down by a wall to assess the situation. Determined to stay alive and help others do the same, Soto led a group of elderly people into a storage room while images of his four children flashed through his mind. 
Soto knew the outcome would likely be grim if the shooter found them hiding, but he never did.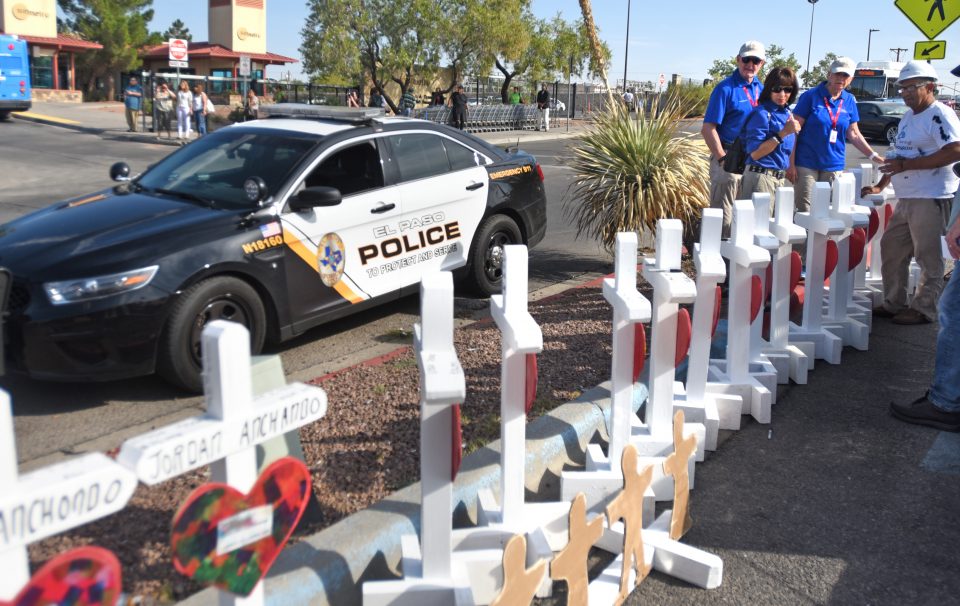 "God was with me," Soto said, recalling the event alongside Luis Mancilla, the Billy Graham Evangelistic Association's south regional manager who's serving with the crisis-trained chaplains.
"I had to stay strong. If it takes my life to save others, so be it if God wants it," Soto said faithfully. "I don't run my life; God does. If He needs you somewhere else and that's heaven, then that's where you're going to go."
Still, Soto pleaded for God to let him stay with his family, knowing they needed him. 
"Especially her," Soto looked at Ebony, his teary-eyed 9-year-old daughter standing nearby.  
Mancilla then bent down on one knee to talk with the young girl, who's the same age as his own daughter. "God has a purpose for you," he said before praying for the whole family to testify the truth of God the rest of their lives. 
"This is a wake-up call. God had mercy on us," said Mancilla, a resident of El Paso. 
About 1,500 miles away, the community of Dayton, Ohio, had that same wake-up call 13 hours later when a mass shooter killed nine people. Billy Graham chaplains have deployed to the city, and are once again sharing there's still hope in a deeply broken world. 
Above these difficult days of darkness, there's a marvelous and glorious light. Please keep the communities of El Paso and Dayton in your prayers.