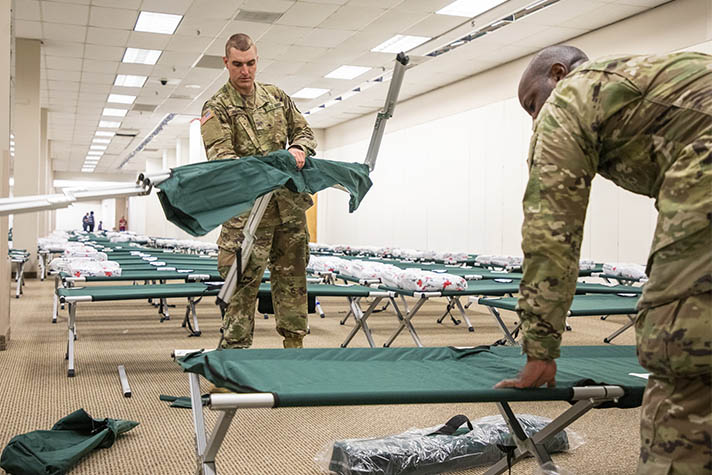 As Hurricane Dorian unleashes its fury on the East Coast, millions have been affected by the horrific storm over the past week. After killing at least 43 people in the Bahamas, Dorian threatened those on the eastern coastline of Florida before making its way north, resulting in evacuations in four states.
As native Floridian Butch Redding monitored the slow-moving storm from his hometown of Starke, Florida, he felt compelled to help. Driving an hour north, Redding served in shelters as a crisis-trained chaplain from the Billy Graham Rapid Response Team (RRT). Other RRT chaplains are offering emotional and spiritual care to hard-hit areas of the Bahamas, and some are ministering along the Carolina coast in the wake of Dorian.
>> Give now to help chaplains minister to those affected by Hurricane Dorian.
No stranger to hurricanes, the former Army National Guard soldier constantly deployed to storms during his career. Living in Florida, he's become accustomed to preparing for and responding to these in his own state.
While the rural community of Callahan hunkered down, Redding visited a school that had become a makeshift shelter. There, he began asking people how they were holding up.
"People were so concerned about the property they left and just wanted someone to talk to," Redding explained, knowing the uneasiness that often comes with an impending storm.
As Redding spoke with residents around the room, he made eye contact with an older man who kept watching him. Redding intentionally sat at the same cafeteria table as the man, who introduced himself as Frank Fredavers.
The men discussed golf for a while before Redding asked Fredavers, "Has anybody ever told you about Jesus?"
"No," Fredavers replied. After watching Redding make conversation across the room, Fredavers figured that was going to be a part of their conversation—and he was ready to open his heart to God.
Redding told him about Jesus and read a Steps to Peace booklet with him, which explains the Gospel and how to receive peace with God.
"I could tell he was genuinely convicted," Redding said. "Before I ever came and talked to him, the Holy Spirit touched his heart."
After Fredavers asked for God's forgiveness and admitted his belief in Jesus, Redding shared several Bible verses to help the evacuee's newfound faith.
All the while, Redding's own faith grew.
Not only did he see God answer his community's prayers in turning the storm away from Florida, but he witnessed the Lord at work while comforting others.
"When you talk to somebody about Christ, it just strengthens your faith so much," Redding attested. "Every time I go out on a deployment, I feel like a stronger Christian than when I left."