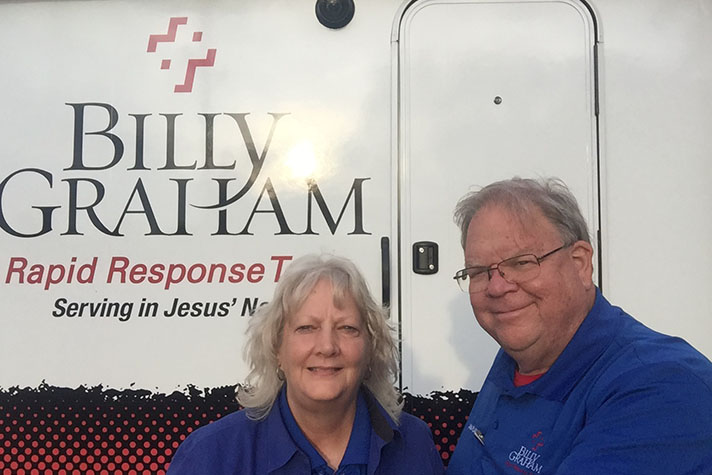 The Billy Graham Rapid Response Team (RRT) has deployed multiple times over the past few months, responding to flooding, tornadoes and devastating shootings. In the midst of loss and tragedy, many have asked, "Where is God?" Billy Graham chaplains have served those facing loss to offer emotional and spiritual support—reminding survivors that God has not abandoned them.
The following are a few short stories from RRT deployments:
From Distress to Assurance in Christ
Circumstances were already rocky for Don and Cindy Prunkard in Wayne County, Michigan, when heavy rainfall deluged approximately 3,000 homes. Their basement flooded; Cindy was hospitalized for a medical condition; Don continued adjusting to being legally blind, and on top of this, their dog had to be put down.
After receiving a referral from Samaritan's Purse volunteers, crisis-trained Billy Graham chaplains Jody and Trisha Kennedy wanted to reach out to the older couple.
"They were both clearly in distress," Jody said, recalling their first meeting. "We felt the Holy Spirit leading us to minister to them," Tricia added. It was like He said, "Don't give up on them."
They first met Don and Cindy at the hospital and continued to build a friendship with them over the deployment. This opened the door to share the Good News of a personal relationship with Jesus, something the Prunkards had not realized was possible.
When the time felt right, Jody and Trisha led them in praying to accept Christ as their Lord and Savior. On a follow-up visit, it was apparent to the chaplains that the Prunkards had comprehended the truth of the Gospel.
"To know for sure you would go to heaven when you die was very, very comforting to them," Trisha said.
The turmoil was part of a bigger picture. The couple had found comfort in their newfound relationship with Jesus, one which would last into eternity.
Help in Time of Need
God's plan isn't always obvious to us but it is perfect. During their trials they met Harrison Smith, a legally blind RRT chaplain who goes by Butch. Don had been adjusting to his limited vision when God placed Butch in his path. The chaplain's condition gives him a unique ministry platform, he said. Blindness doesn't keep him from serving wholeheartedly, in fact, it's just the opposite. "Every time I deploy, the Lord puts in front of me someone who has a vision problem," he said.
After hearing that Don was legally blind, Butch hoped to meet him. After the fact, he realized God's providence, saying, "It was a great God moment for me to be there for [Don] and tell him we are here and we care."
He reassured Don that the Lord has things under control. Butch also went further and gifted him a magnifier so he could read, suggested practical tips on how to make his house more accommodating and connected him with resources. Later, Samaritan's Purse volunteers came to clean the couple's basement and helped implement some of Butch's tips by moving furniture and rugs.
The Hope of Salvation Lifts Heavy Burdens 
"God is at work drawing men and women to Himself," Billy Graham chaplain Rand Bowman reflected on a recent tornado deployment in Dayton, Ohio. Also a volunteer with Samaritan's Purse, Rand has seen the Gospel give hope to many struggling with life crises.
>> Read more about the RRT's recent deployments to Ohio, Oklahoma and Missouri
"The devil says that God isn't there. We need to tell them the truth that God is there and He does love them," Rand said.
This is exactly what happened when he and a volunteer with Samaritan's Purse had the opportunity to assess tornado destruction on Marcia Starritt's property. At a loss of how to handle her yard damage, Marcia reached out to Samaritan's Purse. They found that wasn't the only issue she was dealing with.
"When we arrived, you could tell she was under a load of guilt and shame," Rand said, describing the elderly homeowner. Something in the past had caused Marcia to isolate herself from her family and church.
Since her husband passed away six years ago, she hadn't known where to turn. As volunteers assessed the damage, Marcia confided in them, saying, "I just need God."
Rand and Mark shared the Gospel and gave her a "Steps to Peace With God" booklet that explained how to begin a relationship with Christ. When Rand asked Marcia if she wanted to commit her life to Jesus, she said yes.
"[Marcia] was delighted to enter into a relationship with God. After that it was as if a burden had been lifted. There was joy in her face and [a sense of] freedom," he said.
Her faith journey didn't stop there. She was excited about the possibility of attending a local church with Mark and his wife, Tammy, who live locally.
"That day was beautiful because she opened up. She prayed the prayer in the pamphlet and signed her name and date, giving her a Christian birthday," Mark said.
Though both Don and Cindy Prunkard and Marcia Starritt faced storm damage and distress in the recent Midwest disasters, it was part of a bigger picture which led them to a relationship with Jesus.
You can have peace in the midst of life's storms. Here's how.