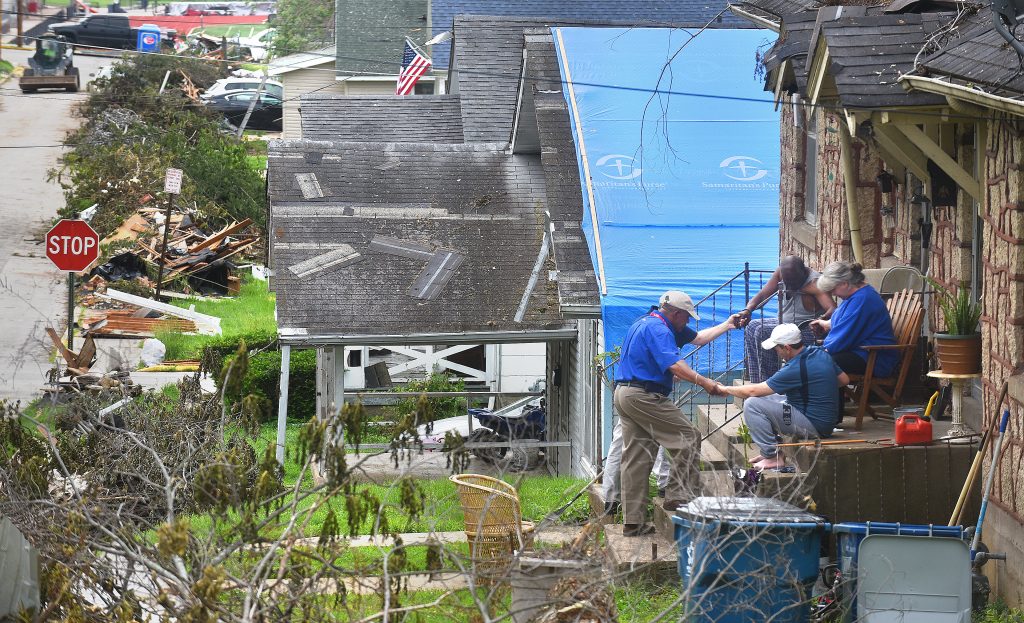 Devastating storms have pounded the Midwest and Plains regions during the past week, causing record-breaking flooding and over 100 reported tornadoes. News sources report at least a dozen people have died in the severe weather and more than 100 have been injured.
The Billy Graham Rapid Response Team (RRT) has deployed to offer hope to the hard hit areas of Dayton, Ohio; Tulsa, Oklahoma; and Jefferson City, Missouri. A group of chaplains also are continuing to serve communities in Wayne County, Michigan, that are recovering from flooding that occurred in early May.
"It seems like every day we wake up to a different headline of a tornado or flood," said assistant RRT director Josh Holland.
On Wednesday morning, he received more news—this time of the twister that raked through Kansas City, Kansas. Samaritan's Purse is assessing the area for a potential deployment and chaplains may soon respond.
"Our hearts go out to the families who have lost loved ones and all who have been impacted by recent storms," Holland said. "In the midst of very difficult times, our chaplains are blessed to be able to share God's love through Jesus Christ."
With more than 20 chaplains serving as ambassadors of hope across the Midwest and Plains regions, that love is being shared.
"We're very thankful for how God's working," said chaplain coordinator James Kilgore, who is serving in Jefferson City, Missouri, where an EF3 tornado hit last Wednesday.
During the last few days, Rapid Response Team chaplains have prayed with more than 750 people in Jefferson City and witnessed multiple people indicate decisions for Christ.
Franklin Graham posted pictures on Twitter of the chaplains with tornado survivors there. He requested, "Please pray for those whose lives have been turned upside down."
'I Just Want to Go Home'
Staring out at the muddy water covering a road on the outskirts of Tulsa, Oklahoma, chaplain coordinator Sharon Folsom knows God is greater than any storm. She watched as homeowners went in kayaks, flat boats—and even on Jet Ski—to check on their houses.
Folsom said a local pastor kayaked through just one area and counted 159 flooded homes Sunday afternoon.
Many of these affected homeowners have been sitting along the water's edge, getting as close as they can to their neighborhoods when there's a break in the rain.
Folsom found one such woman in her sedan weeping on Sunday.
"My home is there, and I just want to go home but can't," the woman told Folsom, explaining this wasn't just any house—it was her childhood home.
Folsom took the next few minutes to encourage and pray with the woman, who was also a believer.
That night, a tornado touched down about 15 miles away, causing tree damage. And days later, rain is still coming down in the area, adding to the overflowing Arkansas River. Folsom said water has risen another three feet since Sunday.
But even in the deluge, she remains doused in hope.
"While the storm itself is not good, God can bring good out of it if we allow it," Folsom said.