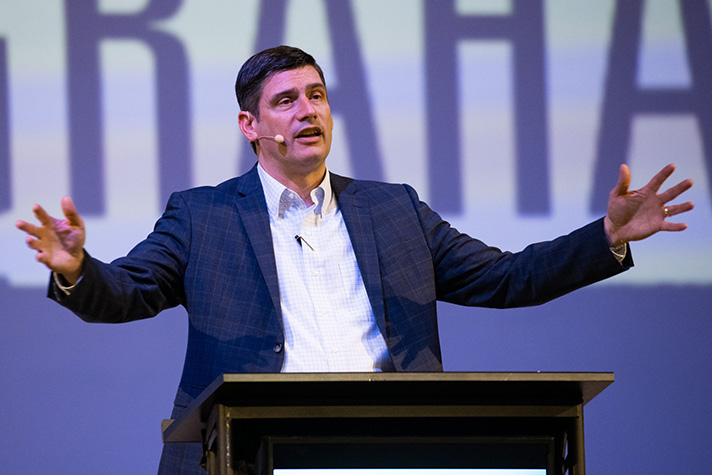 Heading up Billy Graham Evangelistic Association's first live event in 2021, Will Graham said he's excited to be speaking at the Tiftarea Celebration, a one-day, in-person and online evangelistic event tonight at 7 p.m. ET.
Postponed three times due to COVID-19, the much-anticipated event will be livestreamed and have limited capacity at First Baptist Church in Tifton, Georgia. Featuring musicians Aaron Shust and Rhett Walker, the Celebration will start with a time of worship before Graham shares a message on how to have peace in your heart.
>> Watch the Tiftarea Celebration livestream tonight, starting at 7 p.m. ET
Seeing fear grip much of the world this past year, Graham decided he wouldn't give into it—not when it comes to COVID-19, riots, politics or any other matter.
"There's fear on all different levels," Graham said. "So many of us are making decisions based on fear—and we shouldn't be living life in fear. I hope people would trade their fear in for faith."
That faith is something Graham has clung to in life's uncertainties, even as he halted all international travel due to the pandemic. On a normal year, Graham shares the Gospel across the world several times annually, but the virus has forced these evangelistic events to be delayed or cancelled.
Still, Graham recognizes that God has been working in the in-between—and has a purposeful time for this event.
"I think people's hearts are a little more sensitive [to the Gospel]," Graham said, explaining hardships cause people to run to or reject Jesus Christ. Although the Celebration was originally scheduled for nearly a year ago, Graham notes, "God's timing is perfect."
"God didn't allow us to do it then, [but] God has [given] us a time right now," Graham continued. "So there must be something God has planned for this moment. We trust Him in our timing … and we're going to trust God with the results."
Bob Hickling, the Celebration's director, wholeheartedly agrees.
Hickling first started working on the Tiftarea Celebration in March 2018. When he later "temporarily" moved from Charlotte, North Carolina, to Tifton, Georgia, to prepare for the event, Hickling had no idea he'd have such an extended stay that he'd decorate for Christmas two times.
With the pandemic still in full swing, it was decided that the once unlimited in-person event would move forward with COVID safety precautions.
"We've just got to trust God is going to use this to draw people to Himself," said Hickling, who's been working alongside 100-plus local pastors ahead of the event. "[It's] not what we wanted but we've got to trust this is what God wants and will be what He wanted it to be."
With the main purpose of the Celebration to bring unbelievers to faith in Jesus Christ, he's encouraging those who feel comfortable to host small livestream gatherings in their homes, and is partnering with churches for streaming, too.
Hickling hopes the event will "encourage churches to continue finding ways to be the Church outside of our buildings."
"We need to be the Church 24/7 no matter where we are," Hickling explained. "God can move in any circumstance. He's not limited by anything like this. This is an opportunity to see God move in miraculous ways."
Here's a simple plan to help you reach out to others and invite them to watch the online event:
Consider where you live, work, or go to school—this is your mission field. Write down the names of people you know who need Jesus Christ.
Pray for those on your list, that God will use you and this event to share His love with them.
Reach out to each person on your list and encourage them. Check in by phone, online, or—if it's a safe setting—in person. Your conversations can eventually open the way to talk about Christ.
Let each person on your list know about the upcoming livestream. Send them an invite to watch it on Facebook and post about it on social media again. Then pray.
Afterward, look after those who may respond to Christ or even begin to show interest in the Gospel. They need your encouragement. Continue to love and pray for those who do not respond.
Watch the Tiftarea Celebration at WillGrahamLive.com tonight, starting at 7 p.m. ET.