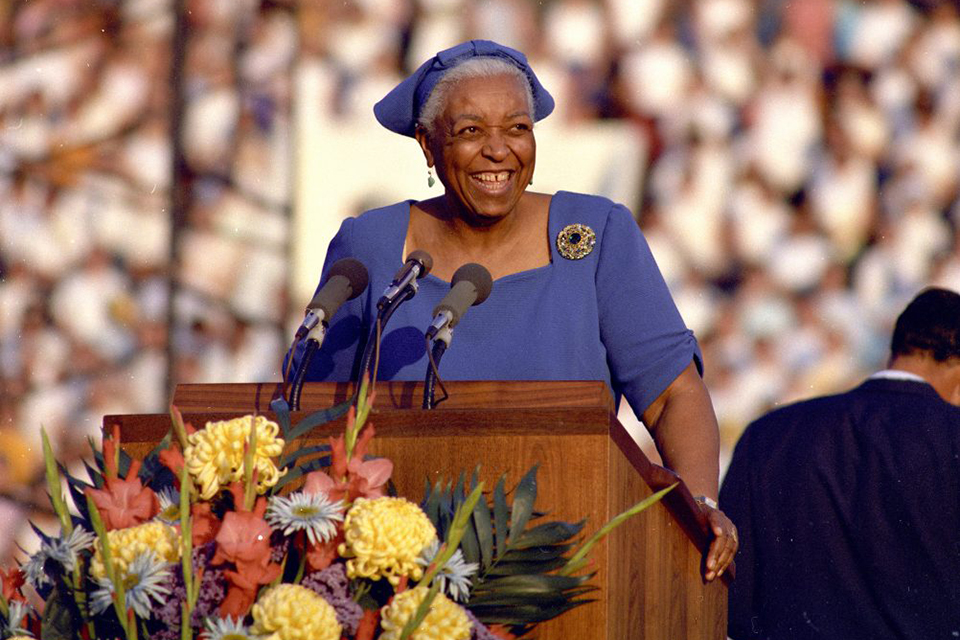 For decades, Ethel Waters was a commanding presence, trailblazing Broadway, radio programs, television shows and Hollywood films. She was a household name. And yet off the stage, the blues singer and actress shrank back. Whenever she attended events, she preferred to sit on the back row. That way she could slip out unnoticed.
That's where she sat the first night she attended Billy Graham's milestone 1957 Crusade in New York City.
The Crusade was just getting underway. Graham's ministry was less than a decade old then, and Waters knew about it. She believed his evangelistic outreach would be a success.
"God don't sponsor no flops," she remembered telling a radio personality earlier that day for an unrelated interview. "It's going to be a hit."
Waters was right on that account. The Crusade lasted an unprecedented 16 weeks, during which millions heard about the love of Jesus. But what Waters couldn't anticipate was how the Good News would personally impact her.
I Sing Because I'm Happy
Back then, at age 60, Waters was anything but happy. Physical ailments and the struggles of life ate up her peace, but when she took a seat in Madison Square Garden, she felt oddly relaxed. She listened as Mr. Graham spoke plainly about Jesus.
"[He said] 'Jesus said' and 'Jesus said' and I just loved him for that," Waters once shared during an interview in 1977, the same year she passed away. "At that time in New York City, Jesus was taboo. You didn't use that word so much. They wanted you to cut it out or tone it down, and that's the thing that I just loved him for.
"What [Graham] said, it seemed like he was answering every question I had in my mind," she added. "And above all, he kept saying how close the Lord is to you. I began thinking along a different train that God wasn't far away. It was me shutting Him out."
Waters rededicated her life to Christ that night. She attended every night of the 16-week Crusade that she could.
"When Cliff [Barrows, music director] learned she was in the audience, he asked her if she would be willing to do a solo, which she did. She then joined the choir," Graham recounted in his autobiography Just As I Am.
"She sat anonymously in their midst night after night for the rest of the Crusade. She later became a fixture in many of our Crusades, singing a song that touched the hearts of millions: 'His Eye Is on The Sparrow.'"
I Sing Because I'm Free
Waters, the product of rape, was born October 31, 1896, to a teenage mother. Waters' family experienced extreme poverty, and she learned to fend for herself. Religion mattered to some of her family members, and Waters attended a local revival when she was 12 years old. She met Jesus there.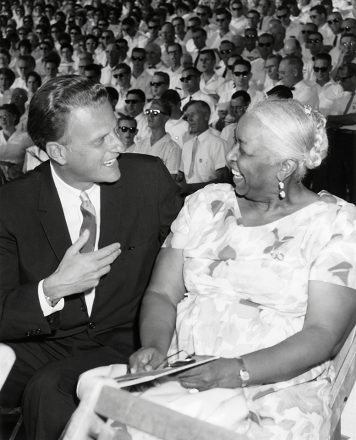 "Oh how I thank God I went that night [to the altar]," Waters said in the 1977 interview.
"I found I had got something that I could cling to, and above all I wasn't taking it from nobody else. See, that's where Jesus is so perfect. You can give Him as much as you want, and you can get as much as you want in return, and you're not depriving anybody."
Almost eight weeks later, Waters experienced a hateful attack from someone within the church. She vowed to never return.
For His Eye Is on the Sparrow
Waters kept her self-made promise. She fled an abusive arranged marriage when she was 13 and soon began singing at a local nightclub. Her career took off.
She went by "Sweet Mama Stringbean" and sang professionally around 1909, four years before World War I began. The Great Depression and World War II dominated world events while Waters broke racial entertainment barriers. Once the highest-paid actress on Broadway, Waters also acted on the screen.
She was nominated for an Oscar (Pinky) and an Emmy (CBS sitcom Route 66). Three of her songs are in the GRAMMY Hall of Fame today.
But the paychecks and notoriety didn't bring Waters happiness. She thanked God every time she took the stage for the opportunity to perform. Still an emptiness lingered.
"My heart was heavy, and up until the time I rededicated my life at the Billy Graham Crusade in 1957, up until that time, I always had that heaviness regardless of success, regardless of everything else. I felt I was always saying, 'Lord, I know I failed You. But what can I do to get back?' Just like I was asking Him as a 12-year-old child what it is to be saved."
And I Know He Watches Me
Crusade crowds warmly welcomed Waters as she performed with the Billy Graham Evangelistic Association during the last 20 years of her life. Her beautiful smile and infectious laugh were her trademarks as well as the song, "His Eye Is on the Sparrow." She sang it often during the evangelistic meetings.
"Ethel Waters was one of the most unforgettable characters I ever knew," Graham once said. "She was a superstar not only on stage and screen, but in her personal religious faith."
Waters' words from the stage were sweet, to the point and carried all the energy of a praying mother talking with her children. In fact, she usually addressed the crowds that way.
During one particular Crusade, she finished the final lines of "His Eye Is on the Sparrow." Her strong, soulful voice saturated the venue:
I sing because I'm happy.
I sing because I'm free.
His eye is on the sparrow
And I know He watches me.
Waters smiled and nodded to the crowd:
"See you in Heaven. I'll be looking for you."