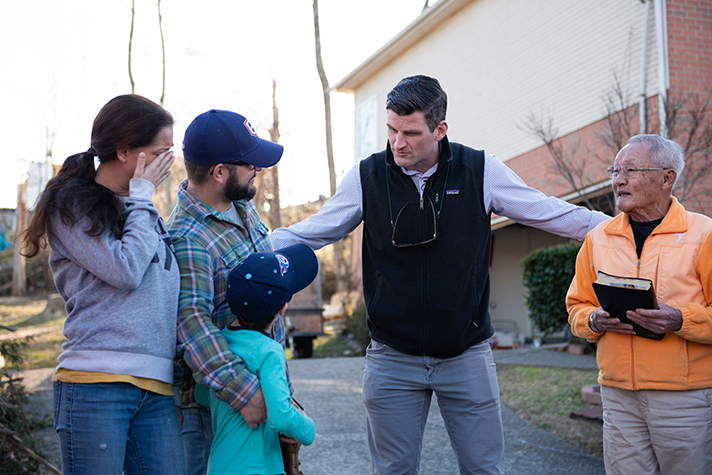 It was a sound that the music city of Nashville, Tennessee, rarely hears.
Lorraine Scarfia woke up in the dead of night when a branch hurled shattered glass through her bedroom window on Tuesday.
She screamed for her 7-year-old son, Owen—who was sleeping beside her—to wake up.
An EF-3 tornado with winds up to 165 mph was roaring through their Hermitage neighborhood, a suburb located nearly 15 miles east of downtown Nashville.
The Scarfia family raced to take shelter in the basement only to find the windows blown out. In the meantime, a tree crashed through their roof. Lorraine put her son in the bathtub, where she also gathered their seven pets, including cats, dogs and a lizard.
A few days later, she stood outside her off-centered house with her son and husband, who'd been away for work during the unprecedented storm, and took in the extensive damage of mangled trees. Although she and her family were safe, 25 people died and dozens more were injured by the strong storm system.
Deployed across three towns in the Nashville area, Billy Graham Rapid Response Team chaplains and Samaritan's Purse volunteers milled about the Scarfias' upended yard Thursday, having conversations and helping move debris. Lorraine's neighbor, Canh Dang Duc, also joined the family as Edward Graham, Franklin Graham's youngest son, circled up the collective group.
Edward Graham serves as assistant to the vice president of Operation Christmas Child for Samaritan's Purse.
>> You can help Tennessee tornado victims.
"So what you see here with the orange shirts are [Samaritan's Purse] volunteers that come from all over the country and the state just to serve and share the hope of Jesus Christ with others," Edward Graham told the homeowners. "But the chaplains, you see in the blue shirts, are part of the Billy Graham Evangelistic Association, an organization my grandfather started years ago, way before I was ever born.
"It's awesome to see these ministries come together to serve and love others who are hurting and struggling. … We love you, and Jesus loves you, more than we ever could," Graham continued. "And it's hard to tell someone that when they've lost everything they've had. There's always a lot of questions and things that I can't answer."
He then added a personal note.
"I learned a long time ago—I served 15 years in the Army—I had to learn to surrender. Because there's things bigger than myself that I did not know or understand. I struggled with that but I gave it over to the Lord. What I did know is Scripture. … I don't understand every word of it always, but I accept by faith it is true," Graham said as he presented the families with Billy Graham Training Center Bibles, which feature common life questions and point to Scripture for answers.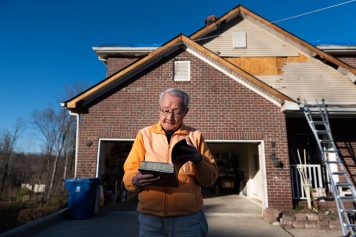 The Word of God has given Canh a new life since the twister.
The Vietnam veteran, who's lived in the United States since 1993, had heard about God throughout his life, but never Jesus Christ.
"I would thank the tornado because without it I wouldn't have had the chance to meet these people. I believe God sent you to help me," Canh said after praying with Billy Graham chaplains Gena Small and Gwen Word, and receiving aid from Samaritan's Purse.
Canh pulled out the Steps to Peace booklet from his back pocket that had showed him a way to peace. After killing people as a soldier, he didn't know a way of forgiveness existed until the crisis-trained chaplains told him otherwise.
"I didn't believe much in religion before. [But] I believe what happened in front of me," Canh said. Peering through his glasses, he flipped to the back of the booklet that includes a prayer to receive Christ.
"Sometimes [I used to] stop by church, sometimes by a Buddhist temple, but I had no feeling—none at all. Until yesterday morning and today," Canh referred to his experience with believers. "It changed my mind.
"This is first time in my life I believe there is a God. Before I knew there was some super being over there, the Vietnamese call him Mr. Sky, but I didn't know there is a God," Canh raised his arms. "Vietnamese believe the food we eat, the water we drink, almost anything comes from Mr. Sky. But that changed yesterday because of [these] people. Now I know and call Him God."
Canh plans to read his first Bible—the one that Edward Graham gave him—to help him grow this newfound relationship.
"Sometimes I [would] go to a hotel and see the Bible on a night table but I didn't know so I don't even touch it," Canh shared. "So today, I know. I'm sure I will read it … even though it may be pretty hard and take a lot of time because it's thick, but I will read it. And I will read it to my wife."
Across the street, there was another opportunity to grow in Christ. The Scarfia family prayed alongside chaplains and said they want to find a church.
"Maybe we can learn about Jesus together," Lorraine hugged Canh. "What do you say?"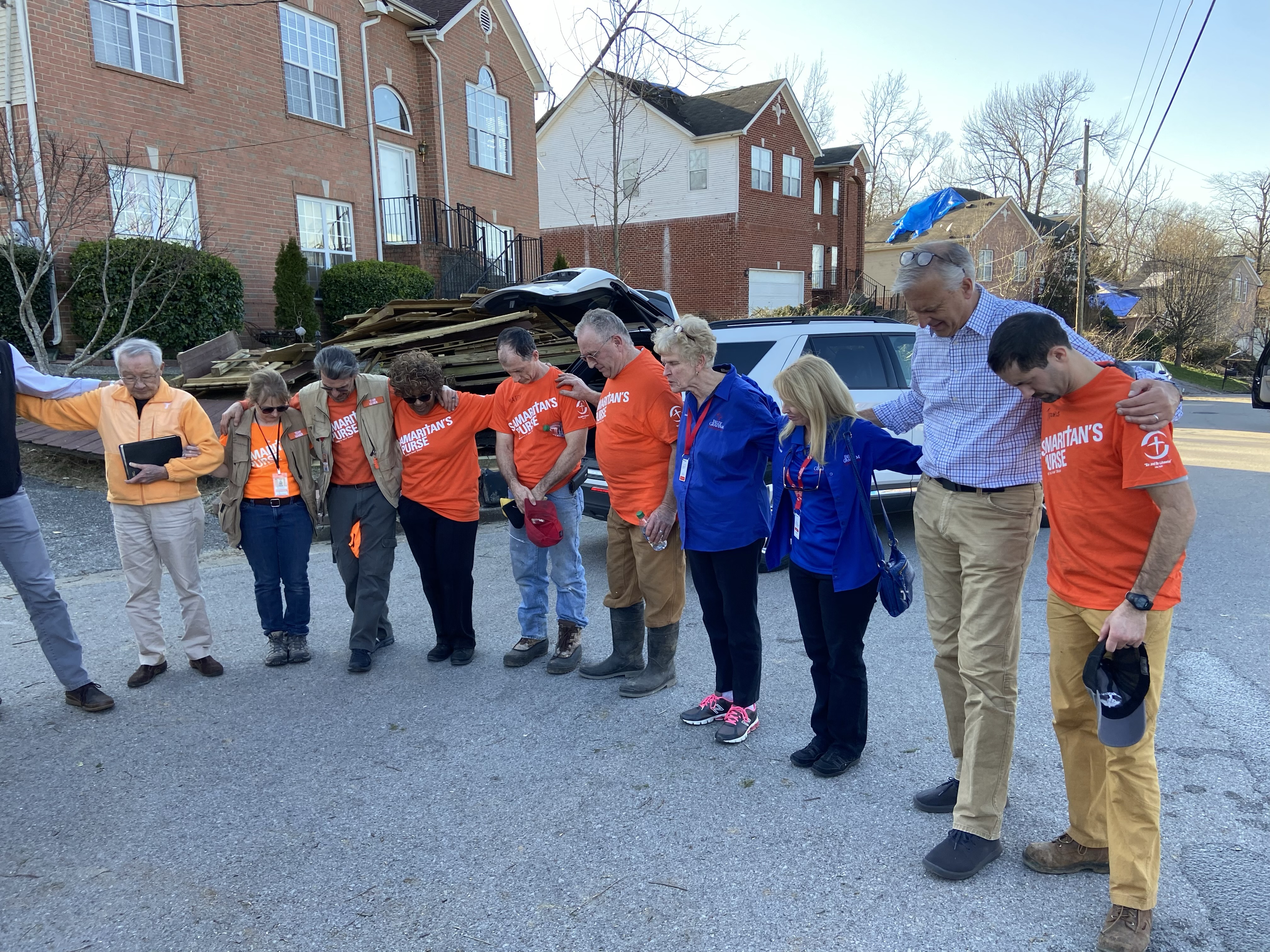 Do you want to learn more about Jesus, too? Start here.