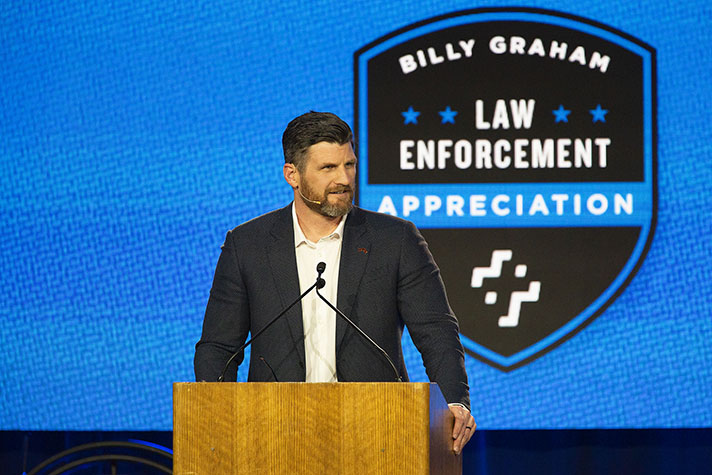 "And I heard the voice of the Lord saying, 'Whom shall I send, and who will go for us?' Then I said, 'Here I am! Send me.'" —Isaiah 6:8
Edward Graham encouraged—and challenged—law enforcement officers Sunday evening at the Law Enforcement Appreciation Retreat in Horseshoe Bay, Texas.
"I do love my law enforcement," Franklin Graham's youngest son said during the event, which was held both in-person and livestreamed. "Unfortunately, it's been a rough few years. And for that, I'm sorry."
With a pandemic, racial tension, threats of defunding and riots happening across the nation in recent months, it's been an exceptionally challenging season for law enforcement officers who already face incessant life-or-death decisions. That's why Franklin Graham directed the Billy Graham Rapid Response Team (BG-RRT) to expand its law enforcement ministry, providing retreats and dinners at no costs to officers.
"My father would want you to know if he was here how much he loves you, and how much he loves your families," Edward Graham said, mentioning the plans to have additional law enforcement appreciation retreats and dinners in cities across the nation. "We want to say thank you and we love you."
Around the room, officers of all ages—some just starting out their careers, others nearing the end—took in the moment. The retreat provides three days to reconnect with their spouses, be spiritually renewed and fellowship with other officers. Walking under calming blue skies and palm trees earlier in the day, many had already started to enjoy how the oasis was a stark difference to their daily jobs.
>> Find out more about the BG-RRT's law enforcement ministry.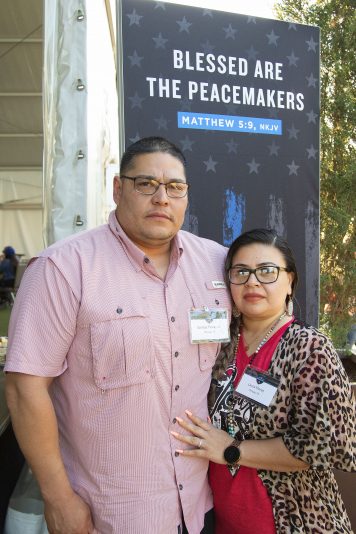 Opening up about the similar hard truths between law enforcement and the military, Edward Graham shared about his time serving as an Army Ranger for 16 years. After multiple combat missions and only four years left until retirement, he made the arduous decision to leave the Army.
"Why did I get out then?" Graham asked the audience. He'd been asked to quit the Army to serve in ministry years before, but it took Graham reading a particular devotional before he was ready to jump ship.
He read aloud a Bible passage from Matthew 14 that shares how the disciple Peter tried to walk on water by hopping out of his boat and looking at Jesus. But when he took his eyes off Him, Peter began to sink.
Graham explained faith works the same way—it takes keeping your eyes on Jesus, but it starts with a step of faith.
"If you want to be part of a miracle, you got to get out of the boat," Graham said. "To get out of the boat, you're going to be a little fearful. [You might have] to go in a direction you might not want to go.
"I can tell you that's where you want to be. If you're comfortable [or] stuck, you're not going anywhere. Leaders need to be uncomfortable," he concluded before calling the men to lead their wives by example.
Sitting in the crowd, Santos Flores Jr. could relate.
Last year, he and his wife, Laura, moved three hours away from their hometown to answer God's call for him to be a police officer. When he was almost 40 years old, he went from being a church intern to serving in the line of duty.
Flores admits his first year has been somewhat rough.
"You see the looks, the judgment, what social media says that we are versus what we really are, those are two different things," he explained. "But knowing that the Lord put it in my heart to do what I'm doing now, I find peace every day in what I do.
"I believe that if we stay in the will of the Lord, He's the One that's guiding, He's the One that's protecting, He's the One that's directing. I just have to have faith in Him."