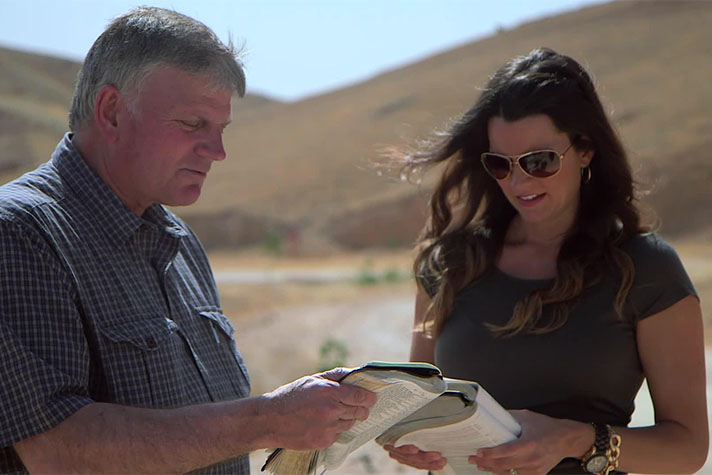 "God is our refuge and strength, a very present help in trouble.
Therefore we will not fear though the earth gives way,
though the mountains be moved into the heart of the sea…"
Psalm 46:1-2 (ESV)
As the number of people catching COVID-19 continues to soar, the Graham family is persistently sharing hope and truth in the midst of the crisis.
On a new episode of Cissie Graham Lynch's Fearless podcast, she's encouraging Christians to be intentional with their time right now.
>> Listen now
For Cissie, that means turning off the TV and reading her Bible—and teaching her two young children God's Word. It's a habit she learned from her grandparents, the late Billy and Ruth Graham, as well as her parents, Franklin and Jane Graham.
The latest Fearless message is the second "legacy series" episode Cissie has recorded. (Listen to the first one here.) In this series, she shares stories and lessons she's learned from her parents, grandparents and other relatives about living out the Christian faith.
"My grandmother and my grandfather, they never stopped clinging to Scripture, memorizing Scripture, hiding it in their hearts," Cissie said. "It's what anchored them. It anchored them in every storm of life that they faced, even as they faced death."
Cissie said she found herself watching her grandfather's messages on YouTube the other night.
"I was sitting alone on my couch, and I was bawling because of how much I missed his voice," Cissie said. "It's during times like this that God would often use my grandfather to show the world and to show this country God's peace in difficult times. He reminded people that God was sovereign and that He was an ever-present help in the times of trouble."
It's been more than two years since Billy Graham left this earth to be with the Lord. Now his children and grandchildren are carrying his message to new generations, including those who have never before faced a crisis of this magnitude.
Cissie is encouraging every Christ follower to remember that this is not a time for fear, but for putting hope and faith in Jesus. She charged parents, in particular, to use any extra time to grow in their knowledge of Scripture and pass it on to their children.
"Don't look back at this time that you wasted watching Netflix and not being intentional," she urged. "Be intentional with your children. Open up God's Word. Let Him fill you with the Holy Spirit and with His Word, so that when the days get busy again, your family can stand on the solid rock of His Word."
>> Listen to Cissie's latest Fearless episode.
>> Listen to Billy Graham's message, "Why I Am An Optimist."
>> Share this Christ-centered page about peace in the midst of the pandemic.