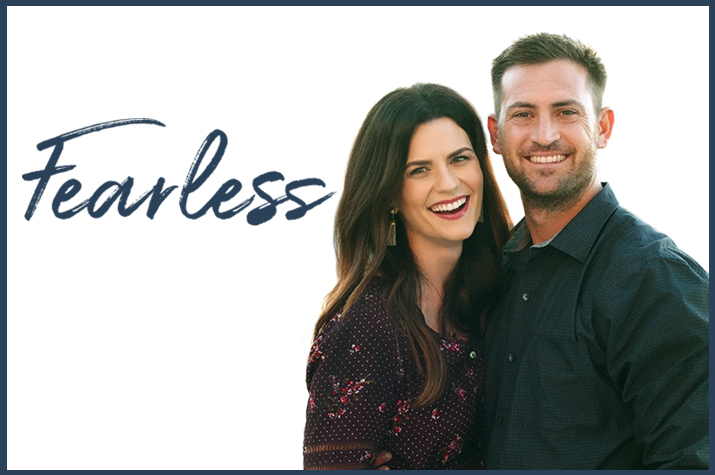 This week, the Billy Graham Evangelistic Association is running a social media series on marriage. Thursday also marked the beginning of NFL preseason. Cissie Graham Lynch tackles both those topics on her latest podcast, Fearless, featuring her husband, Corey Lynch, a former NFL player. 
Corey Lynch was a safety for Appalachian State University when he met Cissie Graham, Billy Graham's granddaughter.
Cissie was unimpressed by his jean shorts and gold necklace.
In time, though, she fell for his heart of gold, in particular the way he took a stand for his faith on the football field.
>> Listen to Cissie Graham Lynch's latest podcast episode: "Faith On and Off the Football Field"
"He reminded me a lot of my dad, that he was unashamed to take a stand, he was unashamed to do what was right, and he did it boldly," Cissie said on her Fearless podcast. "I started falling in love with him at that moment 'cause I fell in love with his heart."
The two were married on December 31, 2007, four months after the historic App State win over Michigan.
Not long after, Corey began his NFL career, a six-year journey of moving around. At one point, Cissie drove more than 1,000 miles cross-country with their four-week-old daughter.
It was a hard business to be part of, Cissie said, and not always glamorous, but she clung to the community of wives she found in each city and embraced various group Bible studies along the way. There was one particular friend who challenged her after Corey was cut from the Cincinnati Bengals.
"I'll never forget, a wife that had been a really good friend to me and a spiritual leader in my life that year, … she said, 'Cissie, you have proclaimed to be a Christian this whole year. You've been a part of this Bible study, you've taken a stand. These wives are gonna watch you and your reaction after Corey's been cut to see if your God is still your God and if you still take a stand the way you do.'
"And that has always stuck with me, even after all these years because no matter what world we are in, whether that's the NFL, whether that's the corporate world, a classroom, any kind of business you're in, when we take a stand for Jesus, the world is gonna watch every moment to see if we fall or stumble, whether when things get rough, is God still our God."
The NFL also gave Corey ample opportunity to represent Jesus Christ, whether by watching his language on the field or refusing to give into the pressure to view pornography.
"What I've experienced in football over the years is that people don't respect Christians who waver, but if you can find a way to stay solid in your faith, … they might not like you, but they will respect you for who you are," Corey said. "They'll still try you, they'll still find out ways to try to get under your skin, but I've always felt a certain level of respect, mostly at the end of the day—maybe not in the middle of the day—but at the end of the day, I've felt a level of respect if you stay solid to your beliefs."
Listen to Cissie Graham Lynch's full podcast through the BGEA app, Cissie's website, on SoundCloud or Apple podcasts.