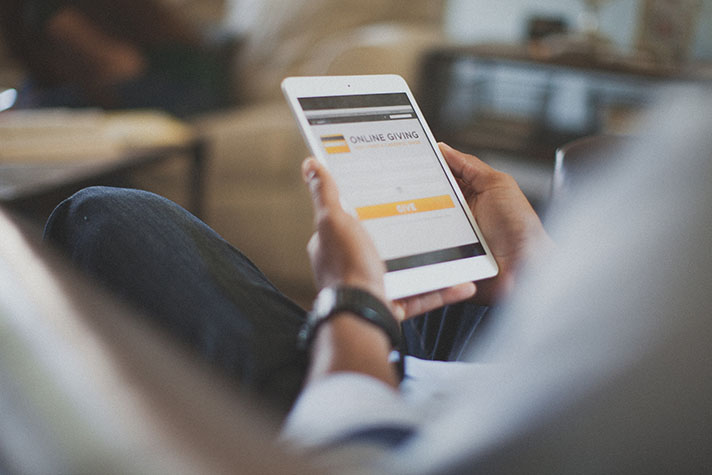 "Your readiness to give to the work of Christ is a solid witness to your love for Christ. If we are not willing to deny ourselves money, which is a part of ourselves, how can we be so bold as to say that we have surrendered our all to Christ?"
—Billy Graham
Churches adapted quickly in the wake of COVID-19 and the ensuing stay-at-home orders. Sunday sermons continued via livestream. Bible study groups took to video chat platforms to discuss God's Word. Some people started handwriting and mailing encouraging notes, or just picking up the phone.
But the harsh reality is church donations haven't necessarily kept pace—particularly for houses of worship without online giving platforms.
In a recent report, the CPA and consulting firm CapinCrouse found 56 percent of churches experienced a decrease in overall giving since COVID-19 began rewriting the rules of social engagement. That comes with a small silver lining. Ninety percent of churches noted an increase in online giving, but that's among churches who likely already offered that capability.
Stan Reiff and Rob Faulk, the authors of the report and partners within the firm, consult with churches on their futures. In some cases, it's bleak. And that's a shame because a local church has a vital role to play within its community.
Billy Graham so valued the local body of Christ that he made it one of the four resolutions of the Modesto Manifesto, a guide the Billy Graham Evangelistic Association has used for decades. Every Billy Graham Crusade, Franklin Graham Festival and Will Graham Celebration has leaned heavily on the support and participation of the local church. Mr. Graham firmly believed it was "wrong from the Bible's standpoint" to work apart from the local church.
But the future of the local church could be at risk with the lack of a digital gameplan.
Already, Reiff estimates 10 percent of Protestant churches nationwide close their doors annually. The fear inspired by COVID-19, skyrocketing unemployment and the lack of digital giving options may just speed that up for some.
But there is still hope.
Practical Help for Churches
There isn't a magic bullet for churches struggling financially, but there are options. Consider the following:
Reaching out: Adjust your church focus from internal to external. Reiff suggests drawing a one-mile radius around the church and picking someone to bless. It can be as simple as encouraging your congregation to visit a local restaurant owner.
Get creative: Some cost-cutting measures are built in. Utilities are lower for a closed building, and there's no need to buy coffee and donuts for Sunday. That untouched stack of toilet paper could easily be your ministry, Reiff says with a laugh. We all know he's not joking.
Streamline: Tailor your church's endeavors to fit the overall God-given mission.
Make it simple: Consider sending non-digital congregants pre-addressed, stamped envelopes so they can mail in their donations. Or offer to come pick it up.
Seek help: CapinCrouse holds weekly webinars to help struggling churches, and other companies offer their assistance as well.
This is where Reiff and Faulk get excited. These two, like so many at their Kingdom-minded firm, have a heart for the local church.
"What is more important than sharing the Gospel and helping people to grow as disciples of the Lord Jesus Christ? There's nothing more important than that."
Will the Community Miss You?
No matter how dire the numbers or the suggested scenario, Reiff looks for a way to breathe life into the situation. Numbers, like the ones found in this report, help make informed decisions, the third-generation missionary insists.
A couple times a week, he holds webinars for churches and their leaders interested in combating a dismal situation. One thing Reiff talks about during his webinars is the church's focus. Is it set up for internal programming or community impact? he'll ask. Will your community miss you? Or will it even know you're gone?
"Now is the time the community desperately needs you, and you may not be a big church with a lot of resources; you may only have 200 people in your congregation, but you can organize," Reiff said. "Get together with the first responders or the hospital down the street. [Ask] 'Can we sew masks?' Now the church feels like they're involved in the community. They're making a difference, and as Christians we're living out our faith."
Just keep it simple, Reiff stresses.
Making the Hard Decisions
Faulk, who spent eight years as executive pastor and CFO for large churches, echoes that suggestion. He once co-pastored a church that simply was stretched thin. The new lead pastor announced the church's vision from the pulpit, and during the next four years, the church followed a simple model while whittling down 120 ministries to seven or eight.
>>Read more: Does a Christian have to tithe?
The fine-tuning upset people and 40 percent or so left. But Faulk noted that giving ultimately wasn't impacted by the church's decision to laser in on the vision God had for it.
"I see a lot of churches that are trying to be all things to all people. I just don't think it works," Faulk said. "You just get ineffective in what you're doing."
Beyond that, every single local church has a different mission field. That means even popular, seemingly successful ministries might not be the right fit.
"You have to discern what God is calling you to do," Faulk said.
And it's time to get comfortable talking about money. Do it with a heart for the Lord and His Kingdom.
"Pastors historically have been afraid to talk about money," Faulk said. "The Bible mentions money … so Jesus certainly wasn't afraid to talk about it."
'Make Jesus Impossible to Ignore'
Three months ago, Life Church in Salisbury, North Carolina, averaged 600 people at its Sunday service. That number places the church on the smaller side of those who anonymously participated in the CapinCrouse survey.
Forty percent of churches in that 425-750 size range indicated a decline in giving, while 16 percent expressed an increase. The remaining 44 percent cited no impact, and that likely would include Life Church, which had a digital presence before COVID-19. Church leadership uses its website, social media platforms and email to communicate with attendees, who overwhelmingly embraced online giving pre-COVID-19.
As Life Church's Sunday livestream reaches more homes, Pastor James Sharp said his church has received donations from people who haven't even set foot in North Carolina.
>>Billy Graham: Scripture teaches we are stewards of all we earn
Giving isn't a topic Sharp will shy away from, but during the age of COVID-19, he encourages people to sow into the local community. The result has been a special time of partnership. Recently, the church helped the local school system ensure every school-aged child had something to eat during the spring break period.
"We found that people are really glad to respond to those opportunities," Sharp said. "Maybe even more so than normal because everybody is aware of how people are suffering in this season, and they're glad to do what they can do to help alleviate that suffering because of Jesus."
The outreach is exactly the type of thing Reiff is talking about, and it may very well bring with it a return on investment down the road. But right now, the bottom line for Reiff, Faulk and Sharp doesn't rest on the financials. It comes down to making sure people know Jesus.
"I like to say to people, 'We want to make Jesus impossible to ignore,'" Sharp said. "We want to love people in our community so well that they can't ignore the fact that we claim some really radical things about our Savior and King."