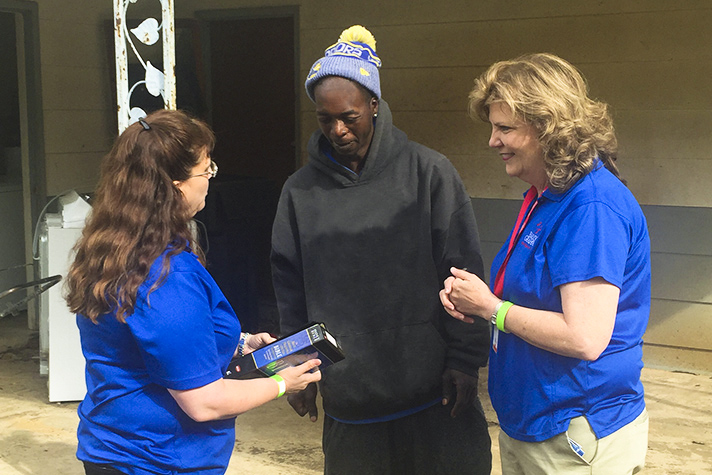 More than a dozen Billy Graham Rapid Response Team (RRT) chaplains are serving in Southside and Jacksonville, Alabama, after twisters ripped through the small towns last Monday.
"It's a lot worse than I anticipated," said chaplain coordinator Mike Clark, who's serving in the Jacksonville area. "There's a lot of devastation."
Although the destruction is confined to only a few miles, mainly along the campus of Jacksonville State University, many of the buildings hit were severely damaged or destroyed by fallen pine trees.
Some Jacksonville residents have never seen or experienced any destruction like this in 70-plus years. Hundreds of residents from nearby communities have come to help.
Crisis-trained chaplains are also there to aid those recovering, offering emotional and spiritual care in both Calhoun and Etowah—two of the most churched counties in the U.S.
Yet, they're quickly finding what one local pastor said to be true: "Everyone knows who Jesus is, but everyone may not know Jesus personally."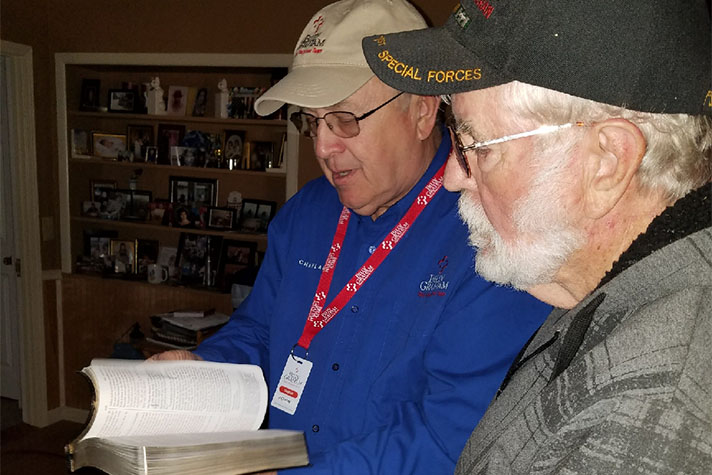 Among those was 79-year-old Vietnam War veteran Jack Weston.
Jack and his wife, Faye, took cover in a bathroom in their Jacksonville home when the storm hit. After it passed, they looked around for damage. There was nothing unusual about the first room they entered, but in the next room they could see the outside. Most of the roof and two walls were missing.
Jack also realized something was missing from his own life.
"I need to get back. I just really don't know how," he said. Jack had fallen away from his faith after first receiving Christ at 10 years old.
Upon hearing he wanted to reconnect with Christ, chaplains Bob Willems and John McGuire, also Vietnam War veterans, went to the couple's home.
"I can show you the way," Bob offered after greeting his fellow serviceman.
He shared the Steps to Peace booklet with Jack, who was so excited to learn more that he found himself reading ahead of them.
When he came across the story of the cross, Jack held back tears and prayed for salvation.
"I just accepted Christ," he told his granddaughter, who threw her arms around him in response.
At a nearby church, 33-year-old Tramarcus Reynolds made the same decision.
His stepson had been attending the church for the past six months, and asking and praying for him to come.
But Tramarcus had refused.
Now, he found himself walking into that very church to ask for help. He needed assistance moving belongings from the family's home, located in one of the hardest hit neighborhoods in town. While there, chaplain Rebecca Bell shared the Gospel with him.
"But I've done so much," he repeatedly mumbled as tears rolled down his face.
Rebecca told him there's absolutely nothing he's ever done that could go beyond God's forgiveness.
"Really?" Tramarcus asked, still unsure.
"Yes, I promise you," Rebecca told him, and he prayed and accepted the Lord as his Savior. The day of his salvation and "new birthday" happened to be his stepson's 16th birthday—the one who had been praying for him and inviting him to church since September.
"It was a privilege to be that safe person for them in a storm like this," Rebecca said. "[To] be there to provide comfort and hope for people still visibly shaken … has been a real blessing."
Please continue to pray for the communities of Jacksonville and Southside, along with others affected by the recent storms.