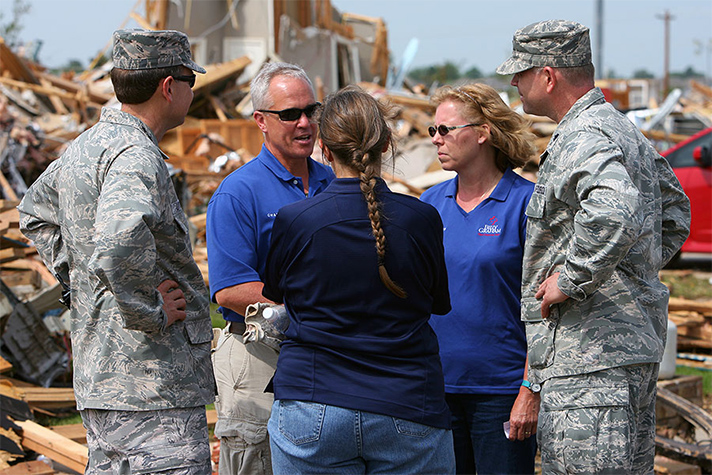 As residents start to comprehend the scope of disaster in Oklahoma, crisis-trained chaplains from the Billy Graham Rapid Response Team are on the ground, prepared to minister to the emotional and spiritual needs of those whose world has been forever changed.
"Pictures don't do justice to what's going on in the hearts of the people there," said Jack Munday, international director of the Billy Graham Rapid Response Team.
"Our hearts are breaking for all those in the path of this horrific tornado. Our entire organization is praying for them."
Two chaplain coordinators arrived Monday night around sunset — reporting the scene from the 200-mph tornado as "carnage — like everything has been through a blender."  Six more chaplains arrived this morning with another 10 or so on standby, bags packed.
"Our purpose is really just a ministry of presence," Munday said. "Sometimes it's just giving them a bottle of water. Or maybe listen to them for hours. It's a very difficult situation."
"You can see the damage, as far as the eye can see," said chaplain coordinator Carolin Perez, who along with husband Desi reside in Oklahoma. "There are huge buildings with half the building just gone. There was a shopping center where it looked like the tornado peeled up the concrete."
The need is severe, but logistics will determine how many and how quickly BGEA will be able to deploy its network of chaplains who are — in a sense — always on standby in 48 states.
The goal is to not be an added burden on the Moore and Shawnee communities, but to simply be available to pray with those affected, give them a shoulder to cry on or just listen to their story.
"Our role is to be supportive to the families and the churches there," Munday said. "The streets are blocked so we're working on the perimeter."
The Oklahoma deployment comes on the heels of major storm damage in Granbury, Texas, where BGEA chaplains are also ministering. The May 16 storm killed at least six people and destroyed more than 200 homes and more than 50 businesses.
The death toll and damage reports are still uncertain in the Moore, Okla., area, which was hammered by a record 318-mph tornado some 14 years ago. Samaritan's Purse, which is also deploying to this disaster, helped meet the physical needs for three months in 1999.
"We will have a significant number of chaplains there in the next 36 to 48 hours," Munday said. "It will be a long, long recovery."
Launched after 9/11, the Rapid Response Team has responded to more than 155 natural and man-made disasters since 2002.
While the Katrina hurricane (2005) and Haiti earthquake (2010) have been two of the longest deployments, recent disasters like the Sandy Hook Elementary shooting and the West, Texas, fertilizer plant explosion have increased the need for chaplains with emergency response experience.
Munday said that about a third of the chaplain network — more than 1,100 nationwide — have a background in emergency response and those will be the first responders to Moore, Okla., and the surrounding areas.
"Please pray continuously for all those who lost loved ones," Munday said, "and for those who may still be trapped amidst the rubble."