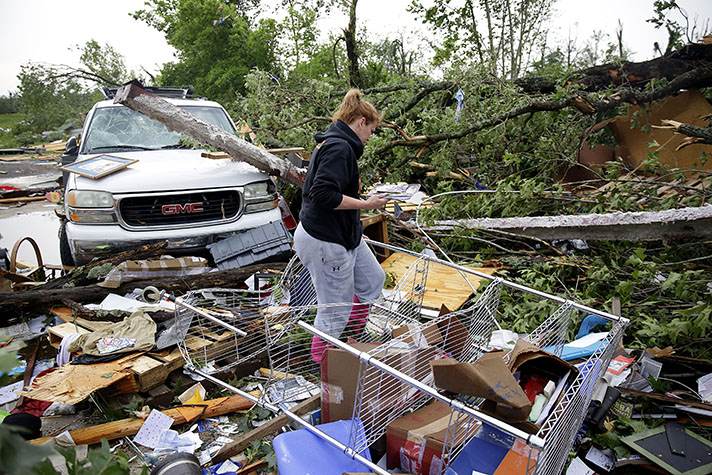 Multiple tornadoes and flash floods have been battering the Midwest and Oklahoma this week and on Wednesday night, killing at least three people around Golden City, Missouri. At least a dozen others have died in the severe weather outbreak.
Crisis-trained chaplains with the Billy Graham Rapid Response Team (RRT) have deployed to Jefferson City, Missouri, as well as flood-ravaged Oklahoma.
Close to midnight on Wednesday, a massive tornado passed through Missouri's capital city, sending debris flying, ripping apart buildings, downing power lines and leaving some people trapped in rubble as emergency responders work to free them. The National Weather Service office just outside St. Louis, Missouri, described the twister as a "violent" one and cautioned about thunderstorms still in the forecast.
During a time of prayer on Facebook Live Thursday, RRT Assistant Director Josh Holland stated: "We're humbled and honored to do anything we can to love on people, to share the love of Jesus with those that are maybe going through the darkest valley of their life right now."
This time three years ago, on May 17, 2016, Franklin Graham spoke from the Missouri Capitol grounds on the 23rd stop of his 50-state Decision America Tour. An estimated 6,700 people gathered at the Capitol to join Franklin in praying over their state and nation.
Early Thursday morning, Franklin petitioned his Twitter followers to again pray for this state and all in the path of this week's severe weather.
"We join @GovParsonMO in praying for all those impacted by these deadly tornadoes," he tweeted, following a post from Missouri Gov. Mike Parson about Wednesday night's disaster.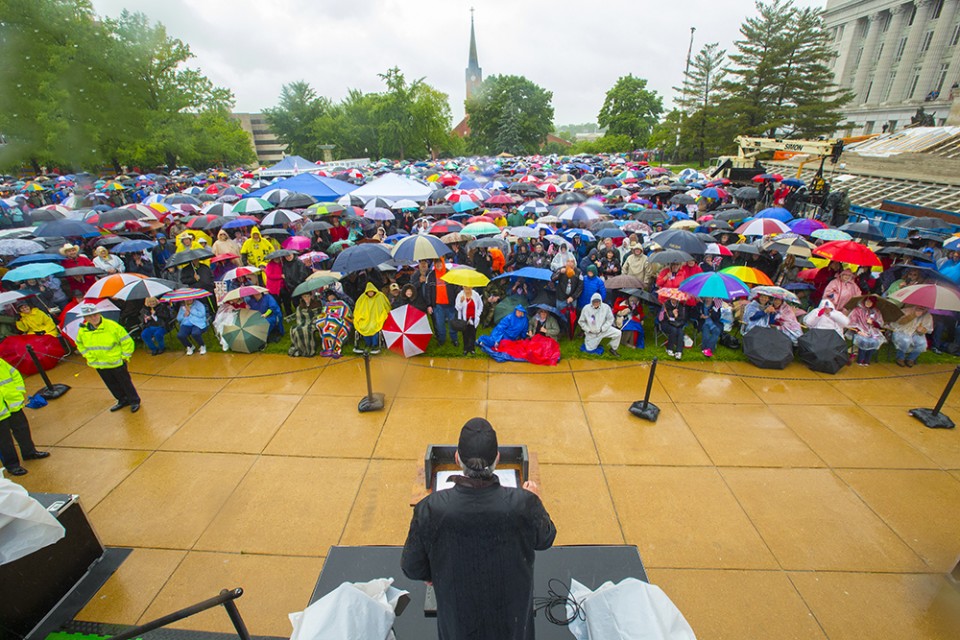 Reports say Jefferson City has suffered "catastrophic" damage, but the extent of that damage reaches much further.
Since Monday, May 20, Central states have received nearly 100 reports of tornadoes, with more than 30 on Wednesday. Thousands have been ordered to evacuate, including the entire town of Webbers Falls, Oklahoma. Flooding has closed highways in 22 Oklahoma counties and more than 330 roads in Missouri.
Right now, the Rapid Response Team—alongside Samaritan's Purse—is assessing two additional areas as they prepare to respond: North Joplin, Missouri, and Tulsa, Oklahoma. One tornado hit just a few miles from Joplin on the eighth anniversary of another twister that killed more than 150 people there.
"We want to let people know that even in their darkest times that God loves them," Holland said. "Pray for God's comfort and peace during the days ahead, and for resources to be provided as many people have lost everything."
As the storm moves across the Central Plains and makes its way Northeast, forecasts say the relentless weather could continue into next week.
Please be in prayer for the thousands who have already experienced these damaging storms and for those in the path of severe weather.