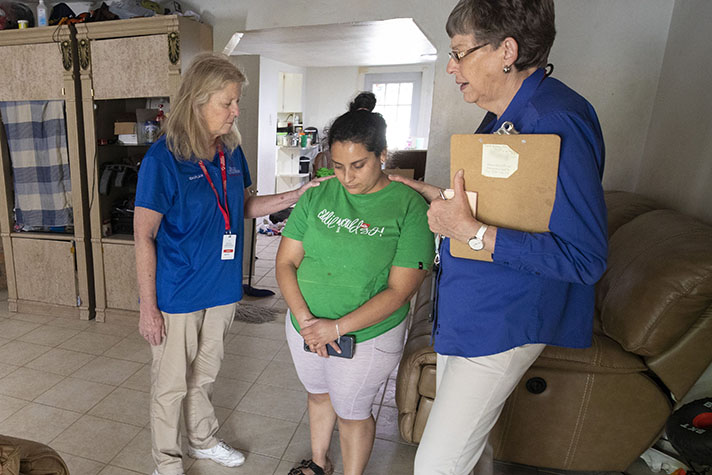 Record rainfall in Fort Lauderdale has turned South Florida residents' world upside down, with nearly a foot of rain falling in a matter of hours on Wednesday, April 12—and over two feet in a 24–hour period.
Chaplains with the Billy Graham Rapid Response Team (BG-RRT) deployed to Broward County to help give emotional and spiritual support to those struggling with the massive flooding that closed airports and roads and submerged parking decks full of cars. 
"As we see the many lives impacted because of this flooding in Fort Lauderdale, our hearts are heavy for those who have suffered great loss," said Josh Holland, international director of the BG-RRT. "Our crisis-trained chaplains are there to provide emotional and spiritual care as the area begins the recovery process."
A Mobile Ministry Center—where crisis-trained chaplains provide prayer and a listening ear—arrived on Monday. A team of six chaplains, serving alongside Samaritan's Purse volunteers, started ministering on Tuesday in an area where more than 1,000 homes have suffered flood damage.
Gas shortages continue in both Broward and Miami-Dade Counties, with car lines snaking out into the roadways.
Minnesota Deployment
The BG-RRT also deployed to Cyrus, Minnesota—about 90 miles west of Saint Cloud—after one law enforcement officer was killed and two others injured during a domestic disturbance call. Four specially trained law enforcement chaplains are serving the police department as well as the community.
"Our law enforcement officers put their lives on the line every single day to keep our communities safe. We are heartbroken to hear of this latest shooting. We are praying for this officer's family, the wounded officers, and both the department and the community during this very difficult time," Holland said. "We honor and support the men and women who sacrificially serve and protect us each day and are sending law enforcement chaplains to the area to provide emotional and spiritual support as this community grieves."
Please keep both communities and the chaplains serving in your prayers.