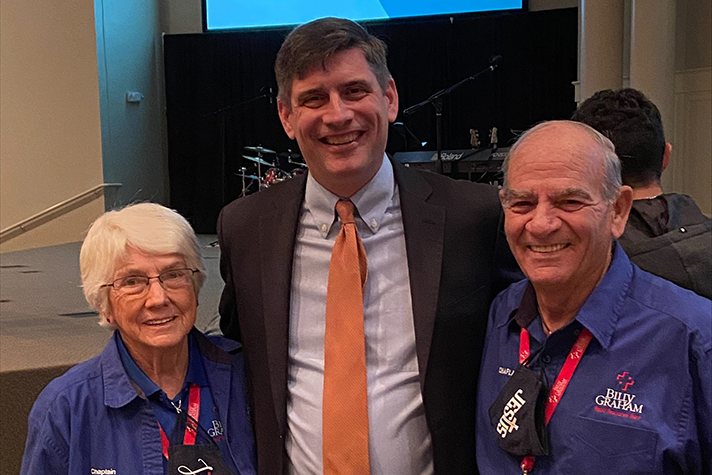 Sam and Ethel Landry don't have the usual life of retirement.
Instead, Ethel, 80, and Sam, 79, find themselves constantly traveling to wherever a disaster occurs as crisis-trained chaplains with the Billy Graham Rapid Response Team (BG-RRT). Lately, that's been in Houma, Louisiana, a city pummeled by Hurricane Ida last year.
"We know that this is where God wants us to spend the rest of our lives," Sam said. "He gives us our health to be able to be the helping hands of Jesus."
>>Interested in becoming a chaplain? Start here.
Both Ethel and Sam were first involved in disaster relief through Samaritan's Purse, a ministry that organizes volunteers to clean up after natural disasters. BG-RRT chaplains and Samaritan's Purse volunteers work closely together in the aftermath of disaster.
Ethel started feeling led to be a chaplain after meeting several of them on the road. At first, she was hesitant, but through prayer and the encouragement of others, she made the leap and said it's been "wonderful."
She's especially enjoyed having Sam minister alongside her the past year, as he joined the chaplain team in 2021. Out of the 2,500-plus Rapid Response Team chaplains, they're one of many couples who serve together.
"We always felt bad being apart," explained Ethel, who met her husband in 1959 at a drive-in. Three years later, they were married on January 20, 1962, when Ethel was 19. Now married for 60 years, they have four children, 12 grandchildren, 3 great-grandchildren and another expected to arrive this month.
"We don't do vacations," Ethel said. "These [deployments] are our vacations. They are with the Lord. This was not our plan. We were going to travel, get a motor home and go to state parks.
"But He took us and put us where He wanted. It just took one time—our very first deployment—and we knew this is where we had to be."
Before retirement, Ethel was a teacher and Sam worked for a manufacturer. When Hurricane Katrina hit in 2005, they got firsthand disaster experience managing a base of volunteers with Samaritan's Purse.
Living in West Monroe, Louisiana, the chaplain couple is constantly ministering to people after nearby hurricanes or floods, or requested to travel to other crises.
And often, their work as chaplains is to simply make conversation with people reeling from crisis—and point them to hope in Jesus Christ. Sam said "to be able to share the Word of Jesus Christ" is what brings the couple the most joy.
"We have the gift of gabbing; we love to talk," Ethel said. "It's so great to listen to stories, encourage them, connect and lead them to the Lord. It's not about us; it's about Him."
She shared how she recently sat down with a homeowner who faced damage from Hurricane Ida. The woman had head knowledge about who Jesus was, but was confused about prayer. Sitting under the hot sun, Ethel noticed the heat was starting to distract the woman.
Silently, Sam went to the car and grabbed a black umbrella for the women to have some shade, enabling the chat to continue.
During the long conversation, Ethel said she felt the Holy Spirit nudge her to ask, "Would you like to know for sure you're going to go to heaven when you die? There is a way and it's the only way."
Little did Ethel know, a group of onsite Samaritan's Purse volunteers felt like they needed to stop cleaning and pray in that moment. Their prayers for the homeowner were answered.
"She looked at me and said 'yes' in a very strong manner," Ethel recalled, saying she still gets goose bumps just thinking about it.
For Ethel, moments like that are "such a blessing. You can't explain it. You think you're going to bless the homeowner and it's twofold. They bless you as much as you bless them. People ask, 'How can you say blessing when it's a disaster?' Go one time and you'll be blessed and forever be returning. That's all it takes."
This week, the Landrys are traveling to Orlando, Florida, for the Sharing Hope in Jesus' Name conference, a training that equips Billy Graham chaplains and Samaritan's Purse volunteers for future crises.