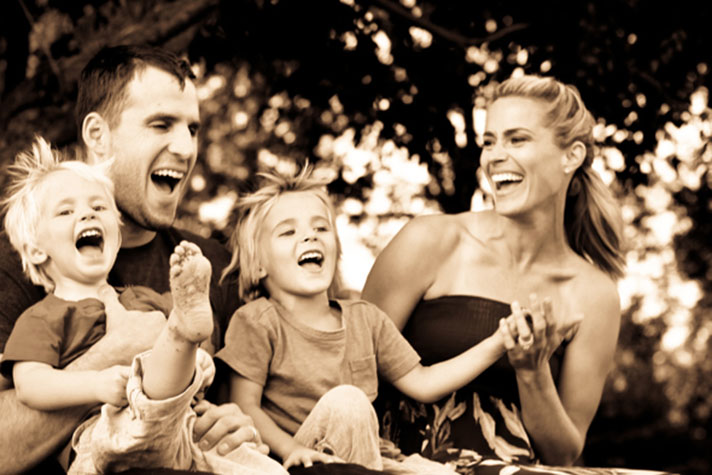 When the U.S. Olympic basketball team took to the court this summer against the Dominican Republic, Army Captain Scotty Smiley was in the stands, cheering them on. But the decorated war veteran was no ordinary spectator.
In fact, he couldn't even see the game.
Smiley lost his eyesight on April 6, 2005, in Mosul, Iraq, when a suicide car bomber blew himself up in front of Scotty's Stryker vehicle.
But blindness doesn't keep Smiley on the sidelines. He has spoken to corporate leaders, educators and church groups about maintaining optimism and perseverance in the dark.
The flurry of speaking engagements have followed the release of Hope Unseen, which tells the story of Smiley's testing and transformation. It released in paperback this November.
To call that story inspirational doesn't seem to do it justice.
In the years since he lost his vision, Smiley has climbed Mount Rainier, won an ESPY as Best Outdoor Athlete, surfed, skydived, become a father twice, earned an MBA from Duke, taught leadership at West Point, commanded an Army company, and won the MacArthur Leadership Award.
How has he accomplished so much? One word: God.
In a phone interview a few weeks ago, Smiley shared how he overcame tragedy through the love of Christ and the prayers of his friends and family—and went on to become an inspiration to people around the world.
"I was raised in a Christian family in Washington state and always seemed to know that God had a purpose for me," said Smiley. "One of the decisions I made after high school was to attend the U.S. Military Academy at West Point. The stress of being a cadet was hard, but I knew that God had me there for a reason."
Grateful for Grahams
Perhaps one of the reasons was to form a deep and lasting friendship with Edward Graham, the son of Franklin Graham and grandson of Billy Graham.
"I met Edward on the wrestling mat in the military academy," Smiley recalled. "Then, a couple of years later, our relationship began to flourish. We grew closer through teaching Sunday School together and hanging out, going to movies. We began to challenge each other spiritually, physically and mentally."
The two friends entered the Army on the same day. Graham and Smiley were able to attend Ranger School together and were assigned to the same platoon. "We would even write his mom letters to receive food," Smiley added, with a laugh. "The support we got from both Franklin and Jane was amazing. That support gave us the ability to push forward and, in the end, serve our country."
The months flew by and soon after, Smiley married Tiffany, his high school girlfriend, and was posted to Fort Lewis, Washington, where he assumed command of a 45-man platoon.
When he heard he would be deployed to Mosul, Iraq, Smiley gulped. "At first I didn't know where Mosul was, so I looked it up and realized this was Nineveh. I was definitely not going to tell God 'No, I am not going to Nineveh.' We know how that ended up for Jonah."
It was hard leaving his new bride of six months, but again, Smiley knew that God had a plan and a story for his life:  "I hit the ground in Iraq and helped to train the Iraqi army. We rebuilt schools and helped build parks and redistribute gasoline."
But Iraqi insurgents were trying to thwart U.S. efforts by creating chaos. Smiley lost his company commander and several other friends when a bomb detonated in a Mosul mess hall.
"Again, it was hard to see how God had a plan but I did know that sometimes there is suffering in life and through that suffering, if we continue in God's will, we will see His glory."
It was a lesson Smiley would need in April 2005. "I spent my first wedding anniversary away from my wife, and found myself in front of a suicide car bomb. Then boom, my world went black. I ended up waking up two weeks later at Walter Reed Army Medical Center, blind for the rest of my life."
The damage wasn't to his eyes alone.
Spiritual Darkness
"My world not only went physically black, but it went spiritually black. I couldn't understand how and definitely why God would allow something so tragic to occur to me."
It certainly tested Scott's faith, but his basic belief in God's goodness won out.
"Many Christians believe, 'Hey I did this—I went to church, I read my Bible, I prayed. I checked all these boxes.' But in the end, it's a continual faith, not only in the great times but in the darkest, in the shadows. That's when you have to continually trust in Him."
Smiley also found strength in his wife's support and prayers—and in the encouragement of his family and friends.
"In the end, though, trust was a choice I had to make alone," said Smiley. "I had to first forgive internally the man who blew himself up, forgive myself for the decisions that I made in the field, but most importantly, ask God to forgive me. Because I knew that was the biggest mistake I ever made was questioning Him."
Recovery took time—and it was not just physical but spiritual. "It was building that relationship with God that allowed me to do what I do today and that is continue to serve my country. Without that purpose, and without God being on my side," Smiley continued, "there would have been emptiness, dreariness, Post-Traumatic Stress Disorder, sorrow and depression.
"My faith in God literally gave me the ability to continue to serve, continue to do ministry, and to wake up and push myself. I wanted to continue to give back."
One way Smiley works to "give back" is through the book Hope Unseen, published in 2010. "I am really humbled to know how God has used our story. As the book came out, I never knew people would want me to speak.
"As I've shared my faith and the struggles in my spiritual walk with the Lord, it's just been a great opportunity. I want to be an inspiration and motivation to other people because I know we all go through challenging times, struggles and hardships—along with amazing times and glorious times."
Along with speaking, Smiley trains, mentors and counsels cadets in the ROTC Program at Gonzaga University in Spokane, Washington. "Each and every day in the Army brings us new adventures and excitement. God continues to guide us on this wonderful and sometimes unknown path.
"He has given me an amazing opportunity to continue the Great Commission," Smiley added. "I aspire to continue sharing my faith with others as Franklin and Billy have done."
Learn about Samaritan's Purse's Operation Heal Our Patriots ministry.
Support the military ministry at The Billy Graham Training Center at The Cove. Your gift for military outreach can help provide marriage enrichment seminars for active-duty military members, as well as Bible-based help and encouragement for military chaplains and their spouses.