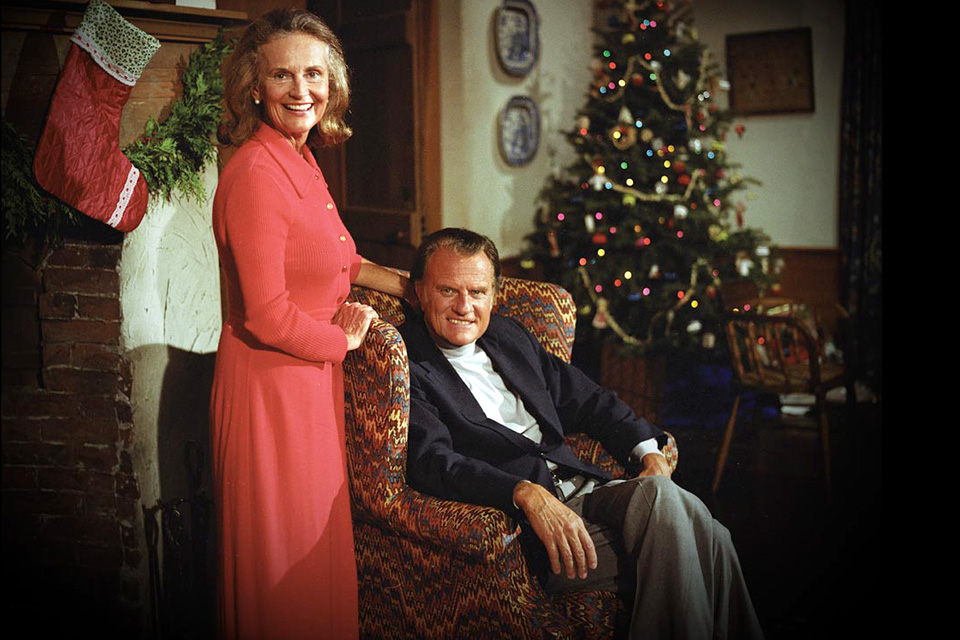 Vintage Billy Graham Christmas messages, a Bible reading by Ruth Bell Graham, and dear family and ministry memories all will be featured during the upcoming Billy Graham Christmas Special on SiriusXM Channel 460.
This special hour-long program is broadcasting at various times now. The final program will air tomorrow, Dec. 25.
The Billy Graham Channel Christmas Program:
Monday, Dec. 24:
9 a.m. ET/6 a.m. PT
12 p.m. ET/9 a.m. PT
3 p.m. ET/12 p.m. PT
6 p.m. ET/3 p.m. PT
9 p.m. ET/6 p.m. PT
Tuesday, Dec. 25:
12 a.m. ET/9 p.m. PT
3 a.m. ET/12 p.m. PT
6 a.m. ET/3 a.m. PT
10 a.m. ET/7 a.m. PT
1 p.m. ET/10 a.m. PT
4 p.m. ET/ 1 p.m. PT
The Billy Graham Channel debuted as a pop-up channel last November in honor of Mr. Graham's 99th birthday. The channel returned by popular demand several times after the evangelist passed away on Feb. 21, and was added permanently to the SiriusXM dial this past August as channel 460.
Franklin Graham opens the program sharing how this season brings back so many special memories for him and his family, but this year will different. It will be the first time he hasn't spent Christmas with his father.
"He's in Heaven with the Lord Jesus Christ and with my mother and with his family and friends," Franklin Graham shares in the opening of the program. "This Billy Graham Channel Christmas Special that you're about to hear, you're going to hear wonderful memories of Christmas past with our family there at the log house in Montreat, North Carolina. You're going to hear some wonderful Christmas carols. You're going to have messages about the Lord Jesus Christ. Of course that's what we celebrate at Christmas. We celebrate His birth."
The station continuously features evangelistic content, mostly from Mr. Graham's six-plus decades of ministry, so it's fitting that this weekend's program will highlight several Billy Graham Christmas sermons. Included in that will be his 1985 message at historic Shiloh Baptist Church in Washington, D.C.
"Think of it! God in a cradle because that's what Emanuel means: God with us," Billy Graham shared that day.
"In that cradle were the hopes and the dreams of a dying world. And so we see the cradle, but you cannot separate the cradle from the cross. You cannot separate Christmas from Good Friday because Jesus said to this end was I born, and for this cause came I into the world."
The memories shared by family and ministry partners are personal and touching. Cliff Barrows tells of singing Christmas carols in a war zone. Franklin Graham remembers receiving a stocking full of switches. And Will Graham shares his favorite seasonal Scripture, among others. The memories and teachings all point to Jesus, who as Mr. Graham says in this special was born to die.
"If there's one thing that Christmas ought to say to all of us is that God loves us," Graham shares in an archived audio clip. "He loves you, and He loves you with a love that we cannot manufacture. We don't have that kind of love except in Christ."