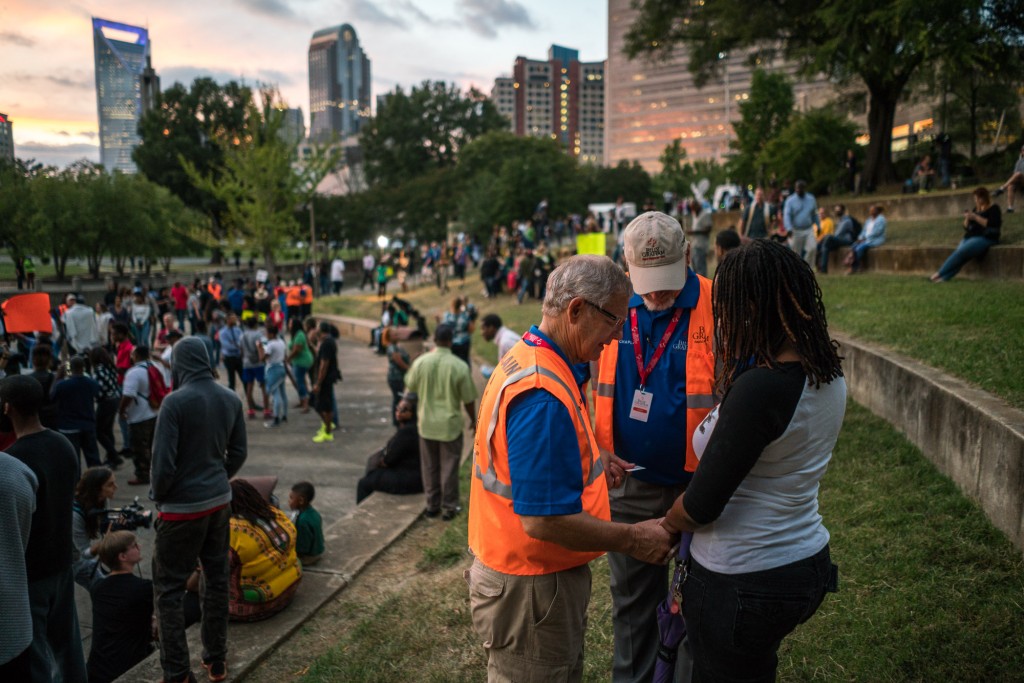 Update: As of 9:30 p.m. ET on Wednesday, crisis-trained chaplains with the Billy Graham Rapid Response Team are no longer ministering in the area due to the intensity of the civil unrest. All chaplains are accounted for and are requesting prayer for the city of Charlotte and all who are hurting.
"With another tense night of unrest and protest playing out in Charlotte, NC, join me in praying for unity and no further violence," Franklin Graham wrote on his Facebook page. 
The Billy Graham Rapid Response Team deployed crisis-trained chaplains to Charlotte in the wake of civil unrest that started Tuesday night after a fatal officer-involved shooting.
Violent protests erupted in the hours following the lethal shooting by an African-American police officer that left one African-American man dead. Many residents and police officers were injured in the chaos, during which protesters threw rocks and bottles.
The area where the violence happened, which is about 30 minutes from the Billy Graham Evangelistic Association headquarters, has calmed down some, but tensions still are high. For that reason, the Rapid Response Team will be working alongside local churches to offer emotional and spiritual care to the community. The Rapid Response Team has also parked its Mobile Ministry Center in Charlotte, at First Baptist Church on Davidson Street.
Jeff Naber, manager of chaplain development and ministry relations with the Rapid Response Team, noted God's timing regarding the civil unrest. For the past two days, handpicked chaplains have been attending strategic chaplain training at BGEA headquarters. On Wednesday, they went out as part of the team that deployed into the community.
"We see that God has provided a team of highly qualified chaplains who are trained in crisis response," Naber said. "They are veterans in this type of response, and God has prepared us over the last two years with our experiences in Ferguson and Baltimore."
Chaplains, wearing blue shirts and orange vests, are offering emotional and spiritual care in several Charlotte locations, including at memorials and prayer vigils. One prayer vigil is scheduled for Wednesday night at 7 p.m. in Marshall Park, less than four blocks from Charlotte-Mecklenburg Police Headquarters.
The chaplains, many of whom have backgrounds in first response, aren't picking sides when it comes to the clash between police and protesters. Their goal is simply to bring the hope and love of Jesus to a hurting world.
"We see how God can bring the true hope, and sometimes with the lives that are most impacted, the only hope," Naber said. "We have such a great responsibility and opportunity as Billy Graham Rapid Response Team chaplains to provide that with meekness and gentleness."
Civil unrest has been on the Rapid Response Team's radar since 2014, when protests erupted in Ferguson, Missouri, in the wake of Michael Brown's death. Since then, crisis-trained chaplains have deployed to Baltimore, Maryland; Madison, Wisconsin; Baton Rouge, Louisiana; and most recently, Milwaukee, Wisconsin.
Help support the Rapid Response Team chaplains as they offer peace and hope in times of crisis.