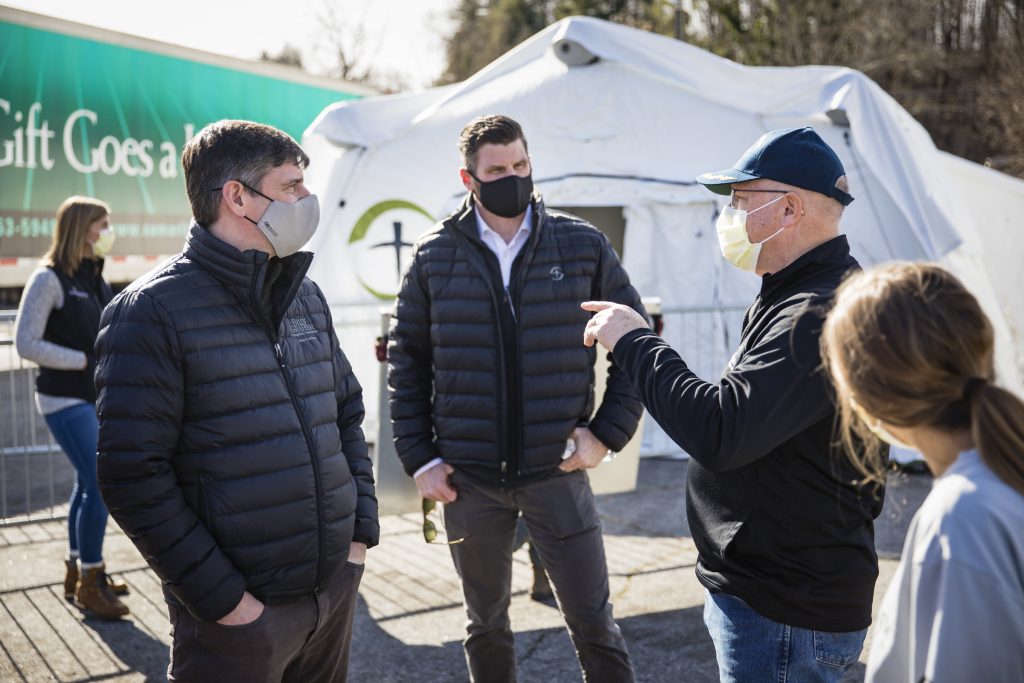 As hospitals become overwhelmed by the uptick in COVID-19 cases after the holidays, the Billy Graham Rapid Response Team's (BG-RRT) crisis-trained chaplains are ministering at a Samaritan's Purse emergency field hospital that opened in early January in Lenoir, North Carolina.
On January 6, Will Graham and Edward Graham encouraged chaplains who are serving in the western North Carolina city.
"I had the chance to tour the Samaritan's Purse field hospital being set up in Lenoir, North Carolina, to care for those affected by COVID-19," Will Graham said. "Billy Graham Rapid Response Team chaplains are on-site as well, as the two ministries meet the physical, emotional and spiritual needs of the patients. Please join me in praying for the suffering, for the medical teams, and for the chaplains in the days ahead."
Edward Graham also shared on Instagram that he was "encouraged by our @BGEA chaplains already serving and heavy lifting on the ground."
According to the N.C. Department of Health and Human Services, the state reported its highest one-day number of COVID cases on New Year's Day with over 9,500 cases. Five medical centers in the Caldwell County area requested Samaritan's Purse to respond. The ministry has set up 30 beds to help those hospitalized with COVID.
Our @SamaritansPurse emergency field hospitals have been deployed around the world in response to earthquakes & disease. Now this is needed in our backyard due to rising #COVID19 hospitalizations in NC. Pray for our medical teams as they prepare to care for patients this week. pic.twitter.com/jZNhGbLTP4

— Franklin Graham (@Franklin_Graham) January 4, 2021
Located between the Billy Graham Evangelistic Association headquarters in Charlotte and Samaritan's Purse in Boone, North Carolina, Lenoir sits along the foothills of the Blue Ridge Mountains. As Samaritan's Purse medical staff cares for the physical needs of non-ICU coronavirus patients, Billy Graham chaplains are offering the love and compassion of Christ to those who may feel afraid or alone.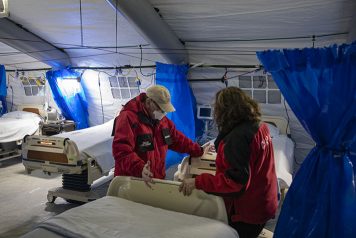 Formed to offer emotional and spiritual care in the aftermath of natural and man-made disasters, the Rapid Response Team started going to the front lines of the pandemic last spring.
"In 2020, we deployed chaplains to serve alongside Samaritan's Purse emergency field hospitals, helping support communities in Italy, New York City, the Bahamas and the Navajo Nation, who were overwhelmed with COVID-19," said Josh Holland, BG-RRT's assistant director.
>> Nervous about COVID-19? Call the Billy Graham Prayer Line at 888-388-2683.
"As the virus is spiking at the beginning of 2021, we consider it a privilege to offer the same support in our ministries' home state of North Carolina," Holland said. "We pray that the Lord will use our chaplains to share the love of the Lord Jesus Christ in this area where the virus is impacting so many families."
You can have peace in a chaotic world. Know Christ today.