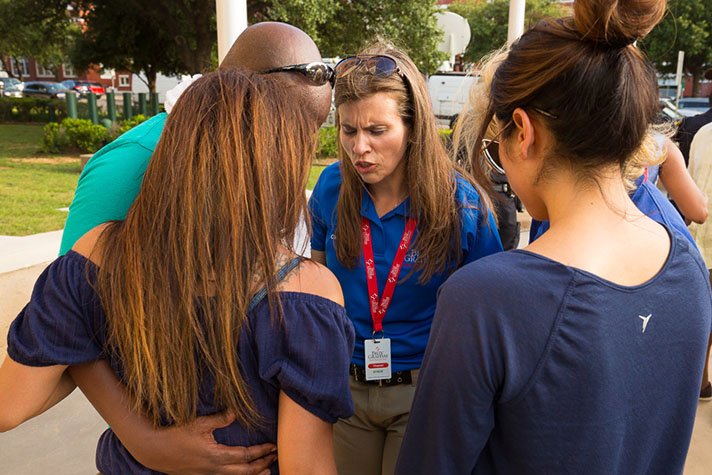 Amy Lopez, born and raised in Dallas, said she was in disbelief as she stood near two patrol cars adorned with cut flowers, balloons, stuffed animals, cards and supportive messages on Sunday. The police cruisers, stationed in front of Dallas Police Department headquarters, serve as a memorial for the five officers killed last week in the line of duty.
Lopez knew one of the fallen officers, so standing there was hard. She said she really didn't want to come at all. But she didn't shy away from the opportunity to join in prayer, once with a large group circle that spontaneously started near the cars and later with Billy Graham Rapid Response Team chaplains.
"Prayer changes things," Lopez said. "We believe in prayer. We believe in love."
"All we can do is look to God for strength and for protection," said her friend Michelle Jimenez, who encouraged Lopez to attend. Jimenez said she, too, has loved ones working in law enforcement.
"I believe that the nation can come together, but it will take a group of us believers to come together to believe that He can, and He will do it."
Jimenez drew particular strength from praying with one of the Billy Graham Rapid Response Team chaplains. That prayer, she told the chaplain, came at the perfect time.
Twenty crisis-trained chaplains are in Dallas offering emotional and spiritual care in the wake of last week's deadly shooting. On Sunday morning, chaplains attended various local church services, where some had the opportunity to pray over local law enforcement and public officials. That afternoon, crisis-trained chaplains visited the memorial site to offer a ministry of presence.
"You can just see the hurting going on," said chaplain Stacie Horne while ministering at the memorial on Sunday.
People stopped to pay their respects at the patrol cars, but also made a point to seek out nearby police officers and give them a hug or say thank you. Some families handed out restaurant gift cards or goody bags to the officers. Ready to return the kindness, the police department had plenty of cold water on hand to help visitors combat the humid 90-plus degree heat.
"You look at the Dallas Police officers, you can see it on their faces," Horne said. "I've talked to four or five of them. The tragedy is just now setting in for them."
Everything from a picture of a fallen comrade to a hug from a child wearing a department-issued police badge sticker—it all served as a reminder of the horrifying event that was now bringing everybody together. That tragic night has been reported as the deadliest for law enforcement since Sept. 11.
The already emotional afternoon had another somber moment when a man carried five neatly folded flags tucked under his arm into the front doors of the headquarters. Flags typically are presented at funerals to the family of fallen officers.
"It's heartbreaking, and it's a big loss for us," said Police Sergeant Amanda Renteria, who has spent 12 years on the force in Dallas. "We just have to overcome our fears, put on our uniforms and still come out here and do our jobs but with mixed emotions."
Seeing the community show its support was a bright moment for the sergeant, though she wished this didn't have to happen under these circumstances.
"They're out here," Renteria said. "They're hugging us. They're crying with us. They're praying with us. They're telling us how much they love us. They're telling us they support us. They have our backs.
"They're here with us, and that gives all of us—my colleagues and all the officers of law enforcement—those words, that appreciation gives us a lot of strength to do our jobs."
"I think there is an opportunity for unity," Horne said of the memorial, which drew people from all walks of life. "It's about love. It's about unity. It's not about segregation or separation. It's about coming together and loving, and I think God will use that for His glory."