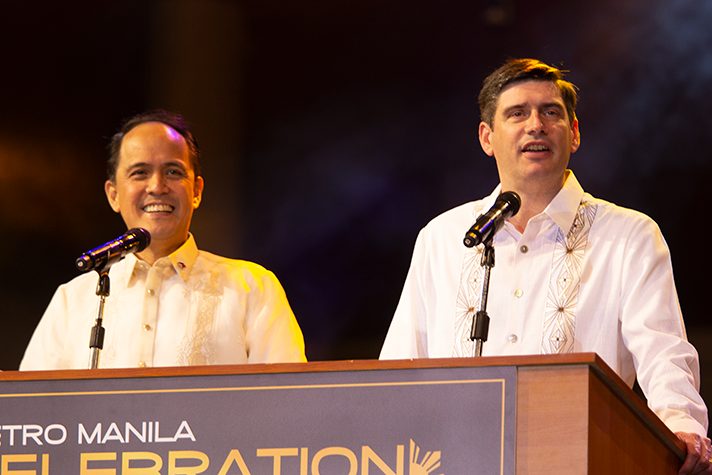 When the Grahams walk up to the podium to address non-English speaking audiences, they don't walk alone.
They sit their notes down and crack open their Bibles—and an interpreter does the same.
The Gospel message first rings out in Franklin Graham or Will Graham's signature Southern accents. And then an interpreter drives it home in the local language, repeating each statement with the same inflections, hand motions and fervor.
Seems simple enough, right? Not quite.
"It's nerve-wracking," admitted Reuel Tica, who has interpreted for Will Graham multiple times. "We want to make sure that the Word will be said perfectly to the ears and hearts of the people listening."
"When we stand on stage, it's a spiritual battle," explained his brother, Nimrod Tica. "You're delivering God's Words, so you have to be ready for spiritual warfare."
"It's exciting, but you need the help of the Holy Spirit," added their father, Pio Tica.
For more than 20 years, the Tica family has interpreted for the Graham family—joining them behind the pulpit across their home country of the Philippines.
The elder Tica was the first to partner with the Billy Graham Evangelistic Association (BGEA). In 2000, he served as a Filipino interpreter at BGEA's evangelism conference Amsterdam 2000. Then in 2006, he interpreted Franklin Graham's message for more than 300,000 people in his nation's capital.
But on Will Graham's first visit to the Philippines in 2011, Tica passed the interpreting baton on to his sons.
"I wanted to interpret for Will, if it wasn't for the age difference," Pio explained and then joked, "But the handsomeness is the same."
Matching the Speaker's Appearance
That's one characteristic of an effective interpreter: appearance. 
From age to height, an interpreter who looks similar to the speaker makes the translation more natural.
For example, Billy Graham's longtime interpreter Billy Kim studied video recordings to better mimic the evangelist's voice and mannerisms. He also stood on a box to match Graham's height of 6 feet, 2 inches.
>>Watch Billy Kim interpret Billy Graham's message into Korean:
"They worked together as a hand in a glove, and God used it to reach the hearts of the people with the message," said Cliff Barrows, BGEA's late music and program director.
Preparing With the Speaker
That leads to another key element of interpretation: preparation. 
Before events, the Grahams meet with their interpreters to go over the gist of the message, review Bible passages, and get acquainted with each other.
"When I get with Reuel, I give him the basics—I tell him what we're talking about," explained Will Graham, who's worked with both Tica sons. "It takes about five minutes to get the sermon down. The rest of it we spend on illustrations, specific words or how we're going to make transitions."
The evangelist explained that phrases like, "Making no decision for Christ is making a decision about Christ," might take an interpreter a few minutes to figure out how to translate.
But no matter how much they prepare, off-script comments and real-time changes are inevitable.
"You have to be a good listener, so you're not preaching a different sermon," said Nimrod.
Sharing a Passion for Evangelism
That's a little-known aspect of interpretation: preaching.
When the Ticas stand beside the Grahams, they're not mindlessly translating. They're actually preaching—and they're vessels through which the Gospel is taken to the nations.
"Interpreters help me connect with the local people," Will Graham said. "I can't speak their language. I cannot tell them the hope of Christ without this person."
It's important that BGEA interpreters believe the Gospel and share a passion for evangelism.
"An interpreter is a soul winner. He himself is an evangelist," emphasized Pio.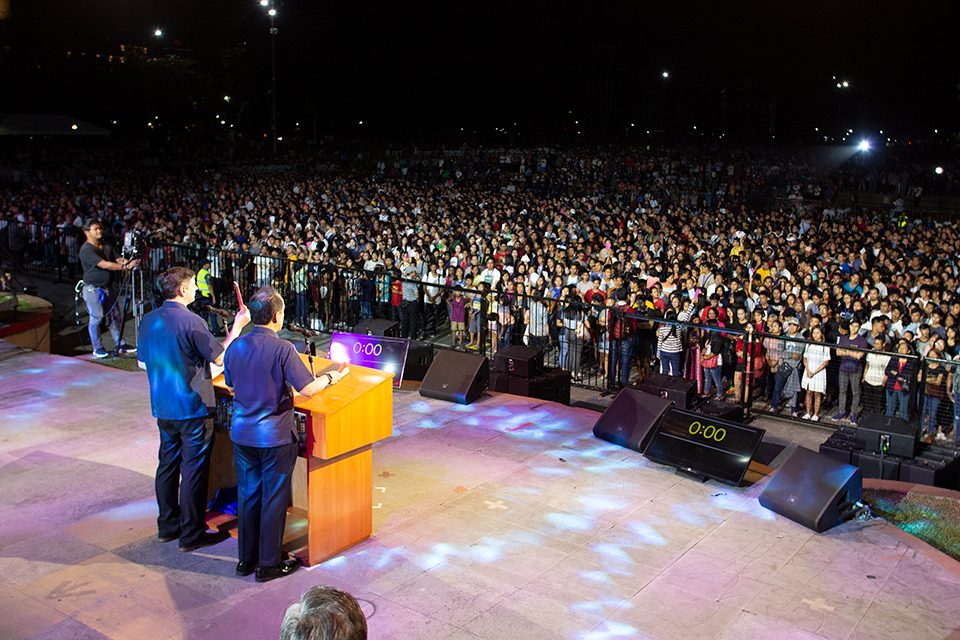 Overcoming Fear With the Holy Spirit
With souls in the balance, interpreters' efforts won't go uncontested.
Big crowds, bright lights and booming sound systems are distracting. But the Ticas see the spiritual battle as an opportunity to rely on the Holy Spirit.
"My only prayer is for God to blind my eyes to the thousands of people, for me to see Jesus in those eyes, and for them to see Jesus in and through us," said Reuel.
From behind the pulpit, each of the Ticas has witnessed God do amazing things.
"Seeing how the Lord uses a simple message with a profound truth to transform the lives of people is amazing," said Nimrod.
Their father—the one who started this multi-generational partnership—summed it up this way: "We consider it the highlight of our ministries."