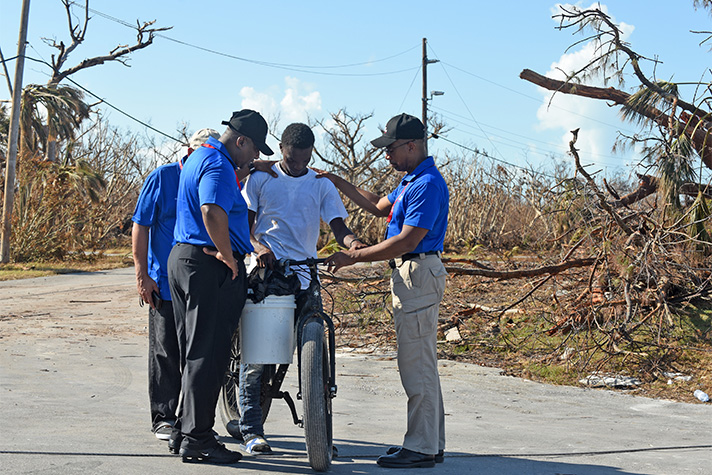 A week after Hurricane Dorian battered the Bahamas for nearly two days, distraught families are still looking for loved ones while others are leaving their communities to take refuge elsewhere.
On the ground in the Bahamas, Kevin Williams has met numerous people who lost family members or are still searching for them after Dorian, the nation's strongest storm on record. As a crisis-trained chaplain and the emergency response logistics manager of the Billy Graham Rapid Response Team (RRT), Williams has been ministering on the islands since September 4, offering emotional and spiritual care to those in Nassau and Freeport alongside Samaritan's Purse.
While in High Rock, a small town on the outskirts of Freeport, residents told the chaplain how ocean waves came up from the shore and covered their houses.
"One of their family members got caught in a current and wrapped around a telephone wire," Williams recalled. "They watched him dangle in that position. Finally, he was swept away and they have not seen him again."
>> See photos of ministry in action after Hurricane Dorian.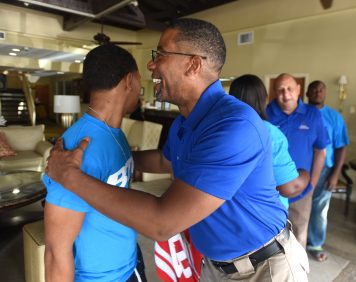 The trauma became all the more real for Williams as he stood before the appearance of a war zone that "looked like a bomb hit the community." That bomb was actually a Category 5 storm with sustained winds of 185 mph.
"Everything's gone," Williams continued, adding that only one body has been found while 70 others remain missing in High Rock alone. "So many people were just swept away. No one knows where they are; they can't find them … and don't know whether they went out to sea or the marsh area."
As the death toll climbs, thousands of islanders are distressed and fearful they'll never see their loved ones again. In the midst of such uncertainty, Williams has comforted and prayed with several anxious survivors who have broken down in tears.
"Many people that live on different islands are related to one another or know one another," he explained. "Some move to different islands like you and I would move to another state."
More than 5 percent of the tight-knit country is now homeless. News reports say 70,000 people lost their homes in the hardest-hit islands of Abacos and Grand Bahama. But Dorian was likely not the first storm these islanders have faced.
Every few years they experience some type of storm from a Category 1 to a Category 5, Williams said of the nation made up of some 700 islands. "They're always dealing with storms."
>> Give to help chaplains minister to those in crisis.
How does one face disaster after disaster?
"They're remorseful, grieving, hurt and [at a] loss, but they have hope that the emotional and spiritual component is still there. The more you talk with them, the more they get to release it and refocus [on the belief] that Someone's greater than them.
"There's such a high weight of the church, the body of Christ, and faith here is very strong." Williams said. "The attitude of the islanders … their response to this tragedy is an encouragement to me."
In the coming days, Williams will continue to offer the hope of Christ to Bahamians by being present in devastated areas and teaching local pastors how to pick up the pieces in their communities using RRT's "Sharing Hope in Crisis" training.
"We need your prayers, no doubt about it," Williams said.