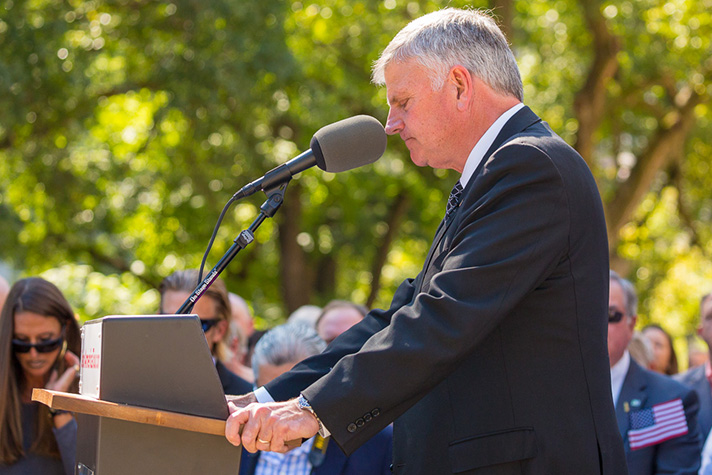 For three years, Franklin Graham has preached at one-day evangelistic events across the country on the Decision America Tour. His next round of stops will have a familiar feel as he visits eight cities in a state dear to his heart—the Graham family's home state of North Carolina.
From October 1–13, the Decision America Tar Heel State Tour will stop in Fayetteville, Greenville, Wilmington, Raleigh, Greensboro, Hickory, Charlotte and Asheville.
"I want to put God back into daily conversation," Franklin Graham recently said. The president of the Billy Graham Evangelistic Association and Samaritan's Purse stressed how he'd like to see people talking about what God has done in their lives.
Shirley James does this quite often. As a realtor in Carolina Beach, North Carolina, she gets plenty of opportunities to talk with her community. The spunky Sunday school director for the town's First Baptist Church is revved up about the upcoming tour stop in Wilmington. She knows it will mean revival, and many coming to know the Lord.
"There's no way to even tell anybody how excited I am that Franklin Graham is coming to North Carolina," Shirley said. "It's special because he belongs to us. So did Dr. Billy Graham."
Decision America North Carolina Tour Stops
Fayetteville
Tuesday, October 1
7 p.m. – Festival Park
Greenville
Wednesday, October 2
7 p.m. – Pitt County American Legion Agricultural Fairgrounds
Wilmington
Saturday, October 5
4 p.m. – Legion Stadium
Raleigh
Sunday, October 6
4 p.m. – Coastal Credit Union Music Park at Walnut Creek
Greensboro
Wednesday, October 9
7 p.m. – White Oak Amphitheatre at the Greensboro Coliseum Complex
Hickory
Thursday, October 10
7 p.m. – L.P. Frans Stadium
Charlotte
Saturday, October 12
4 p.m. – PNC Music Pavilion
Asheville
Sunday, October 13
4 p.m. – U.S. Cellular Center
She heard about Billy Graham as a teen and successfully begged her dad to make the four-hour trip to Charlotte to hear him preach.
These days, Shirley leads a Bible study with 40 to 45 women. They just finished a study by Billy Graham's daughter, Anne Graham Lotz.
"That whole family is special," she remarked.
'l Went to High School with Franklin'
Deb Woody was also thrilled to hear Franklin Graham is preaching across North Carolina.
"I went to high school with Franklin," she smiled.
Growing up, her family attended get-togethers with the Grahams and other ministry families in the Montreat, North Carolina, area.
"I grew up at Billy Graham's knee," she said, recalling how she listened to his teaching from a young age. Deb's grandmother was friends with his wife, Ruth Bell Graham.
Nowadays, Deb owns a Christmas shop on the Riverwalk in Wilmington, a popular tourist area along Cape Fear. Last year, she and her adult children lost their homes after massive Hurricane Florence stalled over the area, costing billions in damage. She also lost a daughter-in-law to cancer during that time.
Many might think recovering from Florence is Wilmington's biggest need. But Deb says it's God.
"There's more than disaster here and we need Franklin Graham to come to our city," she said. "There's so much in Wilmington that's in need of the Lord beyond the hurricane. The storm revealed so much of it."
Like many other communities in the U.S., Carolina Beach and nearby Wilmington have a lot of drug and alcohol abuse. Still, Deb loves her city and is doing her part to promote lasting hope through October's Decision America Tar Heel State Tour. She hands out promotional cards to customers.
"To have one of our very own coming to the state of North Carolina is very meaningful," Shirley said. She likes how Franklin Graham boldly speaks the truth of Jesus Christ. "The country needs Franklin Graham," she said.
Here's how you can pray for the Decision America Tar Heel State Tour:
Ask God that Christ followers in North Carolina will see the need for non-believers to be saved and participate in the tour.
Pray they will build relationships with non-believers and invite them to the Decision America Tour.