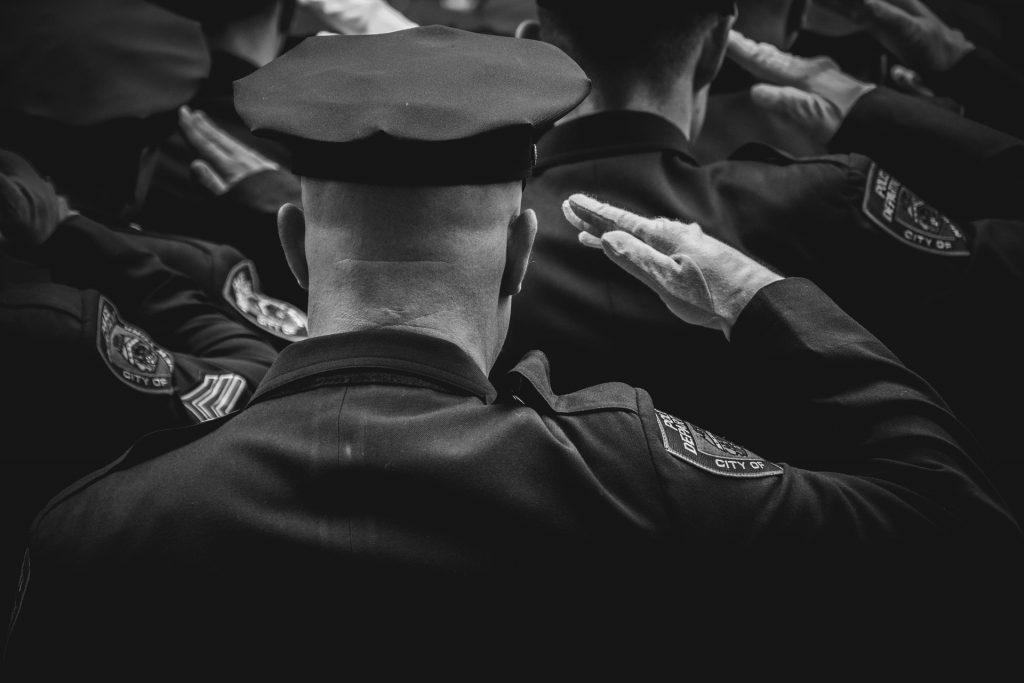 September is National Suicide Prevention and Awareness Month. One population regularly affected by suicide is law enforcement, given the unique—and often grim—circumstances of the job. Here's what some people are doing to help save officers' lives.
"The Lord makes firm the steps of the one who delights in him; though he may stumble, he will not fall, for the Lord upholds him with his hand."
—Psalm 37:23-24
Stephen Parker was sitting alone in his closet one Sunday after church, unholstering the gun strapped to his ankle, when he heard a voice plain as day whisper in his ear.
"It will only take a second," the voice hissed.
Parker's eyes glassed over. He drew a deep breath. That moment happened years ago, but it was still fresh for the veteran Charlotte-Mecklenburg (North Carolina) police investigator six years later.
"That's when I realized I couldn't go any further down than where I was," Parker shared, his wife by his side, during a break last spring at the National Law Enforcement Retreat (NLER) held in Texas.
Need to Talk?
Call the Suicide Prevention Lifeline at 1-800-273-8255.
Parker didn't pull the trigger. And in the time that followed, he said Jesus renewed his heart. Nowadays, he candidly shares his story and Biblical encouragement as a speaker for the Billy Graham Rapid Response Team's National Law Enforcement Retreat. But the heartbreaking reality is too many officers aren't seeing true hope in their situations. Too many officers today are dying by suicide. It's a heartbreaking trend headed in the wrong direction.
>>Learn more about the National Law Enforcement Retreat, held in Asheville, North Carolina, next month. 
The nonprofit B.L.U.E. Help has dedicated itself to tracking and verifying police suicides. In 2018, the substantiated number of police suicides (167) was more than the number of officers killed in the line of duty (164 as reported by Officer Down Memorial Page). This year it isn't even close. As of September 16, there have been 149 police suicides reported and verified, compared with 87 officers killed in the line of duty during that time. The grievous reality is there probably are more.
"It's like every day I see a new face looking at me," said Biblical counselor Denise Molatch, whose late husband was a police officer for 30 years. Molatch often sees updates via Facebook. "Looking into their eyes just breaks my heart because it doesn't have to happen."
Noble, Yet Human
Law enforcement officials are trained physically for the rigors of the job, but the emotional and spiritual aspects are often lacking. Dealing day after day with the worst society has to offer—and sometimes serving in a place where you're not wanted—can take its toll.
"I know you spend so much of your time dealing with bad, but it's the fact that you deal with the bad that produces the good for everybody else," pastor and author John MacArthur once encouraged officers during a sermon. "We understand that. It's a noble, noble thing you do."
Know the Warning Signs:
Suicide is the 10th leading cause of death in the United States according to the American Foundation for Suicide Prevention. These warning signs are for everyone:
Talks about wanting to die, or to kill him or herself.
Mentions feeling hopeless.
Shares feeling trapped or having no reason to live.
Increases alcohol or drug use.
Acts anxious or agitated, behaving recklessly.
Sleeps too much or too little.
Withdraws, isolates or starts giving away possessions.
Exhibits rage or extreme mood swings.
But this noble calling to restrain evil, as MacArthur says, can leave a lasting impression as officers respond to every heated squabble, every car accident, every mass shooting. The reality of evil in this world can be too much. Especially for the officer trained primarily in physical survival.
"These guys are walking into buildings with dead bodies everywhere, kids' cellphones going off, the smells, and so on," said Bernie Loos, a police chaplain with the Charlotte-Mecklenburg Police Department who retired as a sergeant from nearby Cabarrus County in 2016. Before coming to North Carolina, Loos worked vice and narcotics as an officer in Southern Florida during the height of Miami's drug wars.
"[These officers] they're thinking, 'There's this God? And He's loving? Look at all this mess.' Unless they have a place to park that theologically or a piece of Velcro to stick it to and go, 'You know what? This is a broken and fallen world,' they have no place to put that. So they don't understand. And then they don't handle it well."
These larger questions—typically tackled at NLER—require introspection. Many officers cast that aside. It's too time consuming, too hard. More alcohol, a longer exercise routine, an affair offer a quick out.
The coping mechanisms are feeble attempts, however, shared pastor Andrew Columbia, a former New York police officer who patrolled one of the city's toughest neighborhoods. Mental health has become a buzzword today, so departments theoretically are offering more resources. The problem, officers insist, is they don't feel safe exploring options. This reality made headlines recently in New York. Police Commissioner James O'Neill urged officers to seek help in the wake of nine NYPD suicides this summer, provoking backlash.
"Look, if you admit you have a weakness as a police officer, they can take your gun, they can psych you, you can lose your job, you can be on restricted duty," said Columbia, who holds a support group for officers at his church. "Nobody wants those things, so most guys will just hide it and won't deal with it until they get out of control where they just snap."
Keeping the Faith On the Clock
The Grand Prairie (Texas) Police Department is trying to stay ahead of that snap. Police Chief Steve Dye requires his officers to participate in the department's Fit Force Program which emphasizes physical fitness, emotional wellness, financial planning and spiritual wellness.
Staying Healthy Amid Stress
Have friends outside the police department that you talk with regularly.
Have at least one hobby outside of police work.
Talk with your spouse or trusted friend on a regular basis.
Dye is unashamed of his Christian faith. In a time when agencies are trying to eliminate spiritual matters from the workplace, he urges his employees to keep their faith even on the clock.
That doesn't mean evangelizing and, as he said, it never compromises the level of service his department offers anybody. He argues it makes the officers better.
"I think when we attach it to our spiritual values, we're more committed in the level of service we provide because we realize it's not just about my job," Dye said. "It's about focusing on my corner of the world spiritually to help improve humanity."
Dye's police chaplains keep a friendly rapport with the department. They're always there to listen or talk with officers, and Dye believes that made a difference this past July when the department lost one of its own. Experts agree talking is a key way to release stress, and Dye hopes since it's informal, conversations will happen naturally, erasing any stigma associated with asking for help.
"I've had an officer commit suicide, and you wonder what more could we have done," Dye said. "We need to provide our chaplains with the training and the tools to best serve. Can we prevent every suicide and every divorce and every occurrence of alcoholism? No. But if we properly support and provide training for our chaplains through the Billy Graham ministries, then we have greatly impacted our ability to mitigate those crises that we're inevitably going to face."
God's Promises in the Pain
According to the American Foundation for Suicide Prevention, prolonged stress can be a risk factor for suicide. Every shift is an opportunity for officers to experience deep, traumatic levels of stress.
It accumulates no matter how much an officer loves the job, and it can be debilitating. Chad Stillman now serves in the Rapid Response Team's law enforcement ministry, but only a year or so ago watched his dream career screech to a halt after he was involved in a fatal shooting. He was cleared of any wrongdoing, but in the aftermath, he understood why an officer would consider suicide.
"Mentally, I've never hurt so bad in my life," Stillman said. "Body aches, nauseousness, headaches—and it was all from the stressors of walking through that."
>>Learn more about upcoming National Law Enforcement Retreats
Stillman poured himself into God's Word. He prayerfully kept moving in spite of the pain.
Denise Molatch's late husband Andy also employed that strategy. Andy lost fellow police officers to suicide, and he worked hard cases—once responding to a call where a father murdered his twin 5-year-old daughters. But he never lost faith.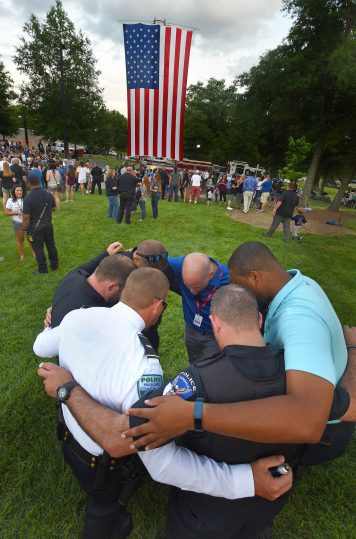 "When he came home, his strength came from trying to make sense of things from God's eyes," said Molatch, who was a police officer for two years before later becoming a Biblical counselor. "You have to keep reminding yourself the promises of God, even when it doesn't feel good."
A Calling for Two
Molatch now counsels police officers and their spouses, and she's on the docket to speak this October at the NLER. A strong marriage, she insists from experience, can be a real gamechanger for mitigating stress.
Unfortunately, it's too easy for officers to think they're protecting their wives by not sharing about their day, and wives don't want their husbands reliving something awful.
"What ends up happening is this gap begins to be created and it grows and grows and grows until you can't communicate with each other," Molatch said.
Molatch urges couples to communicate, to seek guidance in God's Word. And she cautions spouses that their officers need 18 hours to come down from the hyper-vigilant state required during a shift of police work.
"The happiest marriages I see are those wives that know they are just as much a part of the police team as their husband is," Molatch said. "He cannot be that officer that he needs to be without that support beside him.
"I truly believe a police wife has just as strong a calling as a police officer does, and when you see them as a team together, it's a beautiful thing."
Authentic, Show-Stopping, Life-Saving
Loos didn't awaken to Jesus' love until he was 40. He throws up his hands when contemplating why God spared him, particularly during the bloody season in Miami.
"I just have to rest in His mercy and grace and realize my experience, everything that I've been through [can be used by God]," said Loos, who also has deployed as a chaplain with the Billy Graham Rapid Response Team. The enemy is a liar from the beginning, Loos said, adding that before God changed his heart, he remembers having thoughts of suicide. He is authentic with his brothers and sisters in blue.
"When I talk to these officers, and they're going through stuff, I don't say, 'Well, how are you feeling?'" Loos shared. "I sit down and go, 'Are you going to go home and kill yourself? Because if you're going to go home and kill yourself, we're not leaving.'"
It's a showstopper. A raw, point-blank question. Does it work?
"They're not dead."
You are not alone. Call 1-800-273-8255 if you are considering suicide.