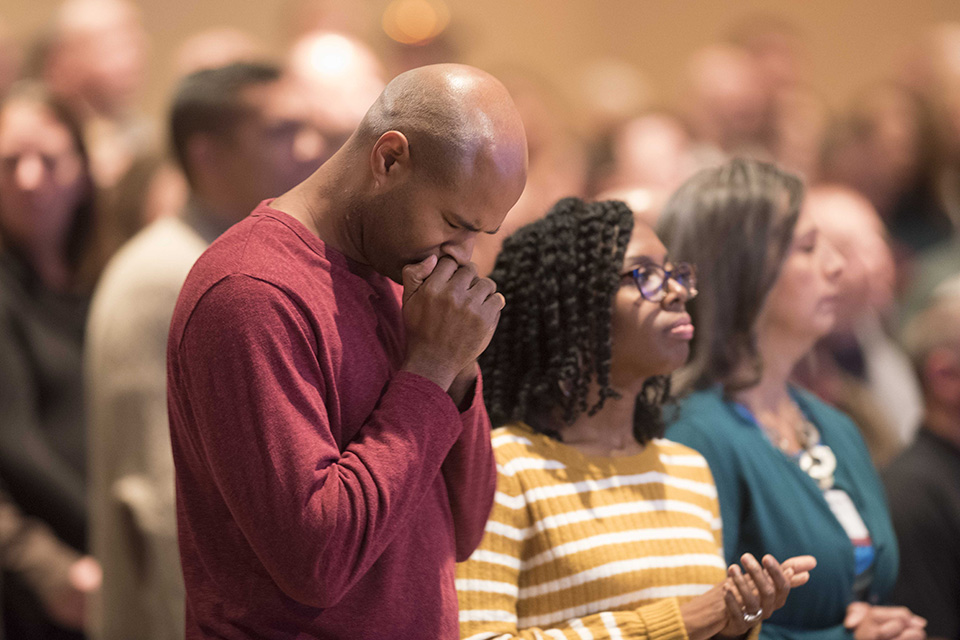 The National Law Enforcement Retreat, hosted by the Billy Graham Rapid Response Team (RRT), will be held March 31-April 2 in Horseshoe Bay, Texas (just 90 minutes northwest of Austin). The three-day event is dedicated to addressing the emotional and spiritual needs of law enforcement officials and their spouses/families.
Andrew Columbia, an alumni of New York police department's Fighting 9th precinct, knows what his fellow law enforcement officials are going through, and that's why speaking at the National Law Enforcement Retreat means so much to him.
He worked patrol in one of the toughest areas in the state, maybe even the nation. He remembers the horrible calls he answered, the unrelenting rage he felt, and the nightly trips to the bar in a feeble attempt to swallow it all away and go home unfettered.
Fellow officers called him Ice Man, although some chose the moniker Evil. His father, a lifetime law enforcement official, advised Columbia to make it home at all costs. But the stress of work and family and, honestly, whatever was tormenting his soul, was becoming too much. One day, a colleague asked:
You OK, Columbia? You look like you're going to explode.
Register Today:
The Rapid Response Team will host National Law Enforcement Retreats in two states this year:
-Texas: March 31-April 2
-North Carolina: Oct. 21-23
The question set in motion a night of events Columbia couldn't have predicted, and he'll never forget. In a rage-fueled despair, he climbed the stairs to one of New York City's rooftops, pulled his firearm and screamed question after question at the nighttime sky.
What's stopping me from blowing my brains out? What is wrong with me? I want to know now.
He wanted answers from Whoever was listening. A gentle realization washed over Columbia. He had been molested as a child, but had shuttered the memory. The rage that poured from him stemmed from that incident and was further compounded by the traumatic incidents he responded to almost daily. He had become unflinching at murder scenes and indifferent at all other calls—until that night on the rooftop in Harlem.
"I felt this presence that I never felt before," Columbia said. "This light encased around me. I just felt love.
"From that point on, I took a whole new life. You know the first five years of my police career, I was an angry, mean, prejudiced cop who was frustrated at life. I struggled with issues personally and just had a lot of baggage. But once Jesus entered my life everything started to change. I never looked back. I never went back once I experienced the love and forgiveness of Jesus."
Columbia stopped drinking. He quit swearing. He read the Bible in a week.
His colleagues were thoroughly freaked out.
Their Ice Man was unrecognizable. One officer even commented the evil was no longer in his eyes. The anger had abated. His pain was healed. He was a new creation.
"After I found Christ, I understood what authority was, how to exercise it properly and it changed my whole life," Columbia said. "My policing became so much better and so much more effective because I started caring for people."
Instead of angrily removing homeless people hiding on New York City's rooftops, he treated them with dignity. He remembers hugging and praying with one man covered in urine and vomit.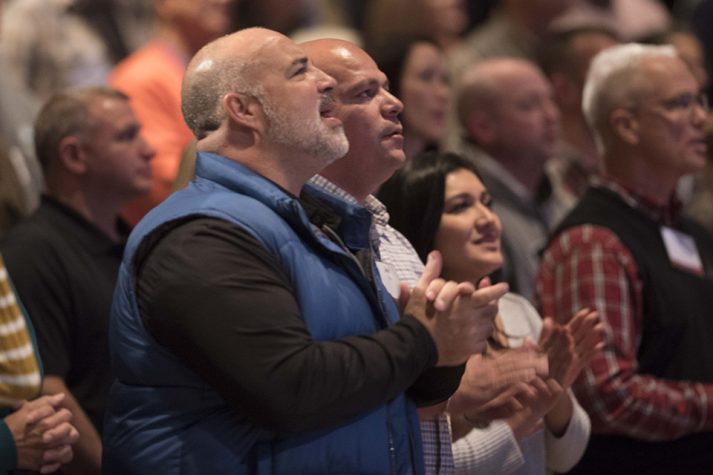 "I looked at this guy, and I was overwhelmed with compassion," Columbia recalled. "I walked over to him, and I said, 'Do you know that God loves you?' And this man started crying. I hugged him, and I prayed with that man on the roof. God changed my heart so much that what He did for me, I knew He could do for anyone else."
That's what drives Columbia, this man who prisoners began to call "peacemaker;" his colleagues settled on "preacher." After 20 years on the beat, he felt called to go into full-time ministry and it was during this time that he began to work directly with the Rapid Response Team. 
Jeff Naber, field manager of the RRT's law enforcement ministry, remembers that first encounter. The introduction didn't really stand out, but sometime later during the 2015 civil unrest deployment to Baltimore, Maryland, Naber heard Columbia preaching on the street corner. Naber was blown away.
"He's got a gifting of preaching of evangelism, and he's got an incredible voice," Naber said. "He's a big man with a big voice and a big heart, and he knows 100 percent that all that comes from a big God."
The passion, the authenticity, the unorthodox altar calls right there on that street corner were everything. After getting to know him better, Naber invited Columbia to speak at the National Law Enforcement Retreat. Their schedules finally worked out, and Columbia spoke during the 2018 retreat at The Billy Graham Training Center at The Cove.
He shared from the stage just like he did from that street corner, and people began responding, particularly at the final altar call. One officer debating suicide felt compelled to come forward and give his life to Christ. One spouse found healing after sharing for the first time with her husband that she, too, had been molested as a child. Another thanked Columbia for openly discussing the prejudice that exists in the law enforcement profession.
Columbia, a crisis-trained chaplain with the Rapid Response Team, continued this ministry role with folks after the retreat ended. He made a point to stay in touch via social media.
"I want to be that lifeline and share," said Columbia, who is lead pastor of Mount Carmel Baptist Church in New York. "That's why I'm so passionate about doing these events, and I'm so grateful to be part of the Rapid Response Team. I was one of those guys that could have gone either way. For me, it's very personal and very real.
"Law enforcement needs coping mechanisms. They need encouragement. They need God."