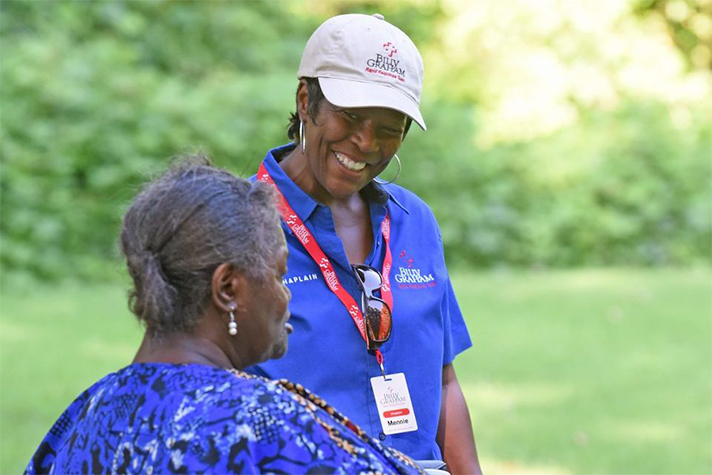 Are you already tired of being stuck inside from COVID-19? Have you been consumed with worry? Take a look at a few ideas from the Billy Graham Rapid Response Team (RRT) on how you can serve God's kingdom while staying at home or under quarantine.
The team launched its first-ever national deployment due to the pandemic, encouraging its chaplains—in compliance with CDC guidelines and safety concerns—to wear their signature blue shirts for ministry opportunities and serve their neighbors. This nationwide network consists of 1,800-plus chaplains, who regularly deploy to help those facing natural or man-made disasters. Although this is a new kind of crisis for the ministry, many chaplains have already been able to encourage their communities in some way, shape or form for the sake of the Gospel.
Check out the following accounts for ideas on how you can serve others, too, during this global crisis:
1. Online Bible Studies
Missing your friends? Pick a book and start an online Bible study with them! God's Word is a healing balm and the ultimate guide to navigating difficult circumstances. One chaplain felt led to invite nine ladies to her Bible study, which she set up online. The study includes women from the Carolinas, Ohio and soon Florida.
"We are embracing the opportunity to be able to step outside of a church building and to enjoy the true meaning of church. We are able to study with one another, support and pray with one another, and walk in God's plan of disciples making disciples." —Chaplain Denise Steilberger
2. Start an Encouraging Group Text
Checking in on friends or your church family is especially important during crisis. Think about a group of people who may enjoy keeping in close contact with each other in the coming weeks.
"I started prayer/wellness groups of 20 women, each through texting. Each group prays for the sick and needs of others, and helps us keep track of others in our church in need. They also keep each other uplifted with Scripture sharing." —Chaplain Tara Plantholt
3. Social Media Posts
More than likely, you've spent more time on social media lately. Instead of just scrolling, share truth and encouragement.
Some chaplains have been offering emotional and spiritual support to their Facebook friends, including chaplain coordinator Patty Silverman. She shared:
"Especially during all of this isolation, things could get rough mentally for many. Depression, anxiety and PTSD are very real. … I'm here. If anyone wants to talk or be prayed for. Just message me with a phone number and I will call you. We are all in this together even if we are apart. Where two or more are gathered…"
>Not sure what to post on social media? Share these Billy Graham videos.
4. Prayer
There are multiple ways you can lift up those around you in this crisis—either online or in person. Several Billy Graham chaplains are taking calls through the Billy Graham Evangelistic Association Prayer Line after receiving special training. They talk with people calling in who desire prayer in regards to the coronavirus. You, too, can offer prayer to your friends through phone calls, texts, social media, etc.
"Today, two of us were able to get involved with the BGEA prayer line, equipping us to bring the Gospel of comfort to others around the world!" —Chaplain Denise Steilberger
Also, don't miss the chance to share the love of Christ when among others. If you happen to be outside your home, safely offer prayer to those you come across in the drive-thru line, pharmacy or grocery store. Those working long hours in exposure are often nervous or fearful, so a smile and encouraging word may go a long way.
"I left Nashville Sunday after my deployment with Samaritan's Purse, and even on my way home, I had opportunity to minister to my restaurant server who was going to be out of a job after her shift that night. Since then, I have had [the] opportunity to pray with three different cashiers in grocery stores and CVS, while trying to pick up those 'hard to find' items." —Chaplain Liz Campbell
>Do you know someone who needs prayer? Pray with them, and encourage them to call 888-388-2683.
5. Deliver Needed Items
There are people in your community that need help. They may have just become unemployed, or now have to feed extra mouths with their kids at home all day. Look for opportunities to meet this need, whether through sending money or gift cards for groceries, cooking a few extra meals, or leaving needed items at their door.
"I am … a volunteer with the Kindness Campaign to deliver items to families from the church. I'm excited to be able to wear my blue shirt and represent BGEA and my local church and community." —Chaplain Gavi Ola
6. Distribute Bibles
Many people are reading more in their newly found spare time. What better book to read than God's Word? You can supply your neighbors with the Good News, just as one chaplain did while maintaining a safe social distance:
"As I live in Florida, I am surrounded by many visitors who are here as snowbirds to rent a home. Knowing I cannot be more than 6 feet from anyone, I devised a plan of distributing Bibles to these visitors. Many visitors I find do not travel with a Bible, and these are rental homes—not hotel rooms with a Bible in the drawer—and some are here for 1 to 3 months renting a home. I leave the Bible on their porch with a note saying I am a chaplain of the Rapid Response Team, and if I can assist them in prayer, please call me. [I also leave] my home number … [and] the number of my pastor they can reach out to." —Chaplain Veronica McDonald
7. Utilize Practical Skills and Career Background
Do you have a special skill that can come in handy during times like these? Whether writing letters, using programming skills to help your church online, organizing food drives or sewing masks, there are numerous ways to use the abilities that God has gifted you with in such a time as this.
Check out how chaplain Jay Fine is helping fight the pandemic:
"I have begun a 'mental health minute' on Facebook and am in day three. As a just-retired clinical psychologist and chaplain, I am spreading Christ-centered and positive actions that so far have been utilized by individuals and in groups locally, in many other states and South Africa through my contacts. I have also been asked to provide clinical suggestions to my church about how best to minister as a chaplain and clinician, and this is being shared with other pastors."

Want to know how you can be a Billy Graham chaplain? Start the online course.