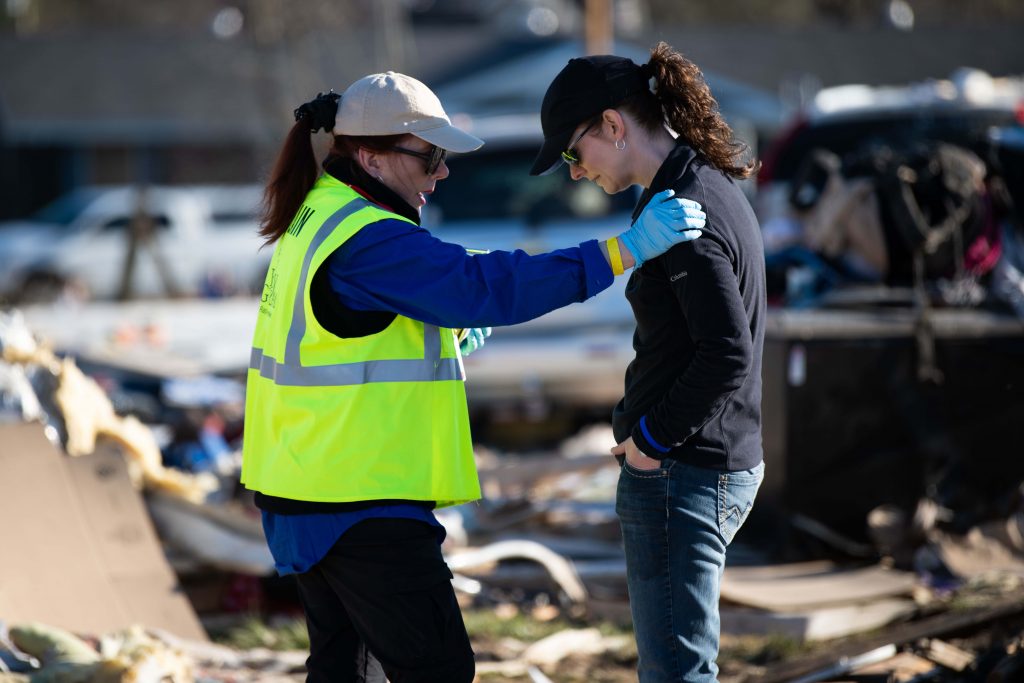 Less than a week after the first person died due to the coronavirus in the United States, Central Tennessee was hit by six overnight twisters, killing 24 people—some still in their beds—and damaging or destroying hundreds of homes. While many are trying to protect themselves from the widespread COVID-19, these communities are not only fighting a pandemic, but enduring the after-effects of a natural disaster. The Billy Graham Rapid Response Team (RRT) has teamed up with Samaritan's Purse to minister alongside the Donelson and Cookeville communities.
Billy Graham chaplains Toy and Dianne Burgress stood in a neighborhood of mangled homes in Cookeville, Tennessee—80 miles east of Nashville—after an EF-4 tornado killed 18 people in the Putnam County area on March 3.
Looking around them, some houses appeared nearly fine—while others were in complete shambles. An electric wire was draped through the trees, siding was ripped off, wooden boards covered shattered windows and gaping holes cut through roofs. Washers, couches and chests of drawers sat at the end of driveways, ruined by rain and debris.
The crisis-trained couple was visiting homeowners who were receiving help from Samaritan's Purse, the Billy Graham Evangelistic Association's sister ministry.
After praying on the porch with one local resident, the Burgresses recounted how they saw the Lord's presence in the midst of harrowing loss.
Earlier, they'd visited a man named Greyson,* who lost his wife when part of their home collapsed in the storm. Greyson had been rummaging through debris, looking for their wedding certificate, when the chaplains approached.
"He said he didn't want to be there doing that today, but he had to stay busy," Dianne recalled. "He couldn't think about this."
But with the chaplains there, Greyson took time to reflect on his wife. He asked, "Why did this happen to a good person? My wife? If she was a Christian, why would He take a good person?"
And, he found himself grieving all the plans that the couple had made for 2020.
After listening to his story, Toy asked, "[Greyson], has there ever been a time in your life that you accepted Jesus Christ as your Lord and Savior?"
He didn't hesitate. Looking Toy straight in the eye, Greyson replied, "No."
"Would you like to pray to receive Jesus Christ today?" Toy asked.
Greyson began to weep, saying yes repeatedly.
Sharing a Gospel booklet called Steps to Peace, the couple prayed with Greyson.
"He hugged us, loved on us," Toy recalled, adding Greyson then showed them photos of his late wife.
"Where is Jesus right now?" Dianne asked Greyson.
"He's in my heart," he responded, pointing to his chest. "I'm going to be with my wife again."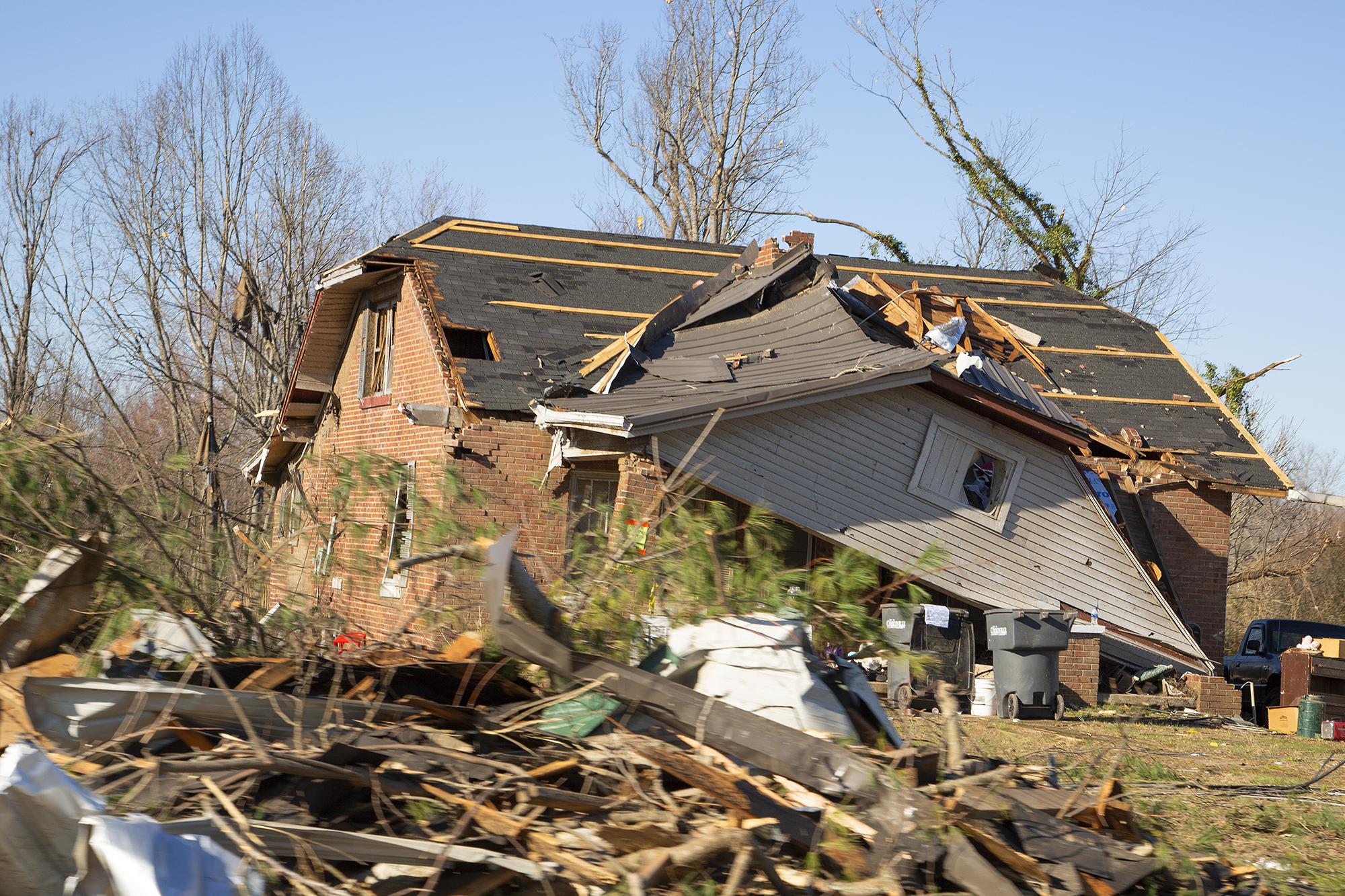 'God Put His Hand on Them'
At a nearby hospital, the couple met Anne*, who was recovering after an injury caused by the twister.
Anne explained to the chaplains that she had been visiting her daughter when the storm hit. In fact, the day before, the woman mentioned to her daughter that she was glad she was in Cookeville because there were storms moving through her hometown in Indiana.
"Little did she know, within 36 hours their lives would be changed forever," Toy said. "The tornado totally removed their home from its foundation. There was nothing left."
In the tornado's aftermath, the family was all lying on the foundation subfloor.
At the hospital, Toy asked Anne, "How did you survive? How did this happen?"
The enthusiastic woman answered: "God put His hand down on us and held us on the foundation of that house. That's the only explanation there is. Otherwise, we would have been blown away."
Toy paused in the midst of amazement, before adding, "They have nothing left. She was in her pajamas. When you see the house like we did and talk to her, there's no doubt in my mind, God put His hand on them and held them down. That's probably the first day, you know, where you understand the power of nature but you understand the power of Jesus Christ.
"She just gives the Lord her praise for what He did to save them. Another family we met did the same," Toy shared.
The couple came across Rick*, a retired Army veteran, who scrambled to get his family to safety after being awoken in the middle of the night by a neighbor.
Rick took his wife and three children to the bathroom in the center of the house. By the roar of the storm, they were certain the house was going to be damaged. But conditions only grew worse.
At one point, Rick entered the bathroom to see his son being sucked up into the ceiling.
"He grabbed him and he couldn't hold on—the [winds were] so strong—and he grabbed the commode to hold them down," Dianne said.
"He took a direct hit," Toy added. "And it moved everything. They wound up right outside the foundation with the commode, still holding his family."
But the couple was especially astonished by this: "The amazing thing is he said the almost exact words as [Anne]. We said, 'How did you survive this? No one was hurt.' I mean, he had a few scratches. He said almost the same thing—'God held His hand on us.'"
Despite losing four vehicles, an entire house and all possessions, the family gave thanks to God.
"Like [Anne], because they have a relationship with Jesus, they will be able to come back through this because they have hope," Toy's eyes softened. "And that hope is in Jesus. Our role is to not only uphold Jesus, but to love on these people in a period of unbelievable horror and loss."
*Names changed for privacy.
Have you received the hope of Jesus? Turn to Him today.