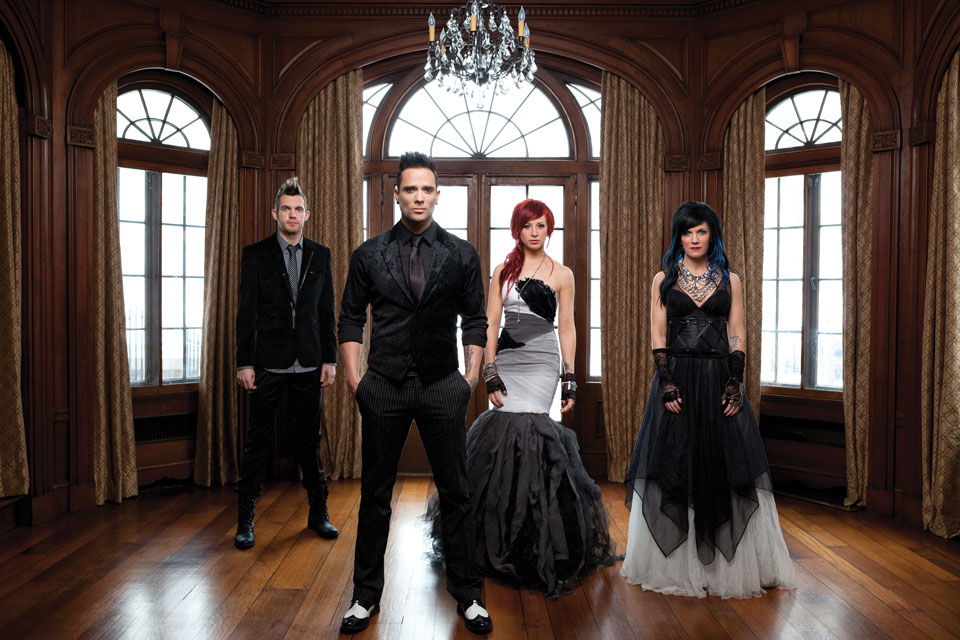 Rock band Skillet has graced the stage for almost 20 years, appealing to both mainstream and Christian music audiences around the world. After playing at several of BGEA's Rock the River events in the past, the band will join Franklin Graham once again this weekend in Oklahoma City.
The Good News Festival on August 22-23 is free and open to the public. Skillet will headline Saturday night's event at Chesapeake Energy Arena.
Fans who can't make it to Oklahoma City can watch the entire event live on the web.
The band is made up of husband and wife John and Korey Cooper, Seth Morrison and Jen Ledger. BGEA sat down with John and Korey while they were on the road with Winter Jam. With a down-to-earth sincerity and plenty of laughter, the couple talked about marriage, evangelism and the "ice bucket engagement" that started it all.
1. You have a pretty unusual engagement story. Can you tell us how it happened?
John: I had written Korey a song. We went to the beach in Kenosha (Wisconsin). It's pretty but super cold. I took a blanket out to the beach, and I had a little bucket with me and some picnic snacks. I took the bucket to get some water from the lake to wash her feet. And I said it would be like a sign of serving together. But the water was freezing. The one thing I did not plan on was how to heat the water up. She was shaking. I'm like, "Come on, you're ruining my romantic moment! Miss shaky feet!" Anyway, then I sang her song and asked her to marry me.
2. You've been married for 18 years. How do you keep your marriage strong?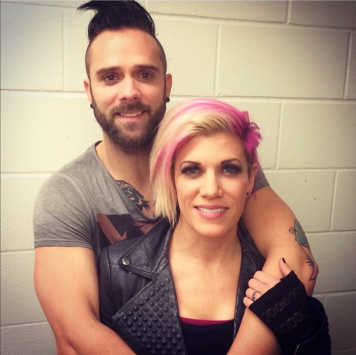 John: The thing that a lot of unbelievers don't necessarily get about marriage or love in general is that being in love doesn't mean you're always going to feel romantic love. Obviously, I do feel romantic love for Korey and she does for me, but there are times when I'm just annoying her. There are times that are hard. But you make a commitment in marriage. And so love is not just a feeling; it's a commitment to someone. And I think the first thing that has held us together is that commitment. Yeah, there are times when we drive each other crazy. There are times when being on the road is really hard. But we're committed to it. It's a decision that you make.
I think the second thing that has held us together has been our mutual passion for what we do. It's that mutual vision of helping change lives through music. We're both very passionate about the band and about God using us, and I think that mutual passion has helped us go, "OK, being on the road is really hard, but we feel called to do it still."
Korey: I'm not really here to get my fulfillment from (my husband). I stand with my identity in the Lord, and when I have issues I go to Him, to the Lord. I'm not looking for that from my husband. Yes, we walk with each other, we serve with each other, we serve each other. We're selfless as much as we can be with each other. But it's the Lord who holds us together, and our mutual love for Him. It's His lordship over our lives and our relationships.
3. Skillet has a rare appeal to both mainstream fans and Christian music fans. How do you represent Jesus Christ in a mainstream setting?
Korey: We do general market tours, and we're sometimes around crazy, crazy sin stuff. And it usually takes about six days for somebody to approach us and say, "Man, you're so different. Your kids are so obedient. There's just something about you." So when we do stuff out there, we wait for it. We're just going to go in and be nice to people. They know you're a Christian. They have expectations of what that means, and they're usually not good expectations. So we're going to come in disarming, being loving, being kind, with the attributes of Christ. And that usually disarms them very quickly. The fact that we're a married couple that loves each other and honors each other. The fact that my kids are loving and friendly—you know, those things speak so strongly in that environment.
4. What does evangelism look like to you?
Korey: I think it is basically sharing the love of Jesus wherever you're at. So whether you are a person God has called to have a large platform or you are a janitor—wherever your influence is, you share the life of Jesus with those people. And I don't think it's a stressful thing, and I don't think it needs to be a "strivy" thing. Sometimes people get nervous like, "I don't know what to say." When you walk with the Lord He changes you so much, you kind of become unaware. You're unaware of it because you walk with him so closely, and therefore when your life comes up against somebody whose life doesn't have that, it smells of Christ and they are attracted to it.
But I also do think it's important to actually tell people they need to be saved. I don't believe that you can do one without the other. I think you have to have wisdom in how to do that with different people, because people are so different. It's gotta be relational. It's gotta not be agenda driven, like, "I really need to see a bunch of people saved or I'm not being a good Christian!" It's gotta be love. We love Jesus. He's beautiful. He saved us. And we want to share that with you because your life is entangled in sin, it's pulling you down, there's a hopelessness there. And that can be gone, and it's so easy and this is how. So I think you have to say it, but live it as well.
5. Heading into the Oklahoma City Good News Festival, would you talk about what it's like to be part of a BGEA event?
John: We love it, because we don't have the opportunity to do a lot of events like that, so they always stick out to us. It is more than a concert. And hopefully God can help use us to bring people in. So it's always thrilling for us when we can do something that is that focused on evangelism. And there's nothing quite like at the end of the night, seeing people come forward (to accept Christ). It's so much better than rock 'n' roll. Not many things are better than rock n roll! But that's one of them. And I think it's just so great how BGEA has been able to bring so many different kinds of people together. I'm talking about all the artists, but also what happens in the city with all the different denominations and ethnicities. It's kind of like, "Let's put all that stuff off and remember it's really about Jesus."
It's amazing how God can use these events to reach people who might not ever want to go to a church service, but they might come to an event like this. I would encourage people to pray for their friends and to invite their friends. Keep them on the forefront of your mind.
Watch Skillet's show live Saturday night (Aug. 22) from Oklahoma City.