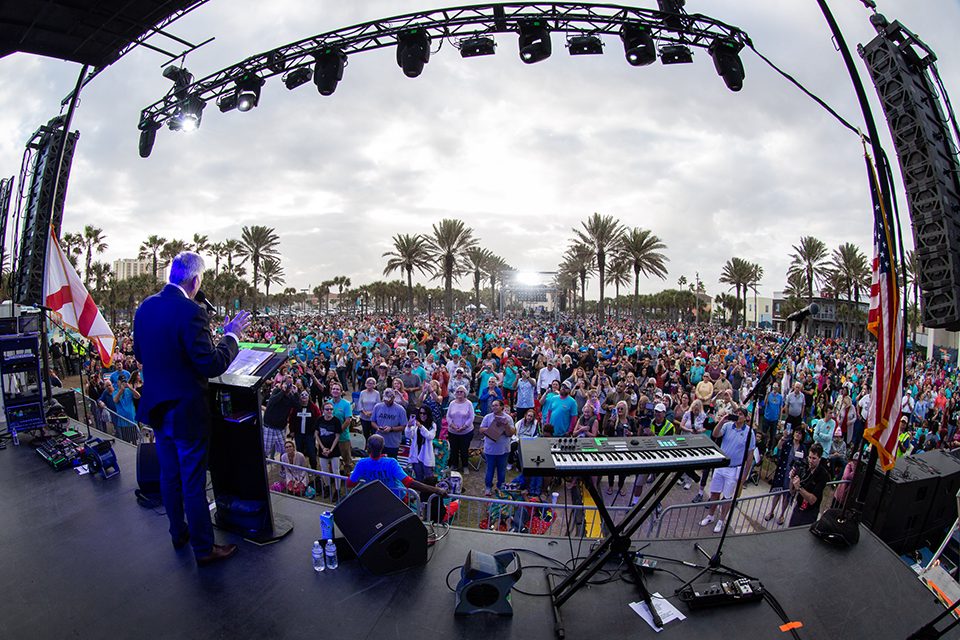 Franklin Graham preaches the Good News at the Sunshine State Tour in Jacksonville Beach, Florida, on January 11, 2020. The Decision America Tour resumes this fall, traveling southwest along Route 66 from Illinois to California.
Decision America Tour
God is using people like you to transform lives—and entire communities—with the Gospel through the Decision America Tour.
Route 66 Tour: Franklin Graham is preparing the next Decision America Tour for late September to early October of 2021. The 8-city tour will begin in central Illinois and travel through Missouri, Oklahoma, Texas, New Mexico, Arizona before finishing up in southern California.
In January 2020, the Decision America Tour stopped in six Florida cities as Franklin Graham joined believers to share the Gospel of Jesus Christ. The Sunshine State Tour made its way to Jacksonville Beach, Plant City, Panama City Beach, Key West, Boca Raton and Fort Myers. More than 39,000 people attended the tour and over 6,200 individuals indicated they made for decisions for Christ.
In October 2019, Franklin Graham's Decision America Tar Heel State Tour reached more than 65,000 people across eight cities in his home state: Fayetteville, Greenville, Wilmington, Raleigh, Greensboro, Hickory, Charlotte and Asheville.
In May 2019, the Decision America Northeast Tour drew more than 31,000 people across Portland, Maine; Burlington, Vermont; Manchester, New Hampshire; Springfield, Massachusetts; East Providence, Rhode Island; Bridgeport, Connecticut; and Syracuse, New York.
In 2018, an estimated 120,000 people in California, Oregon and Washington joined Franklin Graham for Decision America Tour events around their region—and thousands made life-changing decisions for Jesus Christ. Many more were inspired to boldly stand for His truth.
The tour stopped in Tennessee and Texas in 2017, following the original 2016 Decision America Tour across all 50 state capitals.
---
Upcoming Tours
September – October 2021

Route 66 Tour
---
Past Tours
---
Catch the Vision of the Decision America Tour