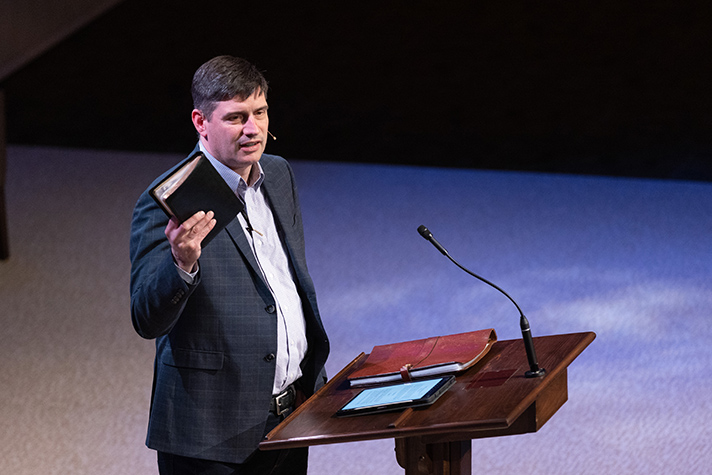 Life is hard. As much as we want to avoid the pain of loss, health struggles, family dysfunction and more, the reality is that we live in a fallen and broken world. Even as we call upon Jesus as Savior, we are not immune to sorrow.
Sometimes, we bring pain upon ourselves through our own actions and choices, bearing the consequences of our sin. Other times, we suffer the scars of somebody else's bad decisions, struggling through life due to something that was out of our control. And then, there is the pain that we endure simply as a byproduct of living in broken vessels during our time on earth.
If you are currently struggling, perhaps you can find some solace and strength in the prophet Jeremiah's descriptions of God in the book of Lamentations. A little backstory: Due to the sin of the Israelites, God had used Babylon to bring His judgment on the land. Pain, sorrow and desperation were everywhere. Jerusalem lay in desolate ruins.
With this in mind, Jeremiah cried out to God, revealing a few truths about God's nature.
First, God is faithful concerning His judgment (Lamentations 3:19-20). The people of God had sinned and they refused to repent, and God's righteousness would not allow that to continue. God is a righteous judge—He must punish sin. Therefore, God sent the Babylonians to destroy Jerusalem, which brought great affliction.
Today, we live in a culture that celebrates sin, even within the church (in some cases). We pretend that sin doesn't matter.
We should never think that we can escape God's judgment, however. It may seem like we're getting away with something for a time, but God is faithful concerning His judgment.
Second, God is faithful concerning His mercy (Lamentations 3:21-24). In these verses, Jeremiah focuses on three of the attributes of the Lord. Jeremiah says that God is:
Merciful. This is also translated lovingkindness, great love and steadfast love.
Compassionate. This is the same word used for the womb; just as a mother shows compassion to her own children, the Lord shows compassion to His children.
Faithful. He is unchanging, as in a rock. The storms may come, but the rock is firm, strong and unmovable.
As Jeremiah focused on these attributes of the Lord, he responded by saying, "The Lord is my portion." This phrase refers back to Numbers 18:20 when the Lord told Aaron that he would not have any land as an inheritance because the Lord would be his portion.
And now, as Jeremiah looked out over the destruction of Jerusalem, there was nothing left. There was only the Lord, the One who remained permanent in the midst of change.
Finally, God is faithful in His goodness (Lamentations 3:25-27). The Lord is good to those who wait upon Him and hope in Him, recognizing that the problems of the world will not last forever and that nothing can pervert or change God's purposes. The Lord is good to those who humble themselves before Him, realizing that He is ultimately in control of our lives and destiny (and we are not).
Jeremiah recognized these things, which made it possible for him to see the bigger picture of why his present suffering was taking place. It gave him a faith-filled hope moving forward.
My friends, we live in a world that is constantly changing and full of sorrow. Many of you are probably struggling with something even now.
As you travel through the dark valley of grief and pain, I pray that you will take Jeremiah's words to heart. Focus on the full view of God's judgment, mercy and goodness, recognizing that He is in control and He is faithful. Cling to the promise and find peace in understanding that "the Lord is my portion."
Put your trust in Jesus today.
Scripture Reference: Lamentations 3:19-27
19 Remember my affliction and roaming,
The wormwood and the gall.
20 My soul still remembers
And sinks within me.

21 This I recall to my mind,
Therefore I have hope.
22 Through the Lord's mercies we are not consumed,
Because His compassions fail not.

23 They are new every morning;
Great is Your faithfulness.

24 "The Lord is my portion," says my soul,
"Therefore I hope in Him!"
25 The Lord is good to those who wait for Him,
To the soul who seeks Him.

26 It is good that one should hope and wait quietly
For the salvation of the Lord.

27 It is good for a man to bear
The yoke in his youth.