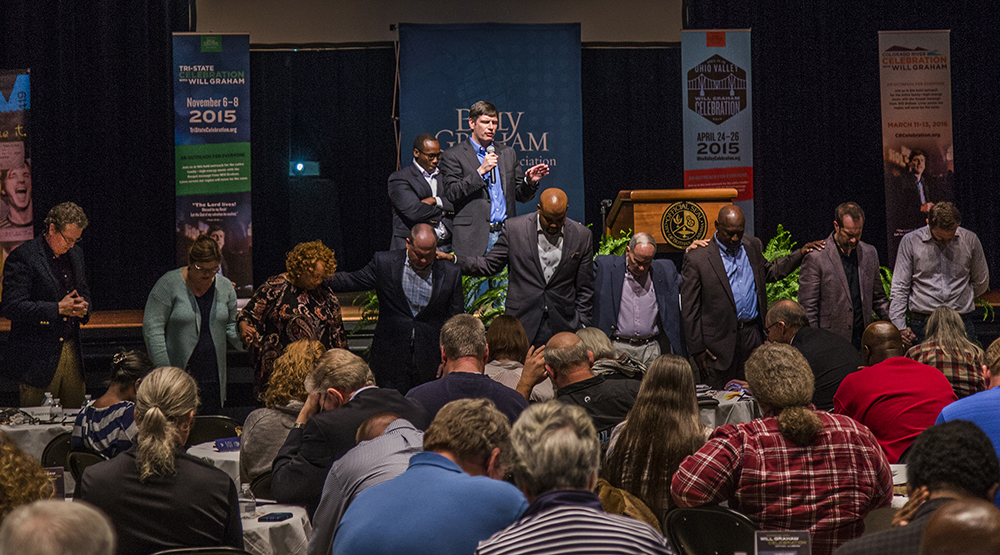 The year was 1965, and Alabama's racial strife had been well chronicled. Billy Graham—by this point a household name, known for massive evangelistic campaigns in the United States and around the world—traveled to Dothan, a mid-sized community in the southeastern corner of Alabama, just north of the Florida border.
The evangelist was coming to preach the Gospel, and his ground rules were clear. There would be no segregation in the audience. Further, each planning committee would be led jointly by a white minister and a black minister.
When Billy Graham offered the invitation to begin a relationship with Jesus Christ, hundreds in Dothan responded and stood side-by-side regardless of the color of their skin.
Just over 50 years later, Billy Graham likely would have been excited to see the crowd of 450 people that gathered in the Dothan Civic Center on Thursday, Jan. 12, to welcome his grandson to the community. The diverse group of attendees represented multiple races, denominations and churches, but they came with one vision.
"We want to see people come to Christ," said evangelist Will Graham, announcing the upcoming Wiregrass Area Celebration, to be held in Dothan on May 5-7, 2017.
"That's my heartbeat. It's your heartbeat too. That's why you're here. More importantly, it's the heartbeat of God."
Will Graham challenged the people in the audience to grab hold of this opportunity to reach their friends and neighbors with the Good News of the Gospel, and to take seriously the words of Romans 10:17 (NKJV): "So then faith comes by hearing, and hearing by the word of God."
"My friends, our job is to proclaim the name of Jesus Christ. Faith comes by hearing. That's what we're here to do; to proclaim Jesus!"
And lest there be any doubts, Will emphasized the magnitude of the opportunity.
"Eternity is ultimately at stake. Eternity is at stake. That's why this is so important," he implored the crowd. "This is not just for today. This is going to leave in impression on this city for generations to come."
Charles Nailen, who is leading the local effort to prepare for the Wiregrass Area Celebration, has seen enough of Will Graham to form an opinion on the man who will be proclaiming the Gospel here in May.
"I would say he is his grandfather. He's cut from the same mold as his granddaddy," said Nailen. "This is a man who is spiritually grounded in Christianity. He loves Jesus Christ and he wants to share Jesus with the world, and to be the catalyst that brings folks to come to know Jesus in a personal way."
And on Thursday night, Nailen was ready to get the ball rolling.
"Let's roll up our sleeves and get to work. This is Kingdom work!" he said. "The time is right in our Wiregrass community. The time is now!"