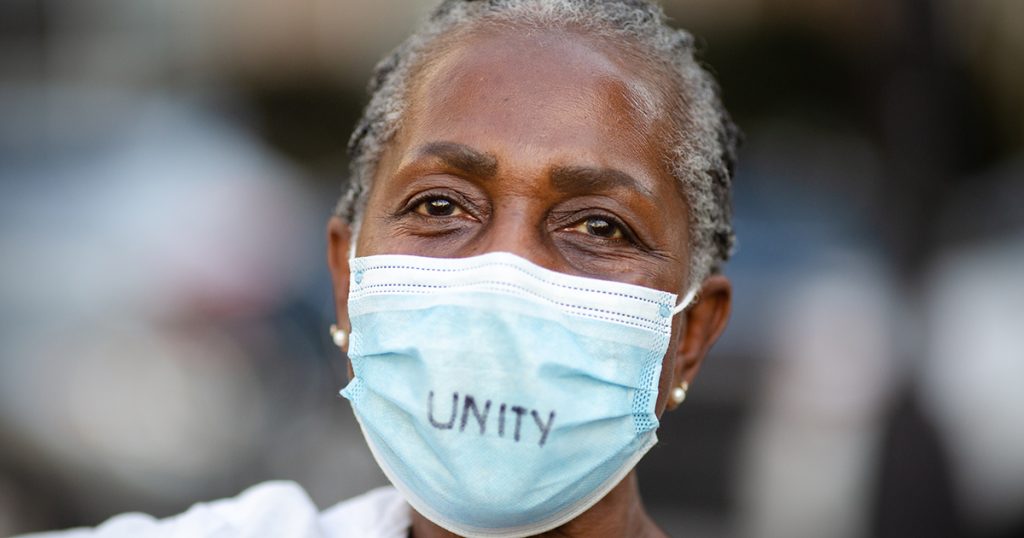 The Pray on MLK event caught Frankie's eye as he walked through Romare Bearden Park on Saturday evening in uptown Charlotte, North Carolina. He stopped for a second, and then saw an open chair under the Billy Graham Rapid Response Team's tent.
Could he sit there? He asked Chaplain Manager Ken Dunlap.
Dunlap agreed, and they began talking at the two-hour prayer and praise event, which was organized for people to come to every Martin Luther King street in the United States at the same time.
During the second hour, Frankie shared with Dunlap that he needed to change some things in his life. He had prayed here and there during incarceration, but he realized he didn't truly know Christ.
Together, they talked through the steps to peace with God, and Frankie told Dunlap he wanted to pray to receive Jesus as his Lord and Savior.
"I actually came up in the Church," Frankie said. "There's really no excuse, but things have changed. I've always had a connection to God. [But now] I'm getting on the right path."
'Unity of the Body'
Near Billy Graham Evangelistic Association headquarters in Charlotte, North Carolina, the Rapid Response Team was invited to have a ministry of presence during Saturday's Pray on MLK gathering. Eighteen chaplains listened, talked and prayed with people. The first half of the two-hour nationwide event was devoted to silent prayer. Many people there opted to tape a single word over their face coverings.
Candace Salamone, director of the Charlotte gathering on West Martin Luther King Jr. Boulevard, chose the word "unity."
"I really feel like the Lord has given me a burden for unity of the Church in this nation," Salamone said. "If we are to come into unity, we will honor what Jesus prayed in John 17.
>> See photos from Charlotte's 'Pray on MLK' event.
"The success of the Jesus movement hinges on unity of the body."
Just as Salamone finished her sentence, Sam Bethea, an evangelical fixture in uptown Charlotte, pedaled past on a bicycle rickshaw:
"Everybody, if you love Jesus make some noise," Bethea sang out.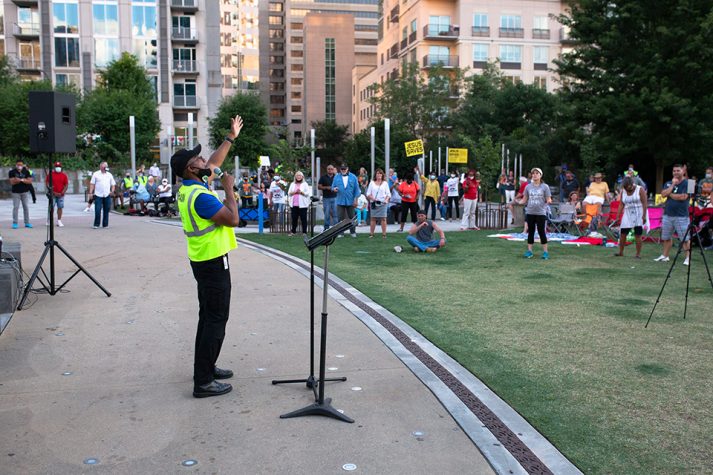 A cheer erupted briefly from the once silent sidewalks. Event organizers on the national level asked believers to spend the first hour praying in silence as a way to differentiate this Christ-centered movement from others related to racial tension.
Just a couple of months ago, protesters filled the same streets of Charlotte, and the Rapid Response Team deployed to offer emotional and spiritual care.
On Saturday, some stood with their hands raised toward the sky. Others bowed their faces toward the earth. One woman stood, praying with her Bible opened to Psalm 85:4-7.
"Restore us again, O God of our salvation. …
Will you not revive us again,
That your people may rejoice in you?
Show us your steadfast love, O Lord,
And grant us your salvation."
'Stand Strong'
Kevin Williams' voice boomed across the park, bouncing off the sun-kissed high-rise apartments:
"God loves you."
Williams, an RRT chaplain manager, spoke during the praise portion of the worship event. He reminded everyone about the Good News found within John 3:16 before encouraging the body of Christ.
"For all of God's children out here tonight," Williams said. "Be encouraged. He loves you. Stand fast. Stand strong. And never ever forsake the Gospel. Demonstrate it. Live it. And proclaim the Good News of the Lord Jesus Christ."
'I Have a Dream, Too'
Lisa Knox, known by many as "Lisa Love," can't keep the Good News of Christ to herself. The black mask covering her face may have concealed her smile, but it wasn't much of a barrier from the overall joy she exuded. Knox knows firsthand about the steadfast love of God. She remembers growing up in West Charlotte in a rough neighborhood. A vivid childhood memory involved crime scene tape around her apartment.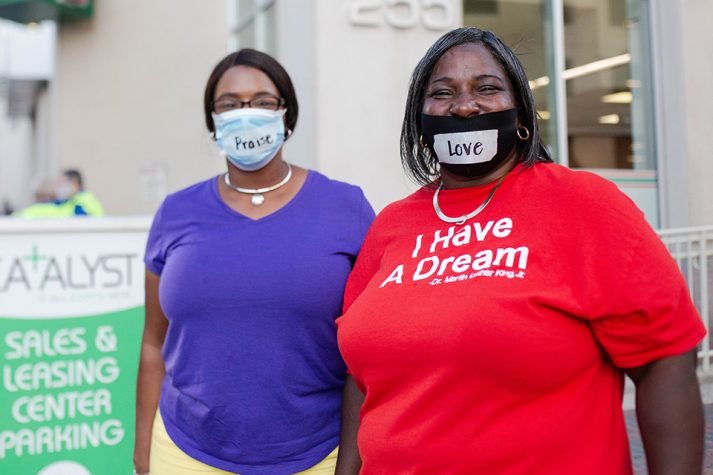 "I know what it is to struggle in teenage years," said Knox, who prayed with chaplains on Saturday. "I've been shot before. I've been to jail 12 times. I've been to prison three times. But God.
"[Now I'm] 20 years out of the system. God saved me."
Knox's enthusiasm is contagious. She bubbles over when she talks about God's love and her outreach, but her tone takes on a serious note when it comes to prayer.
"God has put a great responsibility on His Church because we've got the power," Knox said. "We don't only got the power, we've got the love. And we have the anointing to change what we see.
"I have a dream, too. That we can change what we see. But it's going to take all of us. We can't say we love our city while one part is burning down and the other part is growing up. That's not what God wants. He wants all of us to come up together."