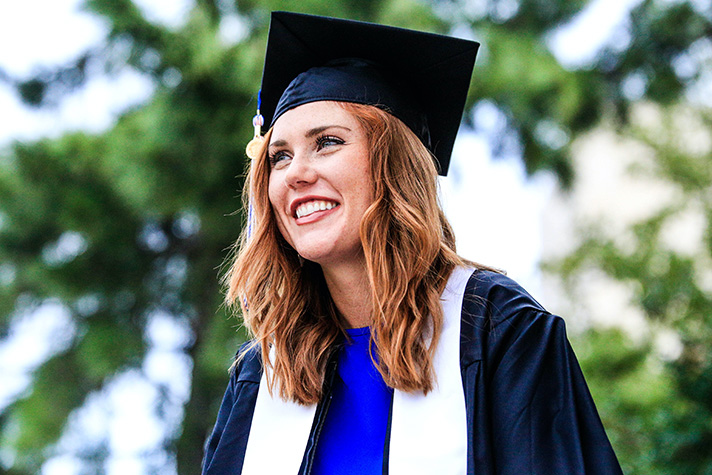 Graduation doesn't look like it used to this year, leaving some seniors and their families feeling a bit let down. Even as schools step it up to hold special, socially distant events, the traditional pomp and circumstance is decidedly scaled back.
"We heard from listeners who expressed their disappointment in being able to have a typical graduation service," said Jon Wood, program director for The Light FM.
The Light FM Honors Class of 2020
When: Thursday, June 4, 7 p.m. ET
Family and friends can salute their graduates with online comments and recorded shout-outs.
The listener-supported radio station, founded by Billy and Ruth Graham in 1962, responded by planning a virtual commencement to honor 2020 grads. Thursday, graduates can tune in via Facebook or YouTube to celebrate with music from Darren Mulligan of We Are Messengers, worship with Kari Jobe and Cody Carnes, and hear encouragement from New Spring Church Pastor Clayton King.
Commencement LIVE 2020 will also welcome appearances and messages by Matthew West, Joel and Luke of for KING & COUNTRY, Blanca, Austin French, Dan Bremnes, Jamie Kimmett, Hope Darst, Chris Cleveland, Dustin Lolli of Sanctus Real and Judd Harris of Vertical Worship.
NFL Hall of Fame Coach Tony Dungy will offer a closing prayer.
For one evening, these special guests will pour into online viewers with a message of perseverance.
"We see that throughout Scripture," Wood said. "Some of the greatest heroes of the faith are the ones that had to press through some challenging times."
It's often our greatest challenges that bring about the most significant moments in our lives, he added.
Make sure to invite any grads you know to join in this celebration. Congratulations to the Class of 2020!
"Count it all joy, my brothers, when you meet trials of various kinds, for you know that the testing of your faith produces steadfastness." —James 1:2-3