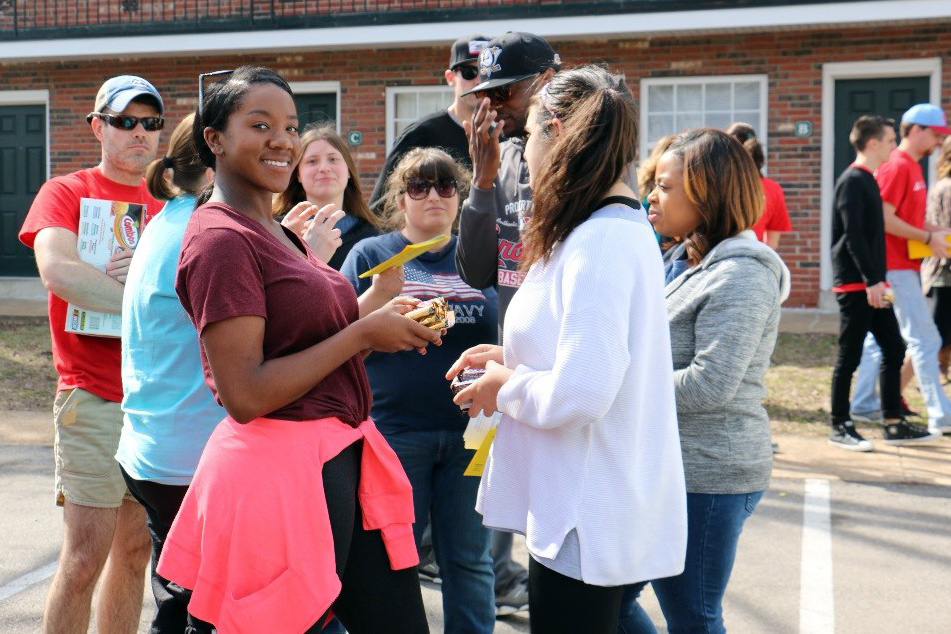 Chaplains with the Billy Graham Rapid Response Team deployed to Ferguson, Missouri, in late 2014 to offer emotional and spiritual care during a time of violent unrest triggered by the police shooting death of 18-year-old Michael Brown.
At the close of the deployment, chaplains and St. Louis residents José Aguayo and John Galvin brainstormed an idea to keep the presence of Jesus in this community. The program recently celebrated its first year of connecting neighbors and bringing the church into the community.
In the beginning, Ruth Greenwalt took notes. She's spry for a 74-year-old, even works full time at a local family owned grocer, but this Missouri native took her assignment seriously. Her church, along with several others in the St. Louis area, had just joined a program geared toward taking Jesus to the residents of Ferguson. The purpose of the project was to get to know her neighbors. So that's what this grandmother was going to do.
As she walked her church's assigned block in Ferguson, Ruth tracked names and prayer requests—all precious before God and important to her.
That was about a year ago. March 2015 to be exact.
The community was still anguished from the death of Michael Brown and the violent aftermath of what followed the decision not to indict Officer Darren Wilson. People living in nearby apartments, particularly the elderly, were afraid to leave their homes even for a run to the store.
Property damage from the unrest was largely limited to about a half-mile stretch of West Florissant Avenue, but the emotional toll reached much further, well into Ferguson and its surrounding area.
Crisis-trained chaplains with the Billy Graham Rapid Response Team (RRT) deployed to the area in late November 2014 and stayed there into early January, connecting with many people. But soon, the chaplains learned the typical RRT model of referring new believers to local churches wouldn't work.
"[Residents have] been let down by so many people including the institutional church, they didn't want any part of it anymore," The Rev. José Aguayo, an RRT chaplain, said of the community. "We had to come up with something different and show them a different model of Christianity, a different model of church."
'Ministry Means Work'
José, a native Puerto Rican, never imagined he'd be living in St. Louis, let alone be a chaplain with the Billy Graham Rapid Response Team in nearby Ferguson. But God had His plans and uprooted him from New York many years ago to pastor a ministry in north St. Louis. That ministry, with José's leadership, would go on to borrow a concept called "Adopt-A-Block" from the Los Angeles Dream Center and start the St. Louis Dream Center.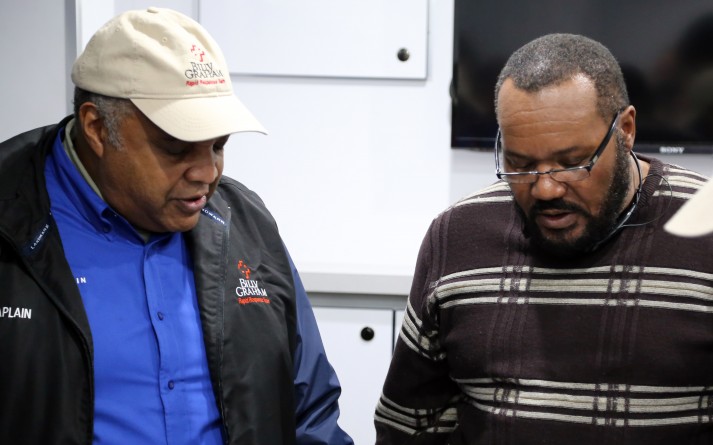 As he plunged into this new role God had for him, José also became aware of the RRT chaplaincy program. He was encouraged—well, he says "forced" by the constant badgering of a friend—to fill out the application. His first deployment was to Ferguson.
Eighteen months later, he jokes his deployment never ended. He is entering his second year overseeing Ferguson's version of Adopt-A-Block.
The program was born out of necessity. RRT is big on discipling new and rededicated believers, and it appeared the traditional model of handing contact information to churches wasn't going to be the most successful route. José and chaplain coordinator John Galvin, an attorney in St. Louis, needed a new model for this skeptical, wounded community.
Instead of an official pastor doing all the work, a collective group of church members, per the Ferguson Adopt-A-Block model, would get out into the community and take ownership of a block. Everything on that block would fall under the group's care. That meant knocking on doors, meeting people and learning the needs of the community.
"Gangs don't go to church," José said during a recent visit to BGEA headquarters to talk with another city interested in the Adopt-A-Block concept. "The pastor needs to get out of the pulpit and take the church to the streets. … We [as church members] need to take the church into the streets. That's the only thing that's going to work.
"Ministry means work. People are lost, and we're running out of time."
José and John hit the ground running, recruiting people from 40 churches and asking each group to adopt a block. José contacted local pastors, politicians, business owners—he made everybody aware that this Adopt-A-Block concept was coming. They sought partnerships along the way, including a local food pantry to help hungry families and a local nonprofit to organize baseball teams for area youth. The program also held broader, free programs like an Easter egg hunt and neighborhood barbecues to get the community interacting.
Training was held for interested churches, and in March of 2015, volunteers began visiting their assigned blocks of Ferguson weekly. It was hard at first.
"Everybody's afraid to knock on the door," said José, who also serves as chaplain for the Ferguson Police Department. "You never know what's on the other side."
But the volunteers, who had signed six-month commitment letters with José, were determined to show these communities that their efforts weren't for the cameras. They weren't there to drop off some food or clothes or toys and just leave. The volunteers do try to bring something current and informational, like a flier from the health department on immunizations, but the point of the program is to connect.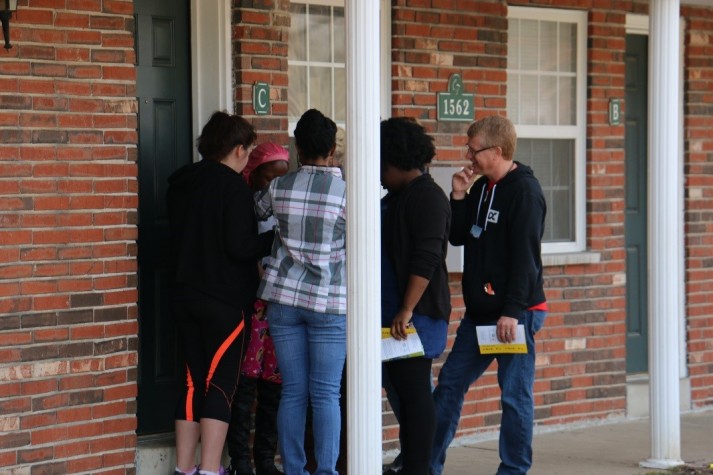 "We kept coming around, knocking on the door," said Adrienne Stewart, who volunteers as community outreach leader for The Spirit Church. "We wouldn't preach at them, we wouldn't throw our Bible at them. We would just say, 'We want to see how you're doing.'"
And they meant it. That authenticity combined with consistency made all the difference, said Adrienne, who even shared her cellphone number with Jennifer*, a young lady she befriended through her block. In the last year, the two ladies have celebrated a new job for Jennifer and even held a Bible study in Jennifer's home. Through the Adopt-A-Block program, new jobs and in-home Bible studies have been among the many victories for the community. Roughly 85 percent of people interested in a job had one within the first year of the outreach, simply leaning on insight and contacts offered by church members.
Adrienne's friendship with Jennifer enabled her to invite Jennifer to The Spirit Church, which is about 10 minutes from where Michael Brown was shot. At first Jennifer resisted because she thought she was having a bad hair day. Adrienne could sympathize. She had a wig on hand at home for such a time as this. Hair fixed. Off they went.
The Spirit Church wasn't originally assigned to the Northwind Apartments block where Jennifer lives. Initially, the volunteers were supposed to focus on Canfield-Green Apartments. But after the shooting, people started moving out, Adrienne said. It turned into a ghost town, so José reassigned the church to a block of the nearby Northwind Apartments.
'A God Thing'
Jamyla Bolden lived in Northwind Apartments. The 9-year-old was doing her homework on her mother's bed when she was fatally wounded by a stray bullet last August. The tragic incident happened six months after The Spirit Church adopted Jamyla's block, so connections were already made and ministering could happen in a community once again coping with grief. Northwinds is right next to Canfield-Green.
"There was no coincidence that Pastor José gave us that," Adrienne said. "It was a God thing."
Adrienne said her pastor, NFL Hall of Famer Aeneas Williams, along with his wife decided to take their love a step further by contributing to the construction of a playground and giving gift cards to every teacher in Jamyla's school.
Beyond the gifts, though, the Adopt-A-Block volunteers were there, showing the love of Jesus in the wake of tragedy.
Violence, unfortunately, isn't uncommon in this area, and Adrienne said the volunteers know that going in. She can recall showing up one Saturday and hearing an ambulance wailing past in response to a nonfatal shooting. Prayer, Adrienne said, is so critical. She noted her volunteers bring back prayer requests to her church's intercessory team.
"When we go out there, we've got to be prayed up," Adrienne said. "And we've got to allow the Holy Spirit to cover us because we are in a territory where the enemy thinks he has it
Watching Christ Work
Reginald Young goes by Rickey, and he lives in Ferguson. He says he stays in "ground zero," that is, not far from where a gas station was torched in late 2014 following the decision not to indict Officer Wilson in Michael Brown's death.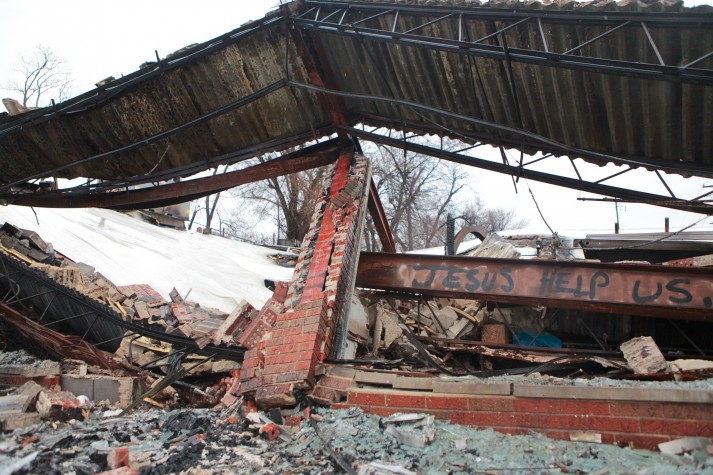 "I live where the first fire was ignited," Rickey said. "We're living in a community that is very much separated. A lot of people are still scared to come out of their houses. We've got the elderly here that think they're still acting up outside so they don't want to go to the store."
Rickey said he often makes these trips for his neighbors. He's in the unique position of both participating in Adopt-A-Block and seeing the benefits it has brought to his neighborhood.
"We're trying to mend the community, and it is badly wounded," added Rickey, who is a minister with a family church in Ferguson. "We still have a lot of animosity [in this area] so the task of Adopt-A-Block is not easy. We have reached people, but it's just a challenge trying to reach everyone. Adopt-A-Block has planted seeds all over Ferguson. They're doing great work here. And I thank God for them."
Some of those seeds were evident during the November anniversary of the decision not to indict Officer Wilson. Andre Anderson, then serving as Ferguson's interim police chief, had heard large-scale protests were planned for that evening. Despite the potential for another round of violent unrest, Anderson said he felt led by Christ to remove the barriers protecting the police department and also decided against a heavy police presence for the night.
José and a cadre of Christians stepped in, praying and seeking the presence of God.
"He built a coalition of Christians and put them on the ground to deal with protesters," said Anderson, who since has returned to his original position as a commander in the Glendale (Arizona) Police Department. "We removed the police, and we had on the anniversary [of the decision not to indict Officer Wilson] no arrests, no damage, no reports of violence, no reports or complaints on the police—nothing. We resolved the entire issue through Christ."
'We Really Are Neighbors Now'
Ruth faithfully walks her assigned streets in Ferguson every weekend, but now she leaves her notepad at home. She loves Ferguson, this place where she fondly remembers renting her first apartment as a newlywed in 1962. And today, she greets residents by name and even says hello to the cats and dogs she encounters. She knows their names, too.
"We really are neighbors now," said Ruth who lives about a half-hour west in O'Fallon. "Even though I don't live there, I'm there weekly so we feel like neighbors. It's been a neat experience, a growing experience for me, to be able to actually go door to door and not be a bit afraid."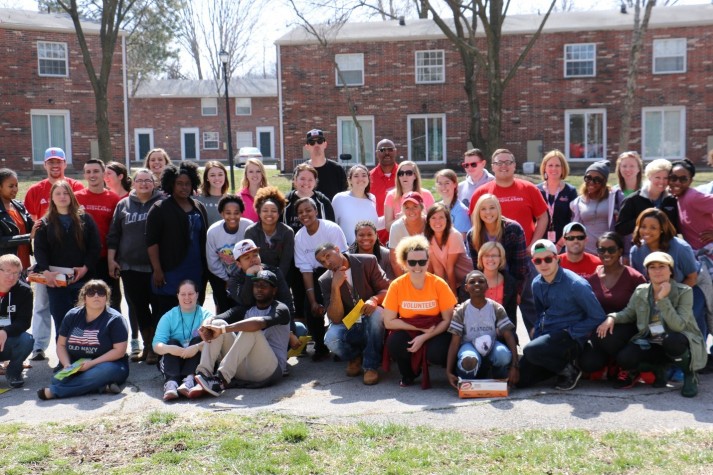 *Name changed to protect privacy