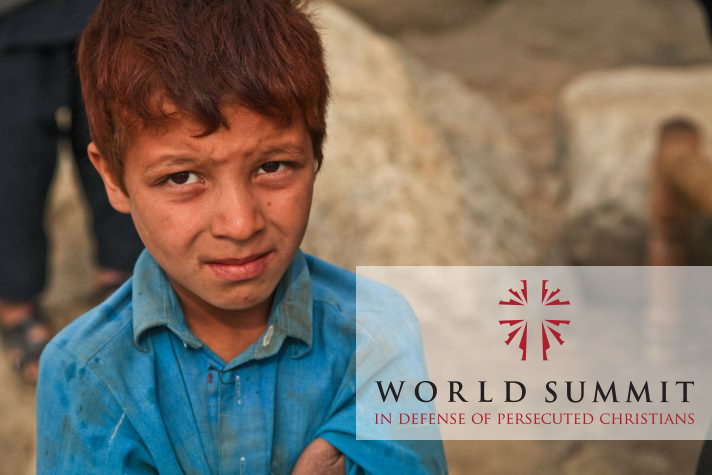 As part of the World Summit in Defense of Persecuted Christians, BillyGraham.org is sharing a series of stories about Christ followers who have been persecuted for their decision to follow Jesus. This first one comes from Syria:
"Come to me, all who labor and are heavy laden, and I will give you rest." —Matthew 11:28 (ESV)
Electricity and water are limited commodities in Aleppo, this once bustling Syrian city. It used to be a hub of industry. Today, basic resources are scarce. The city, reduced to rubble in many areas, is a ghost of its former self and simply a snapshot of what has happened across the war-torn country.
The conflict began six years ago this March. It has principally been between the Islamic State, Kurdish forces and President Bashar al-Assad's regime with everyday citizens caught in the crossfire. Devastation and despair are rampant as families struggle to feed their children daily and stay warm at night. Millions have fled to an uncertain future; hundreds of thousands have been killed.
It's a dangerous place, and during the crisis, hostilities have increased toward Christians, who account for just 4 percent of the country's 18 million populace. Global watchdog Open Doors ranks Syria sixth on its World Watch List for extreme persecution, largely due to a rise in Islam, the country's leading religion.
Rev. Ibrahim Nsier, a native Syrian, has experienced persecution firsthand. His church, Arab Evangelical Presbyterian Church of Aleppo, was blown up by gangs in 2012. But Nsier is never more than a breath away from praising God for His miracles. He maintains the church itself cannot be destroyed even if the building is bombed. Attendees now faithfully meet in a fifth-floor apartment where the grace of God is stressed.
"When a rocket comes into an apartment and it is not exploded and five or six people in the room were saved, I think it is the hand of God. It is the hand of God who saved," Nsier said. "When our church was exploded and nobody was in the church building, it was God who saved us."
Admist the ongoing violence, there is hope, and despite the risks, Nsier continually tries to shine the light of Jesus in his homeland through his actions. Just walking alongside his neighbors in the midst of the disaster means more than any sermon he could preach.
He works with two schools which attempt to give the war-fatigued youth opportunities and hope. Additionally, Nsier's church, which purchased a fuel-powered generator, serves the community by handing out water, food and hygiene items.
But the haunting reality of the crisis is ever-present as he draws deep upon his faith. In the last six years, Nsier has wept with families who have buried loved ones, including children who died simply from a lack of available medicine. He's driven victims of bombings to the hospital for care. He's watched hopelessness force people out of his homeland as his once 500-person community dwindled by 60 percent. Yet he's resolved to stay in Syria with his family.
"Sometimes we had no bread to eat, but the grace of God was always there," Nsier said. "And God was with the suffering people. God was with the persecuted people. God was with the marginalized people.
"There was a time when we were so anguished, but every time we had these kind of problems, we come together, we bow over our needs together, we pray together and we know that God was with us."
Nsier and his family are committed to staying in Syria and following their "calling from Jesus Christ." Nsier's message—that Jesus Christ will save—never changes, never wavers even in the face of adversity.
"I think we have a really important ministry here," said Nsier, who hopes to attend the World Summit in Defense of Persecuted Christians this May. "We have a really important mission here. We are called to be the salt of the world; not the whole world will be salt. We are called to be the light of the world, and not the whole world will be light. Therefore, I think it is our mission to stay in this country and to bring positive change into the life of the country."
Would you please join us in praying for peace in Syria? Pray also for the Christians who face persecution.
You also can take action by writing your elected officials and reminding them of your heart for Syria as international policy is crafted.