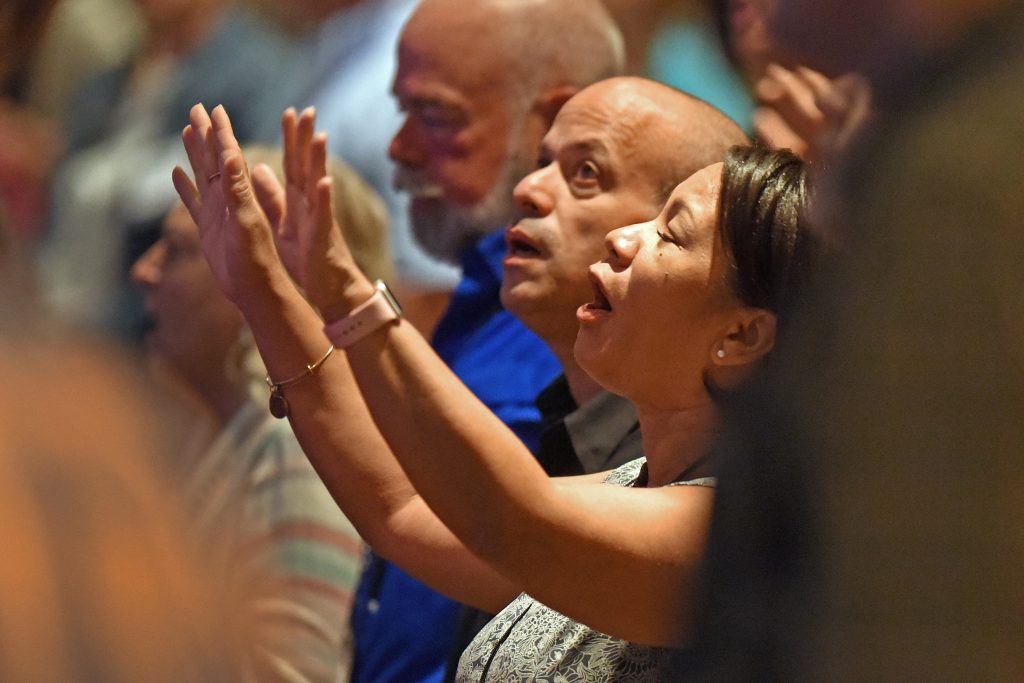 "I can do all things through Him who strengthens me." —Philippians 4:13
You are not alone.
It was a message that more than one spouse needed to hear during the Law Enforcement Appreciation retreat held in late October at the Billy Graham Training Center at The Cove.
The daily calling of a police spouse requires extreme mettle. It means juggling family calendars, prioritizing their officer's schedule and attempting diplomacy with unsympathetic loved ones—on top of wondering if their spouse will survive today's shift. It's a sacrificial service in the shadows.
But during last month's retreat, the wives of police officers were given an opportunity to gather together and draw strength. Scores of women attended a voluntary session, even though it was held during their only free afternoon of the three-day retreat. It meant that much.
"It's invaluable to sit with other women who do this," one military-police wife shared afterward. "It reminded me of a (military) pre-deployment meeting. … They let seasoned military wives give advice or tips or suggestions of things that worked for them during a deployment.
"That's exactly what this sounded like, but I'm not in a room with military wives. I'm sitting with law enforcement wives. Emotionally exhausted law enforcement wives."
>>Help more law enforcement wives find hope and encouragement.
Physically, Emotionally, Spiritually Safe
The fatigue is just as real as the struggle of operating daily in a world that can be insensitive and, candidly, just plain unsafe. Police families can be forgotten when their officer is celebrated or enduring the loss of a fellow officer. One wife shared that, tragically, attending a funeral is sometimes as close as she gets to feeling like she's publicly part of the Thin Blue Line.
Public support for law enforcement plummeted in 2014 after incidents in Ferguson, Missouri; Baton Rouge, Louisiana; and Milwaukee, Wisconsin, to name a few. That trickles down to the families. Incendiary headlines plus passionate, yet often unresearched, opinions can turn daily happenings—like showing up for work, surfing Facebook or attending a kid's sporting event—into land mines.
"This retreat and this place is the only place in the past two years where I have felt safe—physically, emotionally or spiritually safe," another police wife shared, her voice breaking with emotion.
"This conference is absolutely 100 percent worth coming for to be in that community and to feel, for a moment, a respite."
All You Need Is One
Community is crucial. Sue Sardellis, the wife of a longtime Charlotte-Mecklenburg (North Carolina) Police officer, has seen firsthand the positive impact it can have. Being a police wife is a calling, Biblical counselor Denise Molatch reminded the women, and Sardellis can attest it hasn't been an easy road.
Sardellis attended her first Law Enforcement Appreciation retreat five years ago, and she left feeling renewed. But she also left with a burden. She felt compelled to start a Bible study for her fellow police wives. A year later the group started taking shape in the aftermath of Charlotte's 2016 civil unrest. Beside the Blue was born.
It was slow going at first, and sometimes only one person showed up. Sardellis drew encouragement from Allison Uribe, creator of Wives on Duty. Uribe insists all you need is one person.
That's the same message Sardellis shared with women who traveled from all over the United States to attend this year's retreat. Sometimes her one was Emily Jones or Whitney Griffin or Cheryl Parker—all Beside the Blue faithfuls who joined Sardellis at the front during the wives-only session. This core group focuses simply on supporting each other.
"We're all going to have highs and lows," Jones said. "Thankfully we're not all having them at the same time so someone can build me up and later I can build them up."
'Do You See Why?'
Molatch, a speaker at this year's Law Enforcement Appreciation retreat, conducted the meeting—the first of its kind at this retreat. She opened with encouragement, but after introducing the Beside the Blue group, she asked the room full of police wives to share their concerns aloud.
A large, lecture-style whiteboard on wheels filled within 15 minutes. Single parenting, family woes, communication, mental health, "badge bunnies," and 30-plus other worrisome topics covered the space.
"Do you see why being a police wife is a calling?" Molatch asked the room as many women murmured in response. "There are so many issues you have to come up against, and if you don't have support you'll crumble."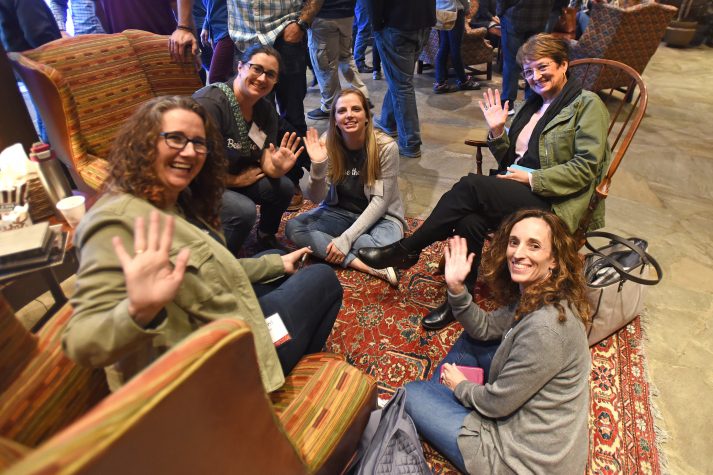 A relationship with the Lord is always the cornerstone, Molatch said, referencing Philippians 4:13. And police wives—as well as any other Christ follower—truly can do all things through Christ. But Molatch and the Beside the Blue sisters also urged the wives to connect with others walking this same, often misunderstood road.
Social media affords some community, and Sardellis encouraged the women during the group session to reach out anytime. Afterward, Beside the Blue met with many women who wanted to know more about starting their own group.
"A lot of wives want the community, but they don't know how to get it started," Griffin said. "They don't realize that there is another wife out there that feels the same way."
Griffin found that to be true for herself. Just recently, she realized she lives five miles down the road from Jones. Their husbands both work for the Charlotte-Mecklenburg Police Department, which has 1,800 sworn officers and serves a population of 860,000 people.
"It goes back to knowing that you're not alone," said Cheryl Parker, whose husband Stephen spoke during the retreat. "And we all feel like we are."
'Company in the Trenches'
It's a unique kind of solitude. The military-police wife who compared her husband's stateside career to a series of never-ending deployments admits the lack of community support for police is frustrating.
"You will get a community to rally around you if you have a husband who is deployed and halfway around the world," she said. "[But law enforcement families] don't get care packages. You don't get people rallying around saying, 'How can we serve your family? Do you need laundry done?' Because it's like, 'Well, they're coming home. You do see them. They're not in a war zone.' No, they are in a war zone. It's just a different type of thing.
"So it's always good when you have what I would call 'company in the trenches.' It can make the difference between isolation and 'we're all in this together.'"